As someone who has raised many kittens (mostly through fostering, but also one of my own), I can say with certainty that it's not easy. Kittens are adorable, yes, but they're also impossibly energetic and rambunctious, dangerously curious, and they can be rather destructive if you're not paying attention.
It's in a kitten's nature to explore their new world through stalking, pouncing, and gnawing. Left to their own devices, a kitten would grow up to be wild, unruly– feral by definition. But with your help, your kitten can instead grow up to be a trusting, loving, well-adjusted cat. Here's what you'll need to do.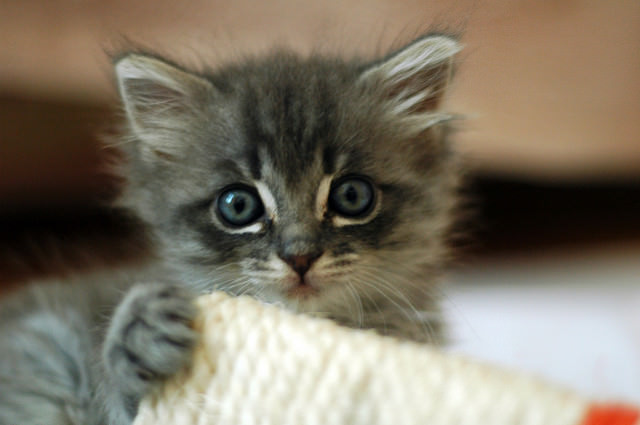 #1 – Socialize with humans
In order to raise a kitten into an adult cat who is confident at home, you must socialize her with humans. If possible, introduce your kitten to lots of people during the first few months of her life. It shouldn't be too hard to convince your friends to come over to play with her. Who would resist an invitation like that? For the most well-rounded experience, introduce a wide range of people, too– including different ages (including children and elderly folks), different genders, different races, etc. Inviting your friends over to play and cuddle with her will prepare her for a life of feeling safe and secure when you have visitors, pet sitters, etc.
Related:
8 Tips For Socializing Kittens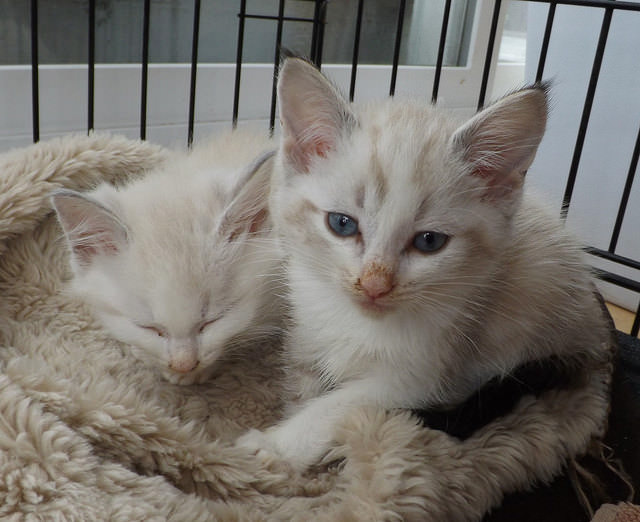 #2 – Socialize with dogs and other animals
Introducing your kitten to cats, dogs, or other pets (bunnies, rats, guinea pigs, etc.) is a no-brainer if you have them; they'll have to meet eventually. But this is also a great time to socialize a kitten to other animals if you feel you may add them to your home in the future. These introductions should always be supervised with appropriate measures taken for safety.
Related:
Ask A Vet: How Do I Introduce My Resident Cat To My New Kitten?
How To Successfully Introduce Your Cat To A Dog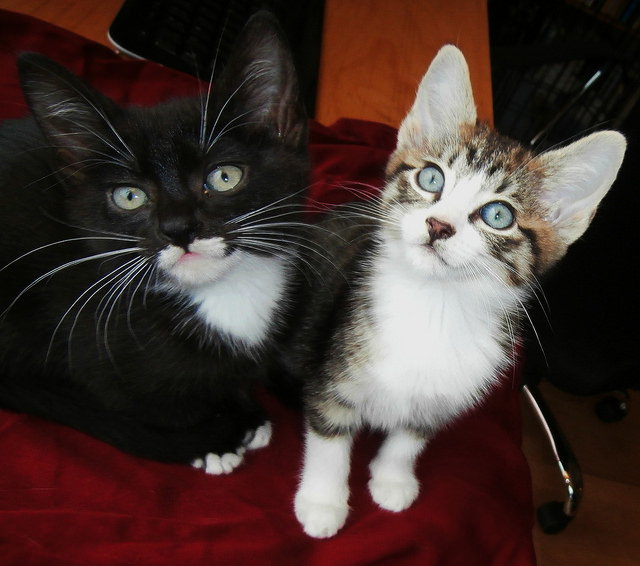 #3 – Lots of gentle play
Kittens have a lot of energy. It can be overwhelming, particularly if your kitten doesn't have littermates to wrestle around with. While you'll surely get your fair share of cuddling with a sleepy kitten, it'll be your job as her caretaker to help her release all of her pent up kitten energy by engaging in frequent play with interactive toys like a laser pointer or wand toy. It will also be your responsibility to teach your kitten that biting you isn't appropriate or okay during play. Play biting may be cute and harmless while she's tiny, but it's a behavior that can become dangerous and destructive when she gets older if she's taught it's acceptable.
Related:
6 Reasons To Play With Your Cat More
5 Ways To Keep Your Indoor Cat's Mind Sharp
The 7 Best Battery-Operated Toys to Keep Your Cat Active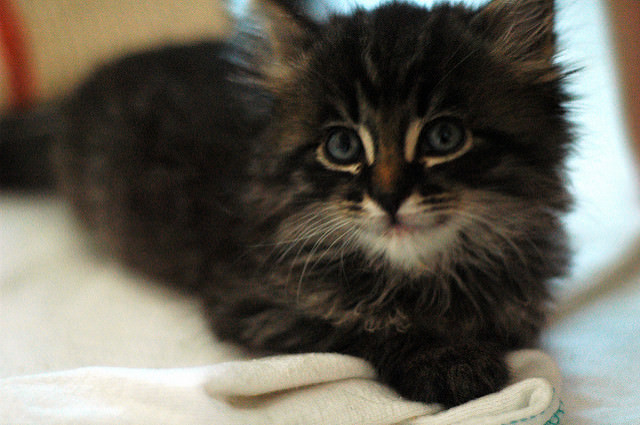 #4 – Give affection
Kittens who grow into emotionally healthy and well-adjusted cats are taught from a young age that they're loved by a human who gives them affection. Affection can be given in many forms, like petting, cuddling, sweet talking, picking up, holding, kissing, etc. One of my cats, Ida, was never picked up by the family she had before me, but picking up my cats is one of my favorite ways to show affection. At first, she had no idea how to be picked up or held and it genuinely scared her (probably because it made her feel vulnerable). It was a lot of work to get her comfortable with being picked up, but she loves it now that she trusts me. You can avoid future challenges like this by getting your kitten comfortable from a young age with being touched, picked up, and held.
Related:
5 Reasons You Should Talk To Your Cat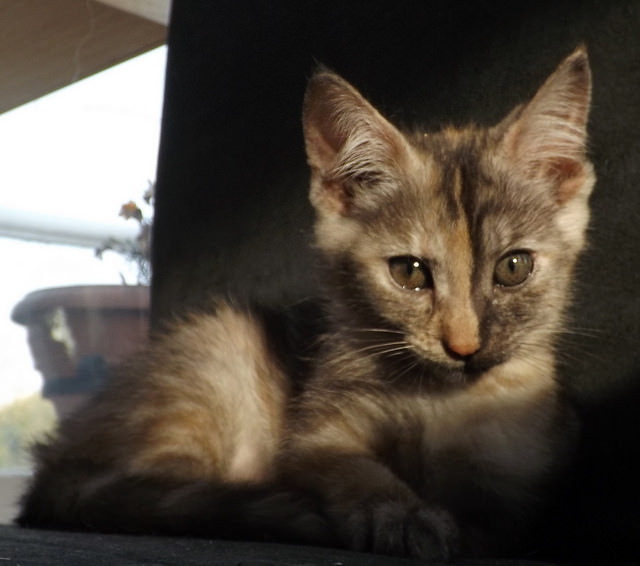 #5 – Create stimulating home environment
Kittens need to have home environments that feed their natural instincts in order to thrive and grow into well-adjusted cats. A great environment will nurture your kitten's need to play/hunt, perch, and scratch. It'll also include easy access to fresh water, nourishing food, and a clean litter box.
Related:
8 Ways To Excite Your Bored Kitty
Adopting Your First Cat? Stock Up On The Essentials First!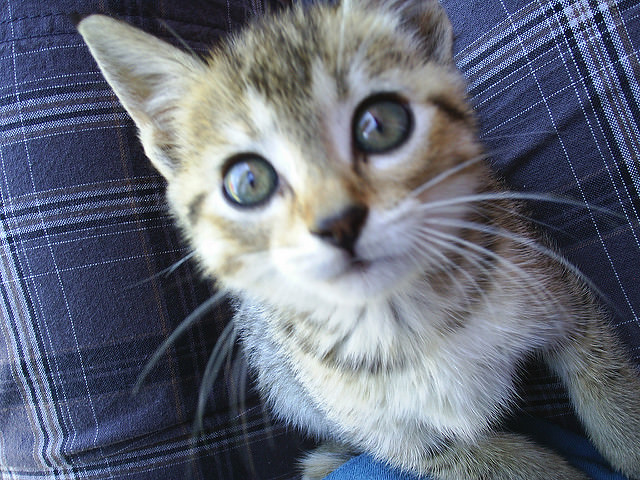 #6 – Solve behavior problems quickly
Kittens learn about their environments and acceptable behaviors by experimenting and observing the results. It's important to curb inappropriate behaviors (peeing outside of the litter box, scratching the side of the couch, biting your hand while playing, etc.) as soon as they happen. The longer you let the behavior persist, the harder it'll be to get your kitten back on the right track. Consistency is the key to training a kitten.
Related:
Are You (Accidentally) Encouraging Your Cat's Bad Behavior?
6 Behavior Problems That May Be Medical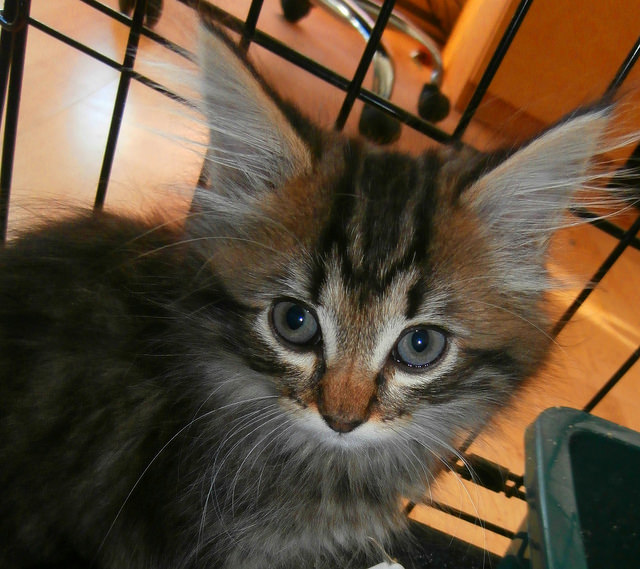 #7 – Don't punish or reprimand
Punishing or reprimanding a kitten for inappropriate behavior can do more harm than good. By scolding your kitten, spraying her with a water bottle, or striking her (please never, ever do that), you are teaching her to be afraid of you. Instead, think about the behavior from your kitten's perspective. Most "bad" behavior is simply the result of an aspect of her environment that's non-existent or lacking. For instance, don't reprimand your kitten for scratching the side of your couch. It's instinctual and healthy for her to scratch and dig her claws into things. Instead, provide her with a better option by introducing her to a cardboard or sisal scratching post. You can even rub or spritz it with a bit of catnip to make it more enticing. Kittens who are allowed to tap into their natural instincts (in appropriate ways) without being reprimanded will grow into healthy, curious, and well-behaved cats.
Related:
5 "Naughty" Cat Habits That Are Okay To Encourage