Kittens who don't have human contact soon after being born will become feral, whether their mother is feral or not. In fact, in order to avoid a lifetime of feral behavior and to give kittens a chance at being adopted into loving homes, kittens must be socialized to humans within the first 8 weeks* of their lives.
Socializing kittens requires a massive amount of time, compassion, and patience, but this comes with a substantial reward at the end. Here are 8 tips to get you started.
* Feral kittens still have a chance of being socialized between 2-4 months old, but it takes much more time, skill, and patience and is not for the average person.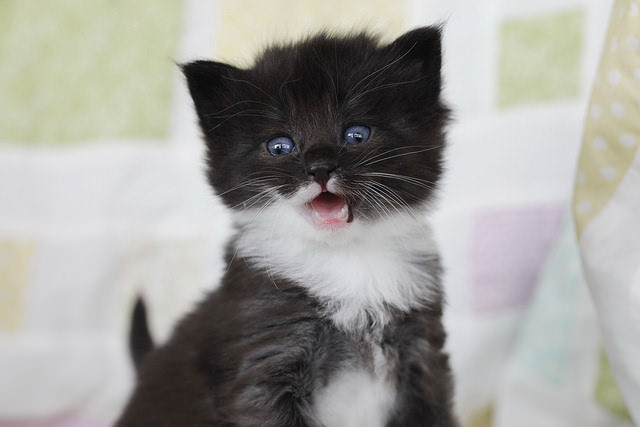 Image Source: Pieter & Renée Lanser via Flickr.com
1. Keep them in a small, confined room
When you bring your kittens home, allow two days for them to get familiar with the unique sounds and smells of your home before you start interacting with them beyond tending to their water, food, and litter box. Kitten-proof the room before they arrive, making sure it's safe for curious kittens to explore. Don't underestimate a kitten's ability to slip into small spaces.
Initially confining them to a small room will help them feel safe and get acclimated to their new environment quicker. This is key, as they need to feel safe and secure in order to trust you later. Confining them to a smaller space will work to your advantage too since it'll mean less places for them to hide when you are ready to start working with them.
The confined space is only necessary until they feel safe enough to fall asleep on you or they purr in your presence.