One of the hardest parts of volunteering at a cat shelter is not bringing all of the cats home with me after every shift. As I'm leaving, I just remind myself that I wouldn't be doing anyone a favor by smuggling 130 cats back to my tiny apartment and that they're better off at the shelter where they can be cared for by a large team of dedicated volunteers until they find more suitable forever homes. But if you've ever worked at a shelter, you'll know that there's always one who slips through the cracks. For me, that cat was Ida.
I worked in the Infirmary room of the shelter, a quiet nook where cats could heal from everything from simple upper respiratory infections to major surgeries. As you can imagine, the Infirmary is always in flux. Kitties heal and return back to their regular rooms, and new ones arrive. Most shifts brought new cats with new stories. When I showed up for my shift in September 2013, Ida had only been there for a couple days. I opened her cage to clean it and give her dinner and was instantly struck by how scrawny she was and by how sad her eyes were. As I doled out her food (which she ignored) and swept up the scattered litter, I was also struck by how sweet she was. Despite obviously not feeling well, she made an effort to nudge my hand for head scratches and eventually she crawled onto my shoulders to perch. I instantly fell in love with her.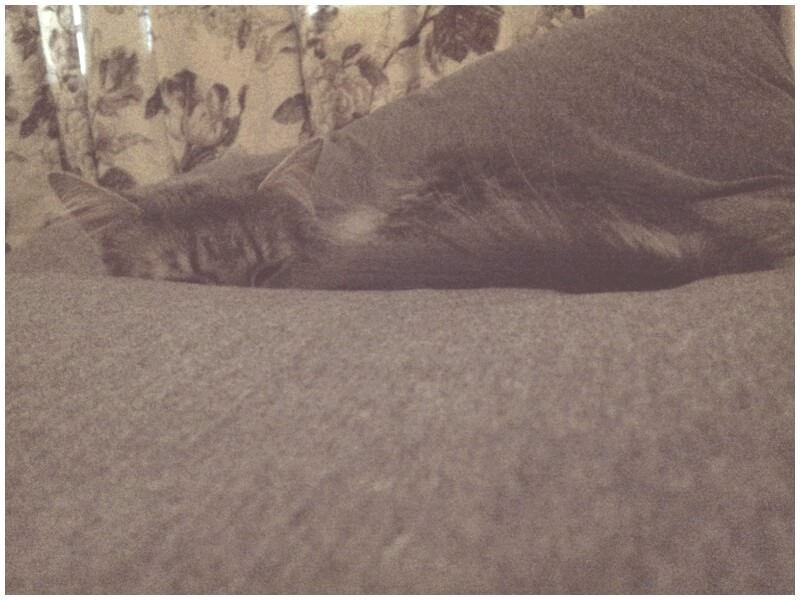 When a volunteer from the medical team showed up, I asked for more information about where Ida had come from. A year before I met her, when she was barely more than a kitten, Ida began having some pain her mouth, which made it hard for her to eat well. Her family brought her to see a veterinarian and was informed that Ida had stomatitis in her mouth. At that point, Ida's life would have been greatly improved by having a surgery to remove the infected teeth and calm the inflammation. But her family declined, perhaps hoping the problem would fix itself.
By the time I met Ida, her mouth was so inflamed and painful that she wasn't eating, drinking, or grooming herself properly. She was scrawny and malnourished. She had lost patches of her top coat, and what was left of her coat was knotted from her inability to groom. She was a mess.
The shelter had set up an appointment for an oral surgery, where all of her teeth would be removed to finally give her comfort and relief. I immediately volunteered to foster her after her surgery, to give her a quiet and cozy place to heal. I had a strong feeling that this foster kitty would become a permanent member of my family, but I wanted to see how she'd fit in with my rowdy rescue-kitten, Nora, before I committed.
She healed quickly and immediately became best friends with Nora, a high-energy Maine Coon. Before I knew it, they were zooming and tumbling all over the place. It was great to see Ida having fun and feeling well enough to play. And it was great to see how much Nora appreciated having someone to wrestle out some of her crazy kitten energy with. It was clear that Ida would be a part of our family for the rest of her life.
Her healing process wasn't always elegant. For instance, for a month while her coat was filling out, she had these absurdly cute tufts of hair behind her ears!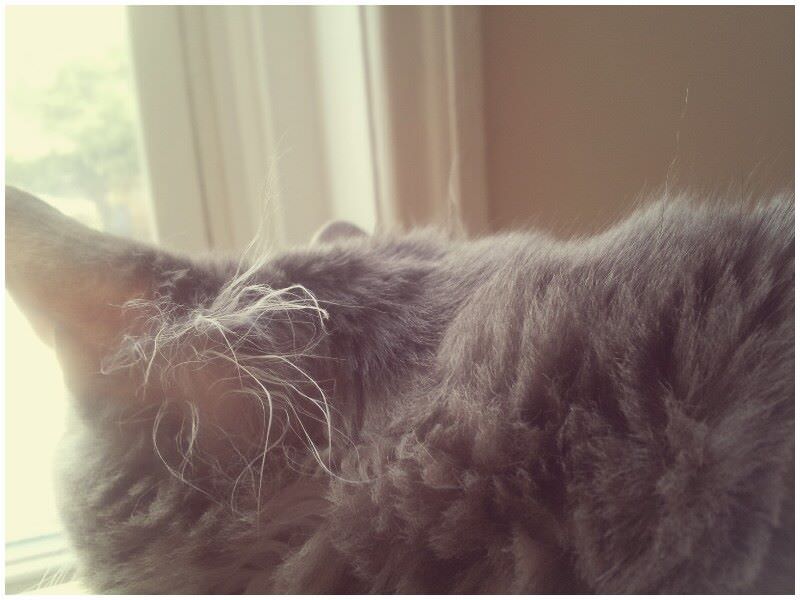 Despite being neglected and in pain for a year of her life, Ida has turned into the sweetest, cuddliest, bravest, and most trusting cat I've ever met (and I've met a lot).
These days, Ida is healthy and very, very fluffy.
She loves watching birds and insects flutter outside the window.
She loves playing with her toys. Especially the neon mice.
She loves taking selfies with me!
And she still loves climbing onto my shoulders. Sometimes to fall asleep. And I am still completely, totally, 100% in love with her.