As a shelter cat, Bailey already had two strikes against her. Adult cats have a harder time getting homes than kittens; and senior, black cats have the hardest time of all. Bailey was the poster cat for those unfair statistics.
Still, Purrfect Pals knew that her home was out there. iHeartCats has shared stories from their shelter before – it's an amazing place where cats with even the toughest challenges find hope and homes.
Bailey was adopted as a kitten in 2009, but just six years later, her owner surrendered her to Purrfect Pals due to worsening allergies. Although Bailey has a wonderful personality, a gorgeous coat and bright eyes, adopters passed her by time and time again – for FIVE years. Bailey's age and color worked against her: most people looking to adopt pounce on tiny, fluffy kittens, and many won't consider a black cat due to superstition, or even because they don't photograph well.
When the humans at Purrfect Pals realized how long Bailey had been waiting, they decided it had been much too long. They posted her photo and story on Facebook, hoping someone would see it and fall in love with Bailey. Not long after, someone did – but it was entirely by chance!
Just two weeks later Holly walked into the Petco where Bailey was waiting, looking for an older cat. She spent some time with Bailey but had only just begun her search and wanted to check out some other shelters in the area. Though she may have walked out and forgotten all about Bailey, Holly called Purrfect Pals later that day saying she couldn't stop thinking about her, and said she'd be back later that week to take Bailey home.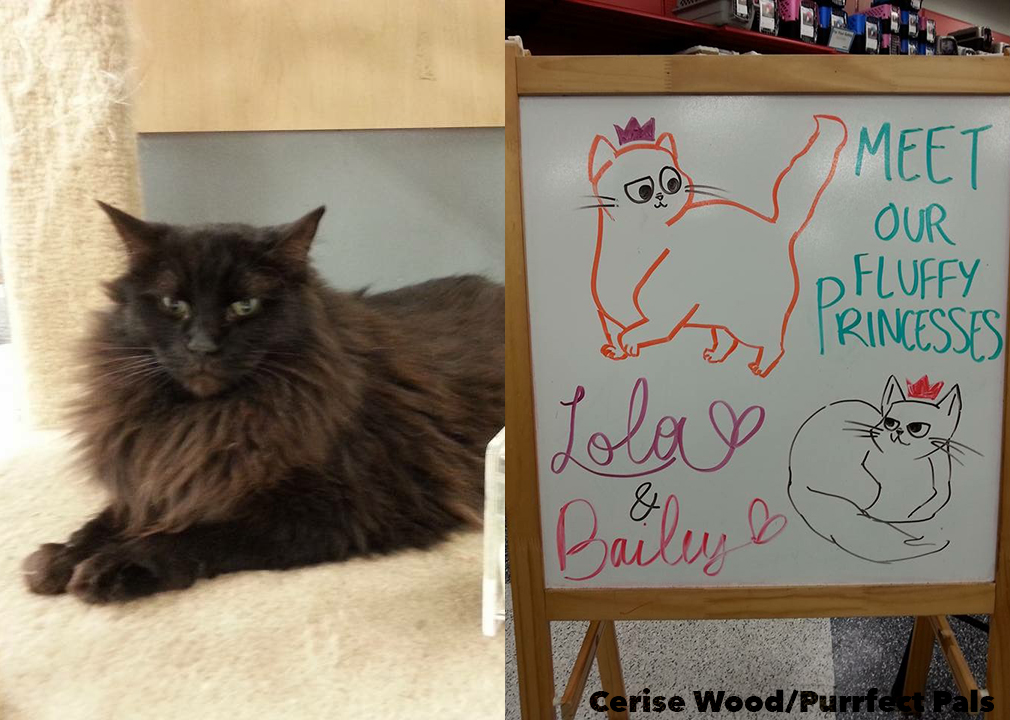 A few days is a long enough time for a potential adopter to change their mind, so the staff at Purrfect Pals was on pins and needles waiting to see if Holly would come through. That Saturday she arrived at the shelter, and whisked Bailey and her favorite green blanket away to her new, happy life!
It took five years, but patience paid off and Bailey won't have to spend a single day waiting ever again! Bailey's story proves that although it may take some time, the right home is out there for EVERY cat – and that black cats CAN photograph BEAUTIFULLY!
Are you ready to find the cat that's waiting for you? Check out Purrfect Pals on Facebook and find more adoptable kitties at PurrfectPals.org.
Featured Photo: Cerise Wood/Purrfect Pals Cat Sanctuary