Purrfect Pals Cat Sanctuary in Arlington, Washington has a place for every kitty that comes their way. As a no-kill shelter, they're happy to take in cats that other shelters would consider "unadoptable." They offer a comfortable place for cats who are old, ill, or antisocial to wait for their forever homes, no matter how long it may take.
Pika made his way to Purrfect Pals last year after he was found as a stray living outdoors underneath a shed. He clearly needed medical attention, and the family who found him took him to a vet with hopes of helping him heal and giving him a home. Pika lost his ears to a skin issue, but not his ability to hear. His rescuers attempted to make him a part of their family, but quickly learned that Pika was terrified of their dogs. When they saw that their home wasn't the right fit for him, they took him to Purrfect Pals, where they knew he would be given a fair chance at finding the right family.
Pika proved to be a sweet, affectionate boy and charmed the volunteers and staff at the shelter with his loving personality. The loss of his ears may have made him appear "broken" to some, but he quickly became a favorite for the people who got the pleasure of interacting with him.
This is where Pika met Jane, a volunteer with a soft spot for cats who need extra medical care. Jane had already adopted a number of other special-needs cats from Purrfect Pals, including Lefty, who is partially blind, Freckles, who has stomatitis, and Chrissy Lee, who has corneal herpes. Jane had heard about Pika from other volunteers, and by the time she met him, she already knew she wanted him to come home with her!
Pika took some time to get used to his new home, and at first, Jane was even worried that he might not fit in with the rest of her feline family. She told iHeartCats:
"We have an integration system in our house that involves gates and gated rooms… He was fine in his gated room but loud noises definitely scared/scare him. I'm not sure if he hears differently not having most of his ears or if it was because he's new or he was still getting used to not being a stray…"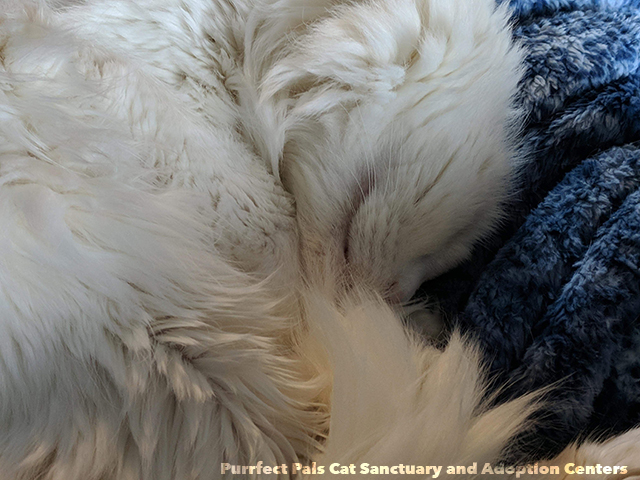 "For over a week, he was content in that room then one day he decided to follow me out so I allowed him out… It was on his timeframe and I'd say he was easier than most to integrate. He immediately got very playful and was fond of carrying around a fuzzy cat toy in his mouth."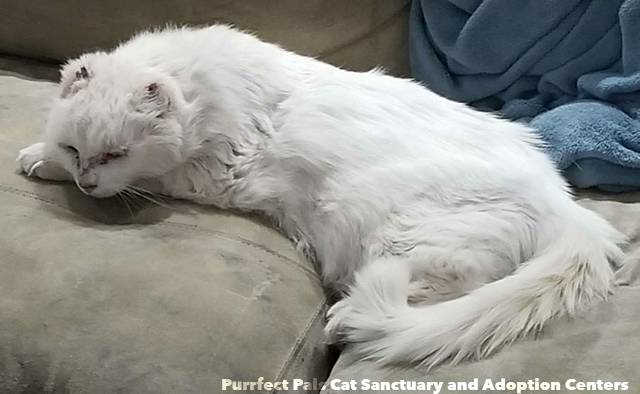 Pika is still taking time to get used to his new family, but Jane says that she sees the other cats taking an interest in their newest addition.
"I think Pika prefers our mostly blind cat, though he doesn't seem to care one way or the other unless they are bothering him… Lefty is completely harmless and non-territorial or aggressive. He's goofy and just wants to play. I've seen them all sleep right near Pika at various times. He doesn't initiate it but he doesn't seem that bothered."

"When I adopted him I realized that there was risk, but there is risk with all cats. He deserved a home with a warm bed and people to wait on him. So – we'll just do the best we can. We have awesome vets and will make his life the best we can make it."