We have a responsibility to provide loving, safe, and stimulating homes for our cats. We also have a responsibility to our environment. Luckily, you don't have to choose between one or the other. These days, many companies are going above and beyond the call of duty to make products that'll be loved by you, your cat, and the earth. Here are five of our favorites.
#1 – Ripple Rug
www.ripplerug.com
BUY HERE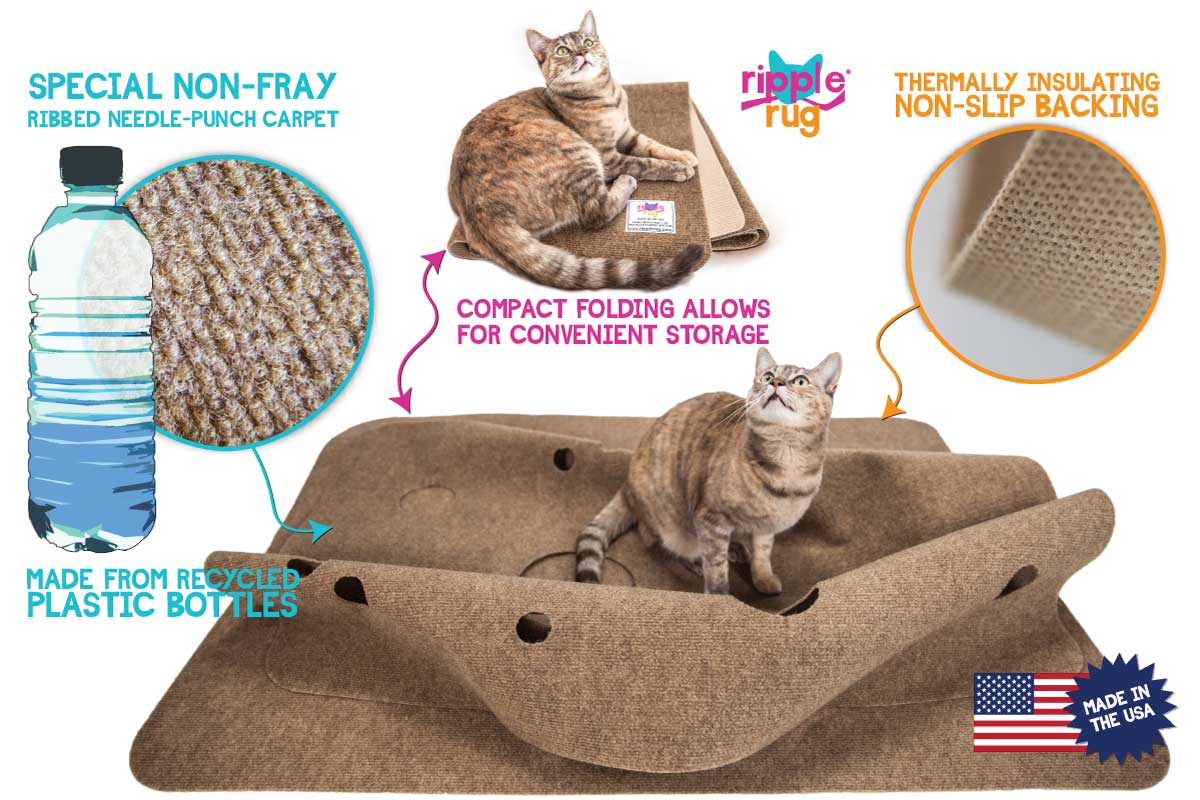 The Ripple Rug is a favorite products in my household. It's no mystery why my cats love it so much– it provides places for them to burrow and hide from each other, the texture feels good when they rub themselves on it, and the carpet material provides a sturdy surface to dig their claws into. The brilliant design of the Ripple Rug also means it can be configured in nearly endless ways, so my cats never get bored of it. The icing on the cake is that the Ripple Rug is also environmentally friendly! Each rug is made from 24 post-consumer plastic bottles. To date, the company has saved more than 210,000 bottles from landfills and turned them into Ripple Rugs!
#2 – Ultimate Cat Scratcher Lounge
www.pet-fusion.com
BUY HERE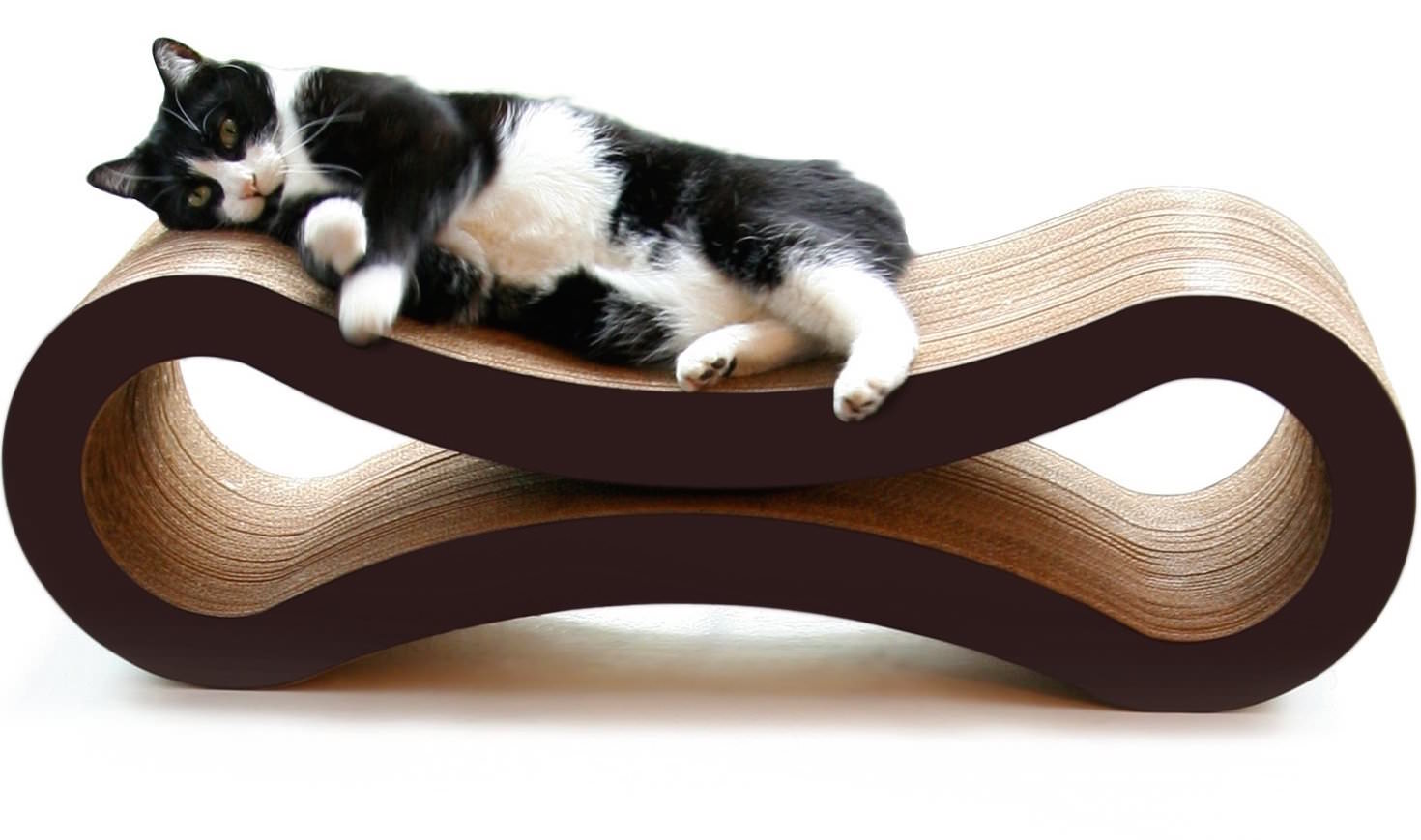 The Ultimate Cat Scratcher Lounge is exactly what it sounds like it would be– a scratching pad that's big enough and sturdy enough for your cat to nap on. This product earned the 2015 Eco-Excellence Award for its use of recycled corrugated cardboard and non-toxic corn starch glue.
#3 – Organic catnip toy
BUY HERE
If you think these organic catnip toys are as adorable as we do, don't forget to check out the rest of WantMoreMeow's Etsy shop. It's filled with tons of cat-centric stuff for both you and your cat. These sweet toys are made with eco-friendly vegan felt, eco fiber fill, organic catnip, and love. The owners of this shop also donate 50% of their profits to animal rescue organizations!
#4 – Earthbath Cat Wipes
www.earthbath.com
BUY HERE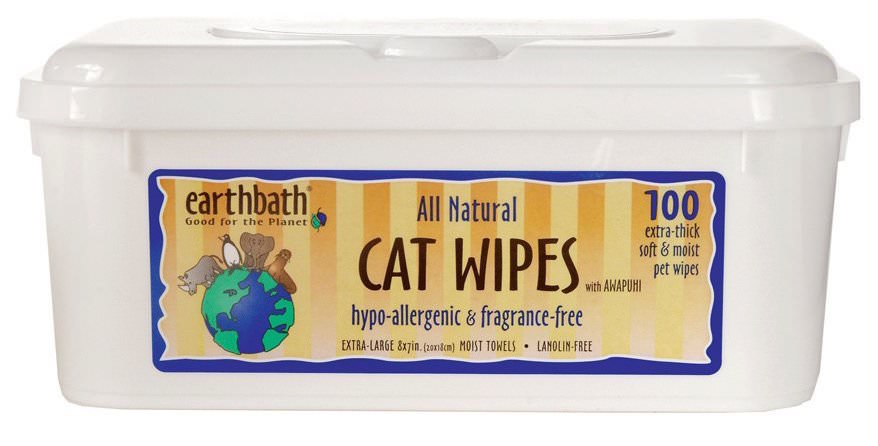 Cats are usually pretty good at grooming themselves, but occasionally they need a little help. For many cats, full-on baths can be traumatic. Pet wipes can be a great middle ground. They can get your cat cleaned up without much hassle or anxiety (for either of you). These wipes made by Earthbath are 100% biodegradable and safe for everyday use.
#5 – Recycled t-shirt cat house
BUY HERE
Cats love caves because they love to burrow and hide out. These ones are 100% made out of recycled cotton t-shirts. Each cat cave is custom-made so you can request whatever color combination works best for your home! Since they're made of t-shirts, these caves are also much easier to wash than the traditional wool kind.
Want to learn more about creating an eco-friendly home for your cat? Here are some ideas:
Eco-Friendly Feline Furniture That's Purrfectly Gorgeous–And Safe For Your Cat
These Eco-Friendly Cat Playhouses Are Perfect For Your Feline Friend!
15 Earth Friendly Cat Products