Children love animals, and given the chance to select the pet of their choice, most opt for a puppy or kitten. But young Easton is not most children!
When his mother gave him free reign to select the family's next pet from Exploits Valley SPCA in Newfoundland, Canada, Easton chose an obese senior cat named Tiny.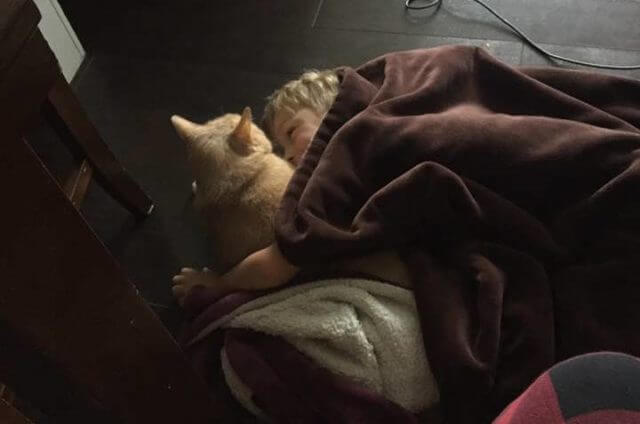 Back in 2014, when Easton was just a toddler, his mother Elizabeth adopted a three-year-old cat named Oscar from a local shelter. Oscar weighed 20 pounds at the time, and was what Elizabeth describes as "extra fluffy".
With the help of his new family, Oscar managed to shed five pounds – equivalent to 50 in a human! He is an active, happy and increasingly healthy cat thanks in part to his buddy, Easton.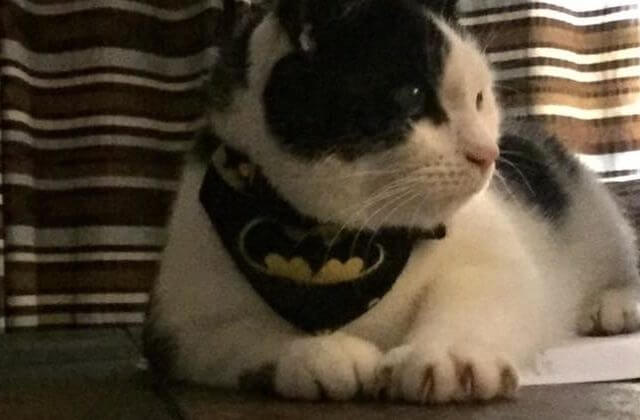 Recently, Elizabeth began thinking about adding another pet to their household. She spoke to Easton about the possibility of a dog, but he was adament that he wanted another "fat cat like Oscar."
Mother and son logged onto the Exploits Valley SPCA adoption page and searched through dozens of dogs, puppies, cats, and kittens.
Easton was steadfast in his choice. He wanted another "extra fluffy cat" and Tiny was the one for him!
Tiny had been turned over to the shelter along with his sister Trinity just days earlier due to unforseen circumstances. Despite their sibling status, Tiny and Trinity were not closely bonded. For this reason, and the fact that overweight senior cats are so difficult to place, the EVSPCA was willing to adopt them out separately.
Elizabeth snapped the heartwarming photo above of Tiny's freedom ride home from the shelter. The nervous kitty climbed out of his crate and snuggled into Easton's lap where the sweet little boy stroked his head and gently crooned in his ear to comfort him.
According to Easton's proud mom, the rest is history!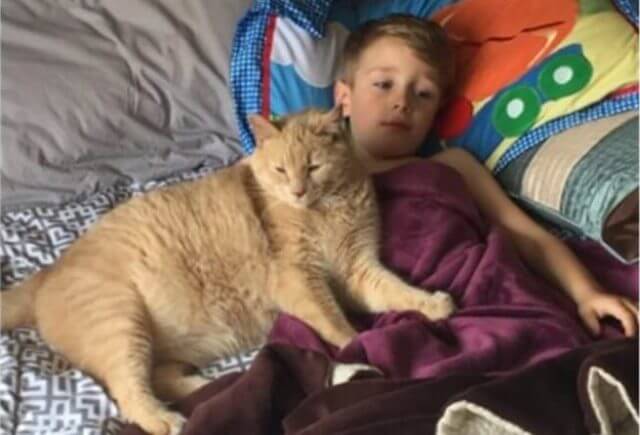 "The first thing Easton does every time we get home is find both of the cats and say 'Hi' and pet their heads," Elizabeth told iHeartCats. "Oscar usually waits on the step for him to get home because he walks him to the bus stop and back. He is pretty much a chubby cat whisperer!"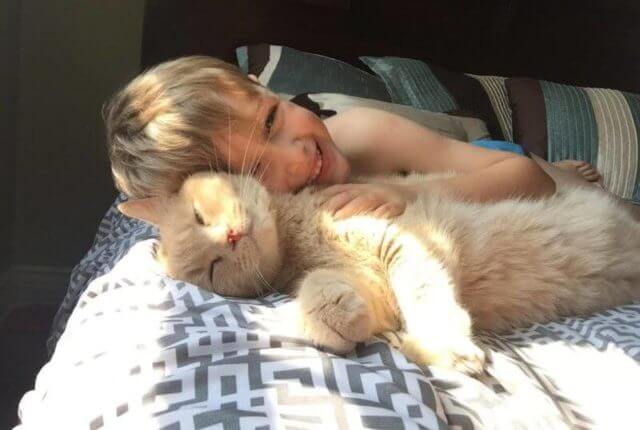 Exploits Valley SPCA's post about Easton and Tiny has garnered 44,000 reactions and nearly 4,000 comments of love and support for this wonderful little boy and his extra fluffy orange cat!
It is the shelter's first viral story and has brought much-needed attention onto an all-too-often overlooked group of pets – special needs seniors.
"Easton has always been a child who takes to personalities and temperaments over size or shape," Elizabeth said.  "As soon as Tiny nuzzled into him, that was it!"
Featured Image c/o Elizabeth Haggie