Indraloka Animal Sanctuary, located in the northeastern part of Pennsylvania, provides a healing home for formerly farmed animals who have nowhere else to turn. Since they began in 2005, they've rescued and cared for over 600 animals! Today the sanctuary is home to almost 200 animals of 11 different species, and nearly 100 of those animals are cats!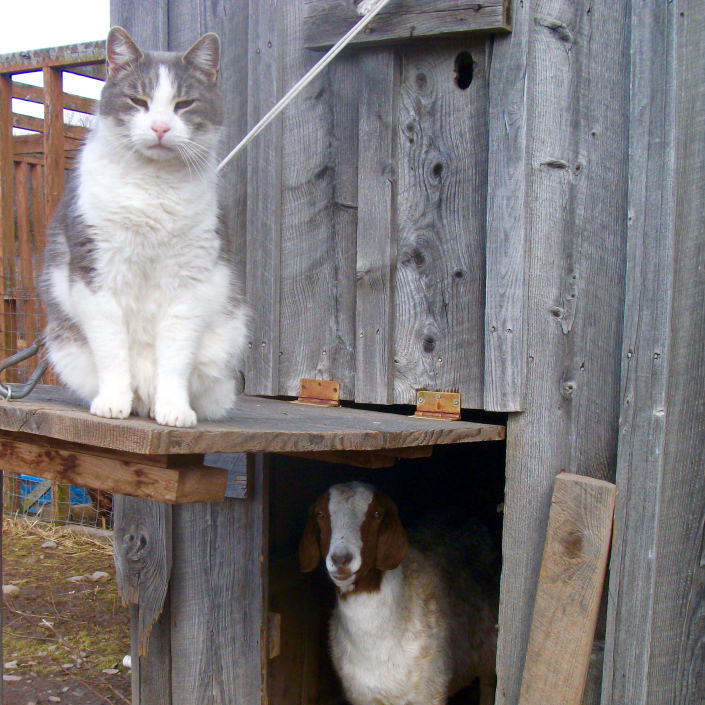 Indra Lahiri, founder of the sanctuary, says "We are all one big family, and the cats of Indraloka are a big part of what makes this such a special place." Because of the inherent nature of a sanctuary that rescues farmed animals, the new animals that arrive are often confused, scared, and deeply traumatized, but the resident cats won't let them stay that way for too long! Time after time, the cats have shown up to provide frightened animals with the comfort, love, and companionship they need to settle in to their new home. The attention and care has helped grow quite a few life-long interspecies friendships.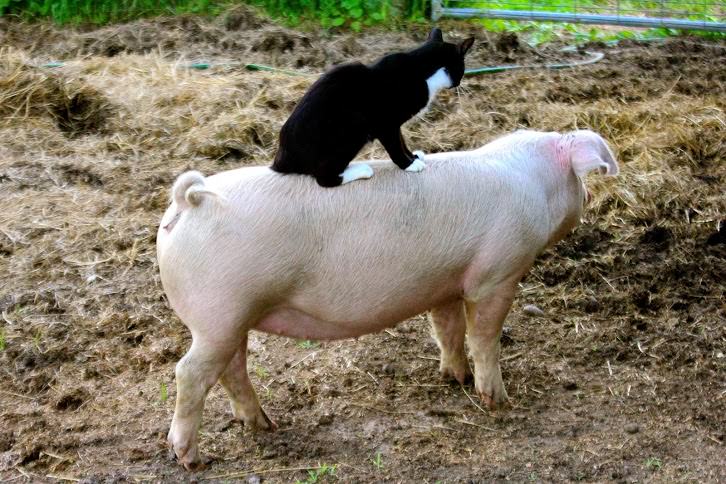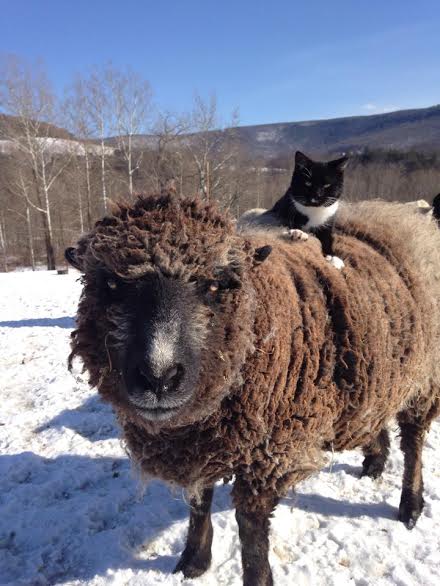 One of the biggest purrsonalities at Indraloka is a tuxedo cat named Wesley T. Monkey. Wesley has a lot of love to share and it seems that everyone has a lot of love to share with him in return. He has managed to make friends across the board, with all species, and can often be found sunbathing on top of a sleeping cow, riding on the back of a pig, or cuddling with a chicken! Wesley loves his friends so deeply that he instinctually knows when they need him the most and he will show up to comfort them. When his friend Penny (a 30+ year old cow) was dying, Wesley climbed on top of her to help her feel surrounded by love while she took her last breaths.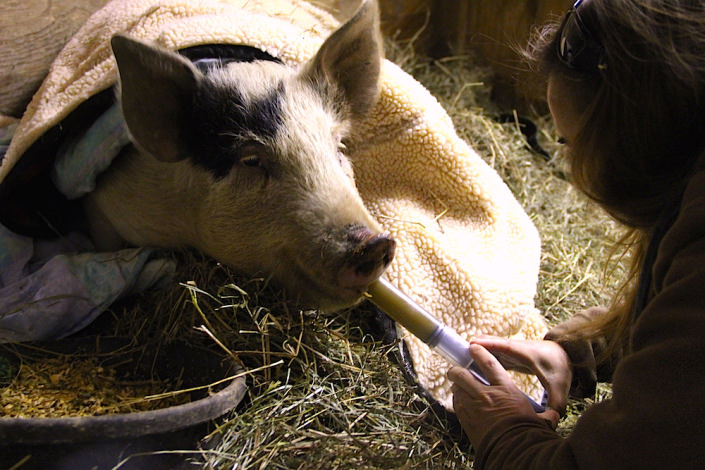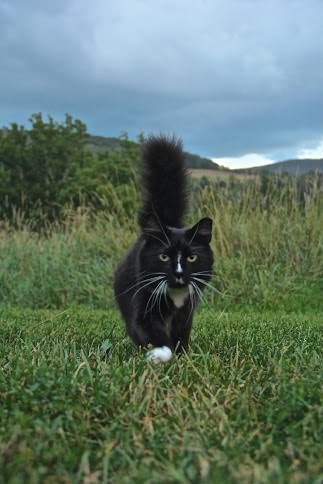 Then there is CC, who befriended a pig named Jeremiah and helped nurse him back to health. In her pre-sanctuary life, CC had been a part of a feral colony that was being tended by a Trap, Neuter, Release group. Once trapped and spayed, it was discovered that one of CC's eyes was very infected and would need to be removed. The TNR group found her a home at Indraloka to save her from the added danger a one-eyed cat would face if returned to her colony.  Like all feral cats, CC was very shy and untrusting of humans when she first arrived at Indraloka and rarely let the workers within a few feet of her. Jeremiah was near-death when he was rescued and brought to the sanctuary suffering from long-term pneumonia. Soon after Jeremiah arrived, CC visited him in the barn and made a bed for herself in the straw beside him, cuddling and grooming him while he slept. From that vantage point, CC watched as the Indraloka workers lovingly tended to Jeremiah around the clock. Slowly but surely, she began to trust them. These days, CC enjoys weaving in between the legs of her human friends and loves being scratched behind her ears.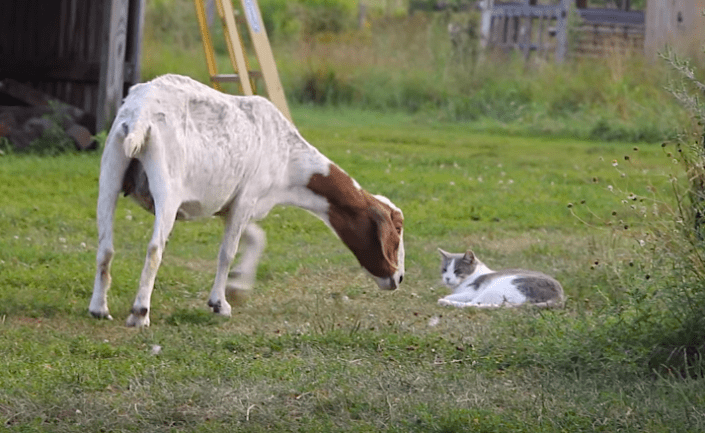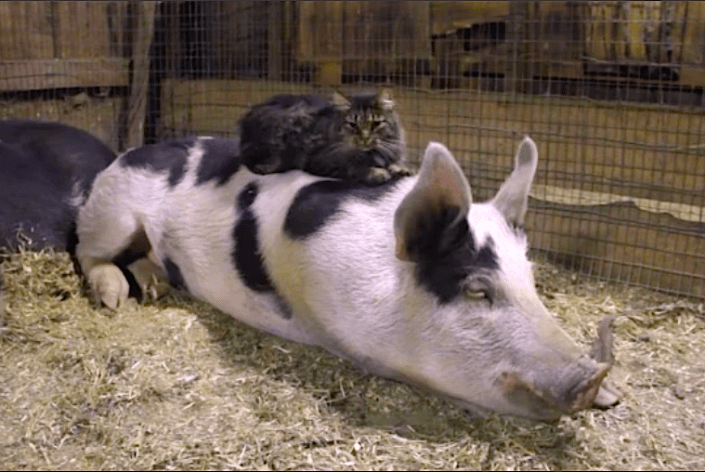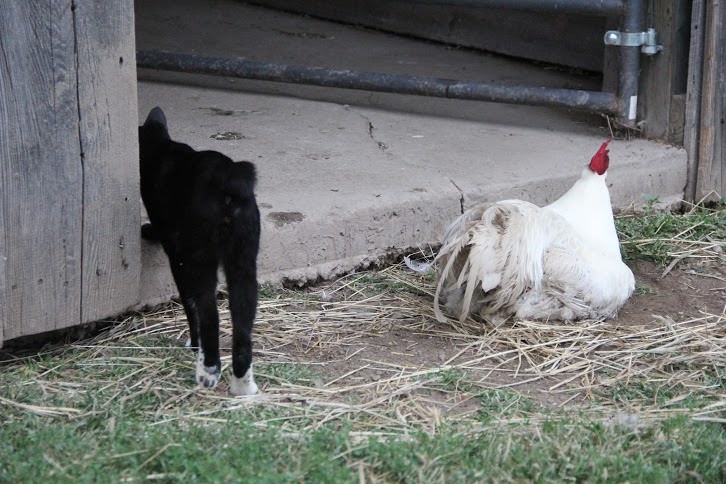 Wesley T. Monkey and CC are only two of the dozens of amazing cats that call Indraloka Animal Sanctuary "home", but I'm sure you can already see that these cats have a lot of important lessons to teach us about empathy, trust, and loving those who are different than us. In the spirit of giving back to this loving and generous bunch of kitties, Indraloka has launched the Valentines For Feline campaign. If Wesley and CC touched your heart, consider sending a valentine their way. Each one will help provide spay and neuter operations, medical care, food, and winter housing for the cats at Indraloka. Let's give these sweet kitties something to purr about!

Did you like this?