Tanya Williams, the owner of Provocative Pleasures in Swindon, UK, thought she was going doggone delirious–or rather, cat-lady crazy–when she heard meowing overhead in her bodacious boutique. However, her various searches of the store turned up with no culprit. But she knew she was hearing something, but just couldn't put her finger on what it was.
Then one day, the noises grew louder… and they couldn't be ignored.
"On Saturday I heard this incredibly loud, distressed sounding wailing coming from the ceiling. But never in a million years did I think a cat was in the ceiling," says Williams in an article by SWNS.
…Talk about a cat-call.
She then explains how she freed the feline. "I took a pair of scissors and just thought I'd have a look…We had to pull him out of the ceiling head first – it was like giving birth to a cat."
And as it were, the cat was incredibly grateful to his new mom. "He fell onto my shoulders and I have never had a cat cuddle me that much before, he kept nuzzling me. We had an instant connection and he just seemed so relieved to be out of there," says Williams in the aforementioned article.
The cat, named Cedric, is a two-year-old tabby who looked thin and malnourished. Williams took him straight to the vet where he was given an IV and has since made a full recovery.
It was imperative to Williams to seek out the frisky kitty's owners and see if they were missing him. "I fell in love with Cedric as soon as I saw him and would have happily cat-napped him, but it was really important to me to find the owner," she tells SWNS.
Although she located his former family, it seemed that Cedric was in need of a new mom as well as a rescuer. "Now it turns out they didn't want him and I'm so excited to bring him home where he'll be joining my other cat Arthur," she says in the article.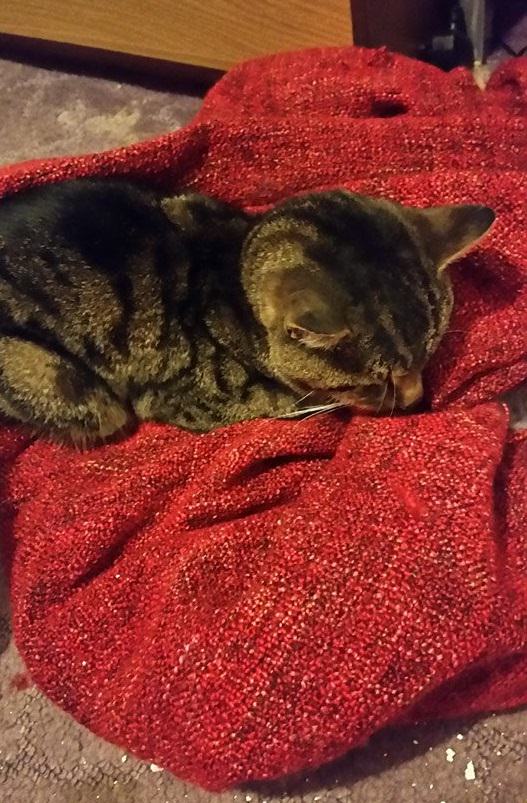 (Featured images courtesy of SWNS.com.)