No one can resist a fluffy orange kitten!
Not even a Basset Hound and his family out for a walk on the Cleveland, OH, streets.
And it turns out a certain orange kitten named Pinot couldn't resist the Nienaber family either. The kitten sure knew the right family to find as the connection led to a forever home for a baby by himself on the street.
Leslie and Jon Nienaber often take walks around the city with their hound, checking out what's up with the local cat populous. Between the feral cat colony in their neighborhood, the stray cats, and the house cats, they see lots of kitties. And one day, the Nienabers encountered a cute kitten with the friendliest attitude ever.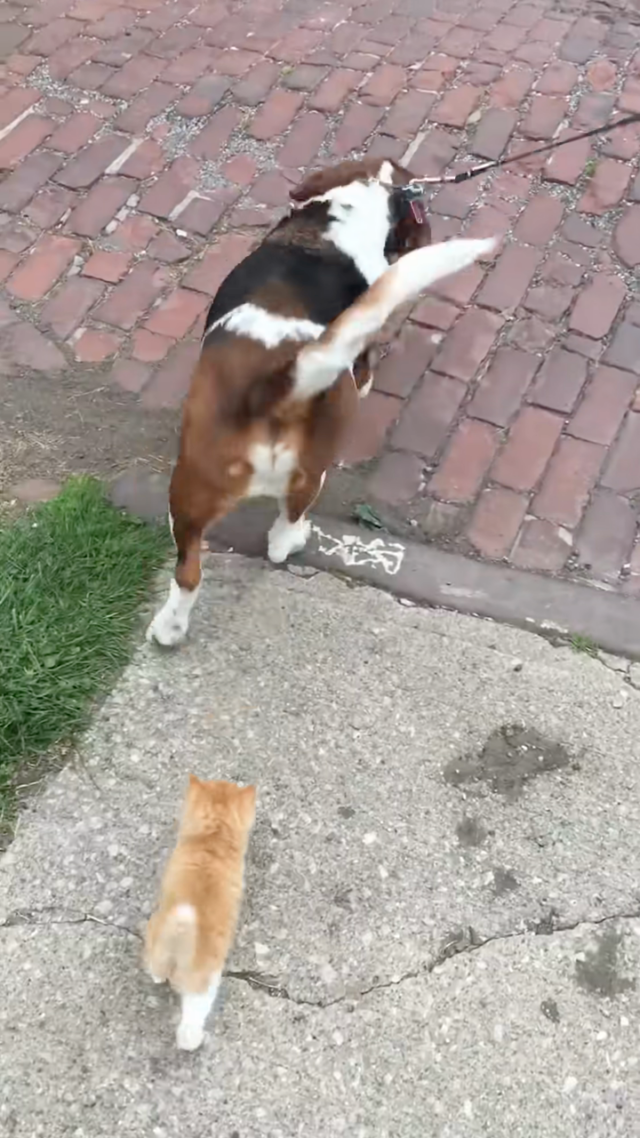 Meeting a New Furriend
On this purrticular walk, Jon and his dog were strolling together when they picked up the tiny orange and white shadow. Smitten by the kitten, Jon had to let Leslie know and, as she shared with Love Meow, "He called me and told me he found this adorable little kitten that just seemed like he wanted attention."
Leslie grabbed some food and headed out to meet the trio. Meeting him, she saw Pinot was just a tiny thing, but he was ready for a big adventure.
"He poked his head through a little chain link fence, and he started following Jon and I as we were walking away! He seemed determined to stay with us," said Laura.
Following the Basset Hound's waving tail, Pinot's little paws scampered right along, making sure to keep up with his new friends. By the time they reached the end of the street, Leslie knew they'd be taking the kitten home with them.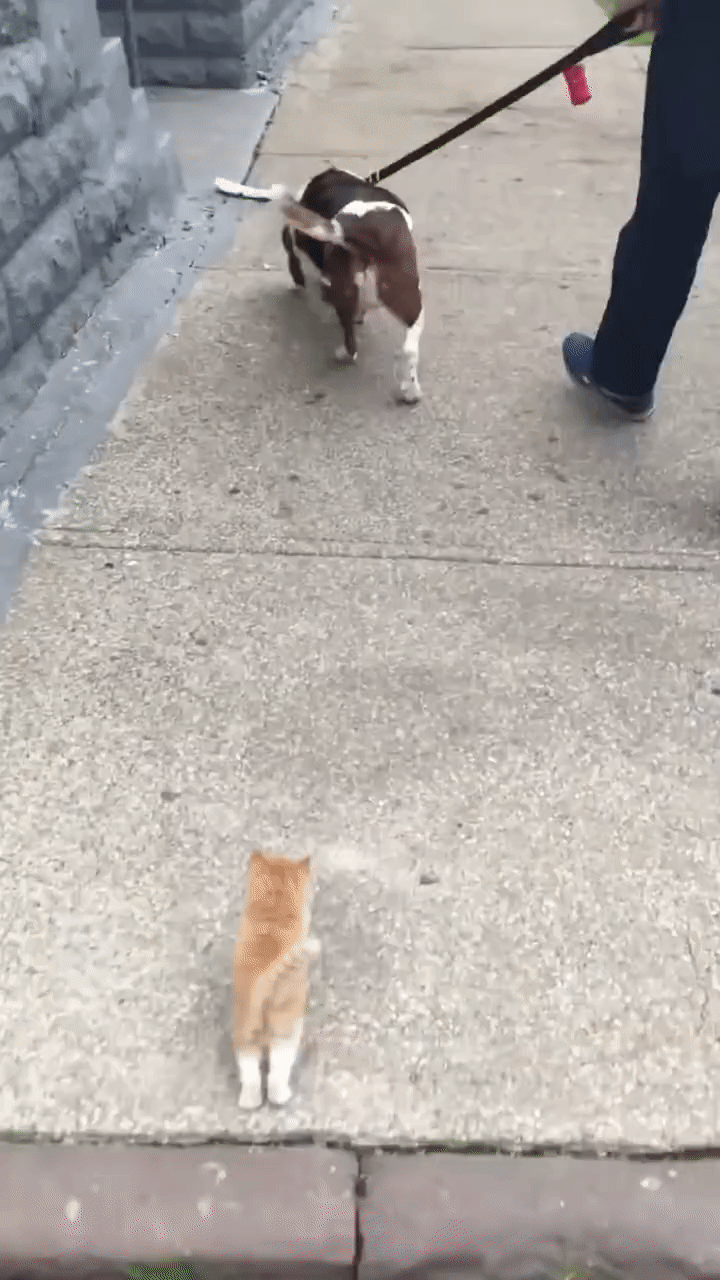 "When I got him home, he was really dirty, and I tried to clean him the best I could. He seemed hungry."
Finding His Forever Home Close By
But Pinot could only be a temporary guest as the couple already had the hound and three cats at home. Turns out Pinot's forever home wasn't too far away from the Nienabers though. Once Leslie's sister, Sarah, heard about the orange and white kitten who needed a home, she picked Pinot up the next day.
"I'll admit that it was really hard to give Pinot away – he was just this brave, determined little soul who wanted to survive, and was the cutest kitten we had ever seen. It made me really happy that my sister took him in, because I knew I'd get to see him grow and I could always visit him."
Leslie feels certain Pinot would have died if they hadn't met him on the street that day. But with her sister, Pinot would always be safe, because as Laura shared, "My sister Sarah was seriously an angel."
All Grown Up
Pinot is a handsome cat now, his kitten days behind him. But he still enjoys the silliness of youth by hanging out in boxes, exploring cabinets, and taking off with his mom's Q-Tips.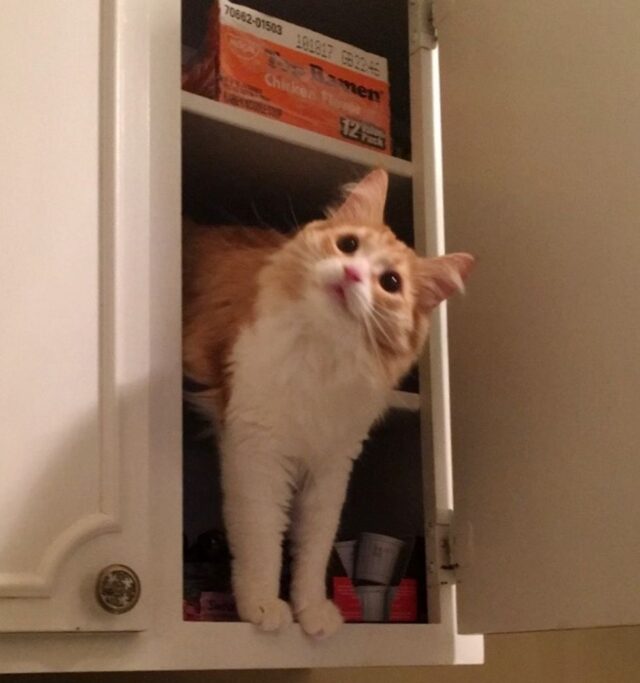 "He is obsessed with Q-tips, to the point where Sarah has found them scattered all around her bathroom, and loves watching birds from their apartment window."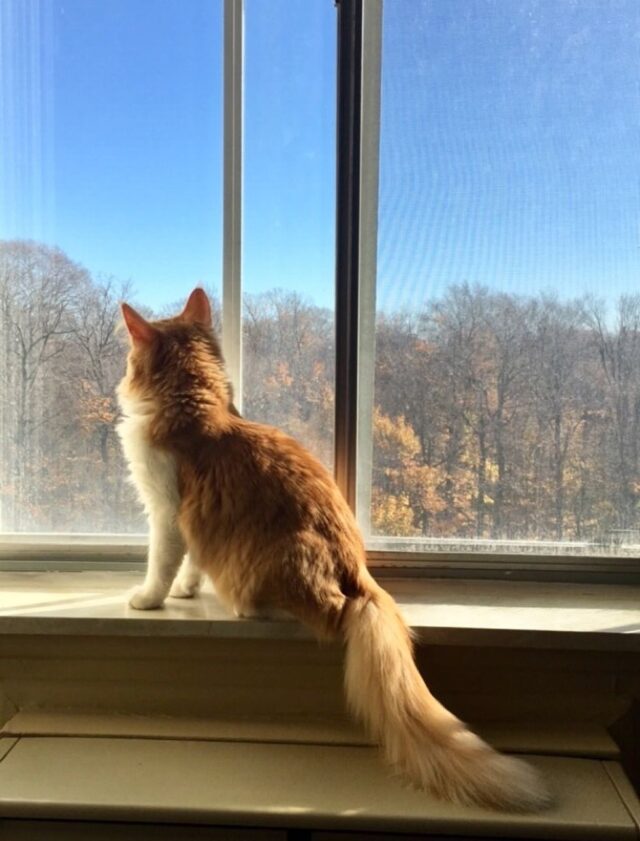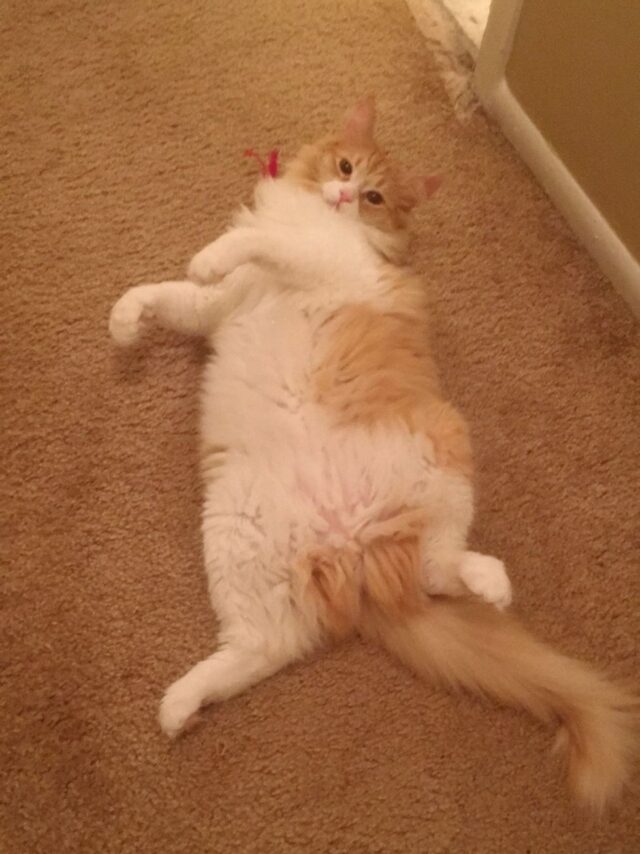 Thanks to a chance encounter on the street, Pinot is a happy floof just living the good life!
You can catch more Kitties of Cleveland on YouTube and Instagram.
H/T: www.blog.theanimalrescuesite.greatergood.com
Feature Image: ClevelandKitty/YouTube & Image Courtesy of Love Meow