Of all the cats at Phoenix's Arizona Humane Society, 8-year-old Britta Bergeson chose Justice. While most children gravitate to perfect, bright-eyed kittens, young Britta fell in love with a disabled adult cat. Justice came to AHS blind due to severe trauma in both eyes, which had to be surgically removed. It was this feature that drew Britta to Justice's online photo. She just knew the special kitty was meant to be hers.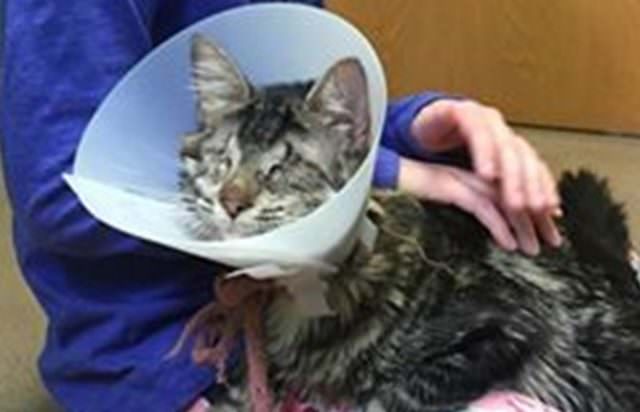 Britta begged her family to adopt the blind tabby. She even drew pictures of what their life together would be like. In one scene, Britta looks on in horror as Justice "bonks" into a wall. In the next frame, she comforts and cradles the purring cat. Next Britta tells Justice she loves her, and interprets her "Meow" response as kitty-speak for "I love you, too." How sweet!
Luckily, Britta's family was open to adopting a blind cat. On March 23 – accompanied by her parents, grandpa, aunts and cousins – Britta arrived at AHS to finally meet her dream kitty in person. There were misty eyes all around as she cradled Justice on her lap.
Adoptions supervisor, Vanessa Crues, described the heartwarming scene to PEOPLE Pets:
"She started crying and it was an instant love connection. Justice just melted in her lap and was so calm with her new friend. The family was very emotional. Love connections like these are what make this job so rewarding, especially for a cat like Justice who really needed to find a great home!"
Thanks to Britta's devotion to Justice, two kitties found their forever homes that day. The girl's aunt and cousins were so inspired by the beautiful connection between the girl and her cat that they also adopted a kitty from AHS!
H/T to PEOPLE Pets
Featured Images via Facebook/Arizona Humane Society