Seeing your cat scratch herself once or twice isn't a cause for alarm. We all itch every once in a while. If it becomes a pattern, though, you'll need to figure out what's causing the itching. At best, having itchy skin is annoying to your cat. At its worst though, itchy skin can lead to fur loss, scabs, open wounds, inflammation, irritations, and even infections.
Since scratching can cause long-term or serious harm to your cat, it's important to address the problem as soon as you notice it. Your veterinarian can perform an examination, and take your cat's specific symptoms and history into consideration to develop an action plan that will alleviate your cat's itchy symptoms while also dealing with the core problem.
Read on to learn about 6 common reasons for feline itchy skin.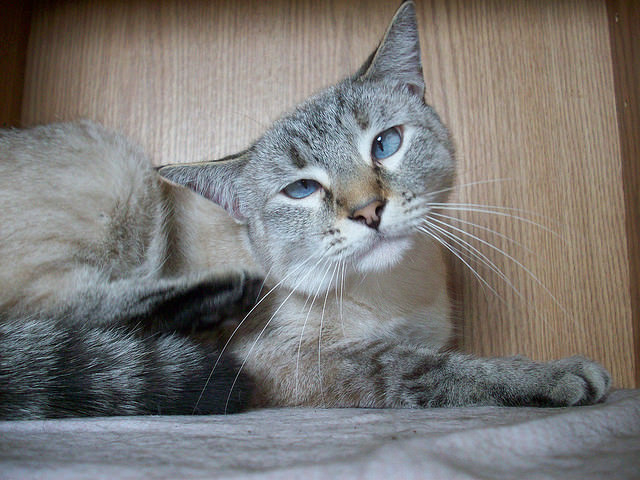 Image Source: Alisha Vargas via Flickr.com
Fleas
Fleas are tiny and can sneak through small cracks and crevices. They are also notorious hitchhikers that can attach themselves to your clothing if you're in a place that has an infestation. Because of that, even indoor cats can be exposed. With a bit of investigating, it should be obvious if your cat has fleas. Use a flea comb to inspect the base of her fur for fleas and "flea dirt" (flea feces which will turn reddish if you drip water onto it).
Fleas are very common and relatively easy to treat in a variety of ways. Your veterinarian can help you choose the best option for your cat. Don't forget to also treat your home, as fleas can breed in bedding, furniture, and carpets!