It's no wonder that flaky skin is one of the most common conditions affecting cats. After all, there are many factors that could cause your cat's skin to become flaky. These factors range from cosmetic to dangerous, so it's always best to meet with your veterinarian if you notice changes to your cat's skin or coat.
Let's look at five of the most common reasons you may be seeing flakes.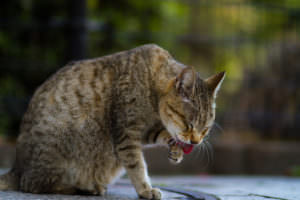 Image Source: Takashi Hososhima via Flickr.com
Under grooming
Most cats do a great job grooming themselves, but some cats have a harder time getting the job done.
If your cat has long, thick fur, she may not be able to access the dead skin trapped underneath. Cats who are overweight or have mobility challenges may also have a hard time grooming hard-to-reach areas.
If you suspect under grooming, help her out with regular brushing sessions.