Britain's most famous internet cats, The Magnificent 7 Cats, are Rocky, Prince, Junior, Ugs, Princess Pixie, Tom and Norman. They live with their people in London, England.
Over the coming weeks we'll be sharing the best pictures from our Facebook page together with some of our favourite comments from friends from around the world.
Pixie: Making the most of the last Summer days!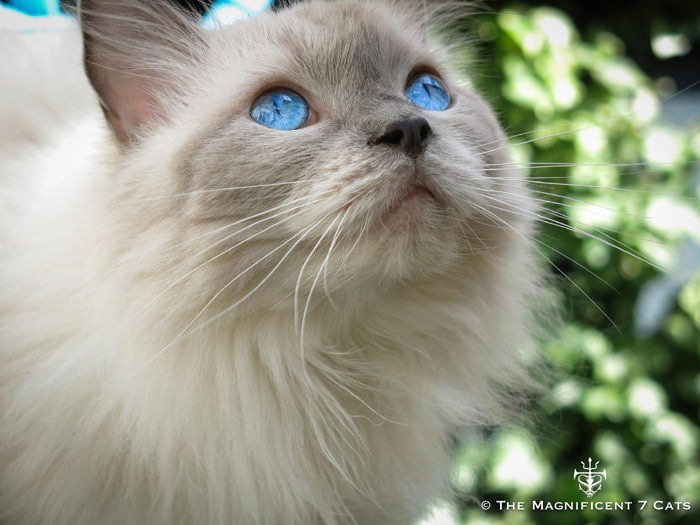 Our favourite comment: 'Thanks! and you too gorgeous Pixie. Plotting again I see…. unless it's a birdie'? (from Louise Boynton, Canada).
Junior knows it was a GOOD RESULT! – BOOM!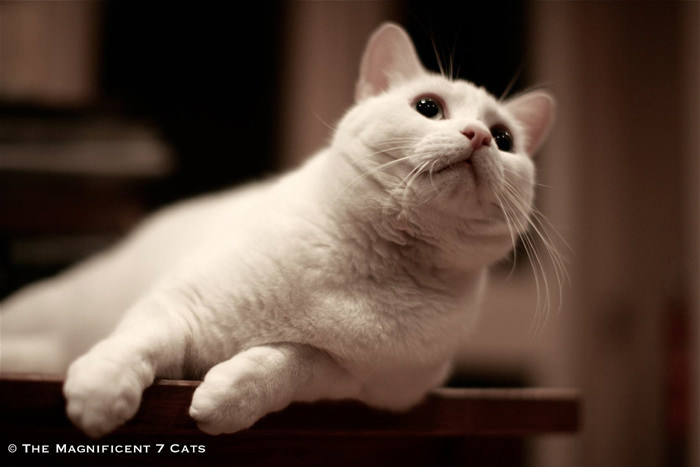 Our favourite comment: 'I just wanna smother him with kisses on his pinky nose and all over, like I do my own furry white boy!!!' (from Nancy Ratner, USA).
I think Rocky is wanting to disturb Junior's sleep!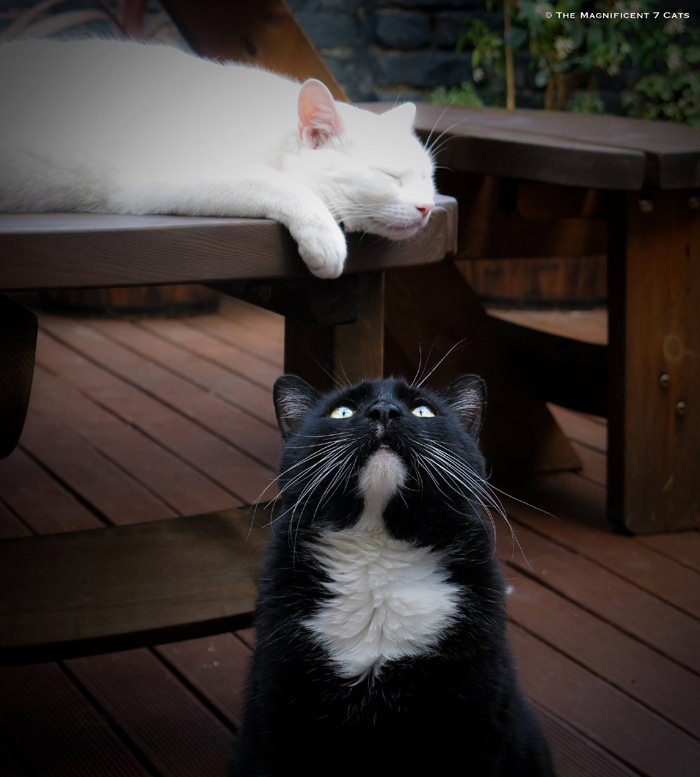 Our favourite comment: 'Now how can you say that when he looks so angelic'? (from Lee Fletcher, Ontario, Canada).
Ugs wishing you all a good night!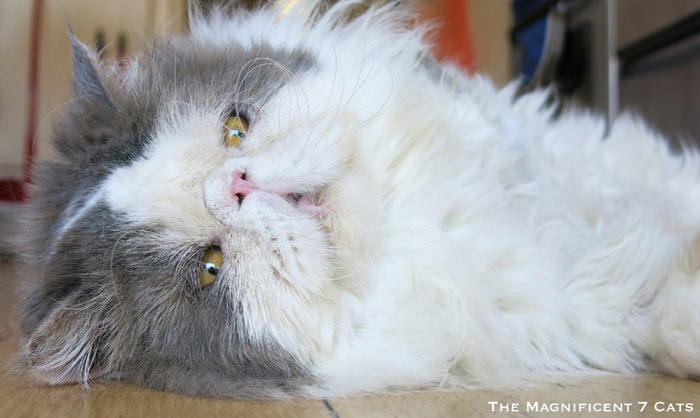 Our favourite comment: 'Bonne nuit. Dors bien, mon coeur de fur. (Goodnight. Sleep well, my heart of fur)' (from Isabelle Ricordel).
Junior: Looking like a seal pup!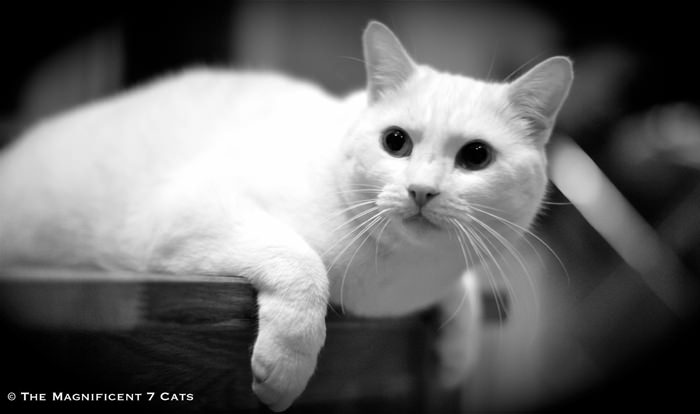 Our favourite comment: 'He just looks simply grand'! (from Carlie Lapacka, Sydney, Australia).
Pixie: Good morning everyone! A sunny day here in London today but a bit nippy! Have a great day!
Our favourite comment: 'It's been a hard day for me. I was feeling tired. This face make me forget aaaalll tiredness!! Morning, sweetie'! (from Debsmita Paul).
This illustration of Tom by Amber's Animations and Illustrations is fantastic! What do you think? Talented girl and see the rest of her outstanding work!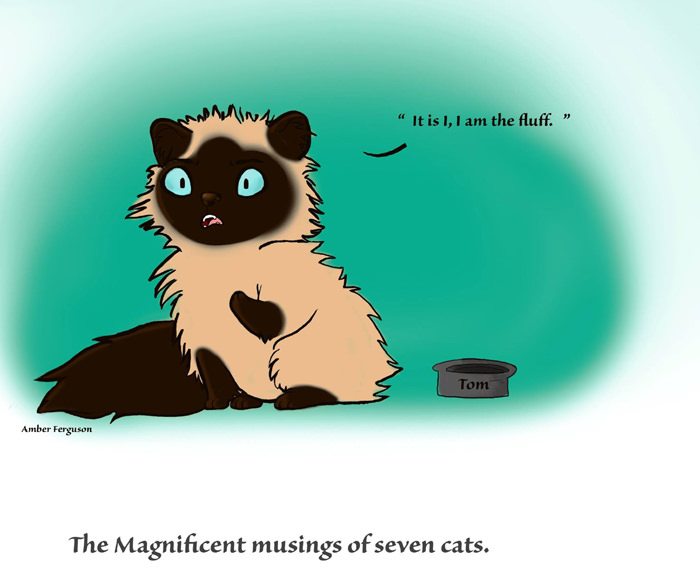 Our favourite comment: 'Almost as adorable as the real Tom'. (from Sharon Zeto, Pittsburgh, USA).
Baby Pixie – Don't tickle me any more!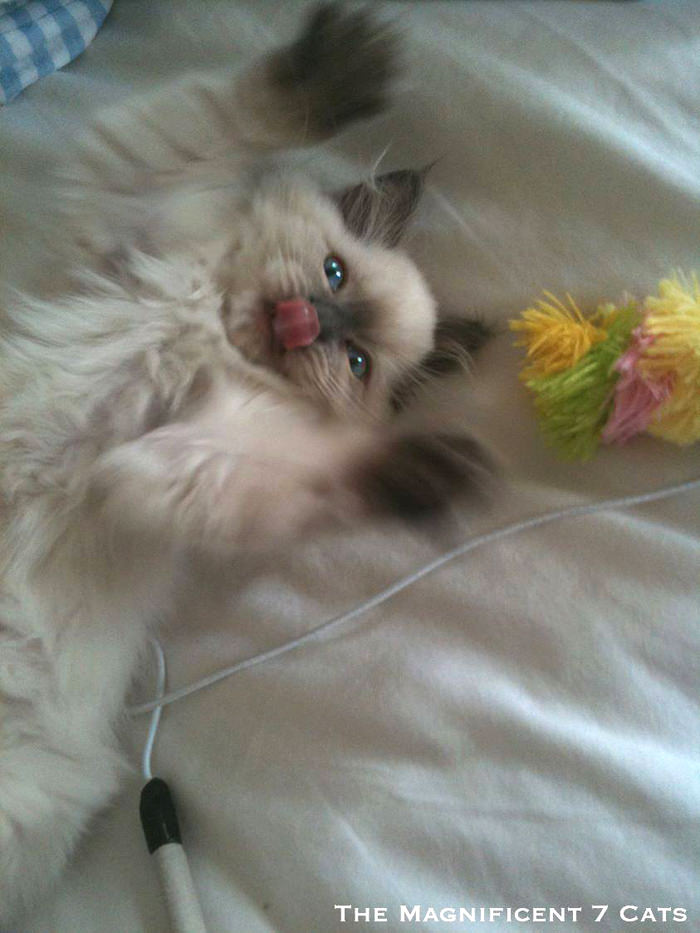 Our favourite comment: 'Pixie reminds me of a cat I had many moons ago. I always said that Siamese (that was her name) was a person trapped inside a cat's body. She loved chasing dogs'. (from Ruya Shabazz, Decatur, USA).
Come and meet all seven cats on  The Magnificent 7 Cats Facebook page or see the best of our pictures on Instagram.
We post great new photos every day and we'd love to hear from you – and your kitties. Maybe we can share your comments here!