If there's a bad part about living with cats it's the litter box. These cabinets won't take away the necessity of litter box maintenance– you'll still have to scoop every day and do regular litter changes– but at least they'll make that boring box into an exciting conversation piece!
#1 – Furever Pet Furniture Litter Box Cabinet
Images sourced from Furever Pet Furniture via Amazon.com
The Furever Pet cabinets are made to be odor free by using a coating and special light wave (both of which are safe for animals and children). There are a lot of size options to fit whatever type of litter box you use. There's even one big enough to fit the Litter Robot! The larger versions of this cabinet features a step to allow easy access for older or achey cats.
#2 – Merry Pet House and Litter Box
Image Source: Merry via Amazon.com
The Merry Pet House can be used as a hideout or litter box hider and it's big enough to accommodate bulkier kitties. You can install a towel rack on the side if you want to use the cabinet in your bathroom, or you can leave it off if you want to use the cabinet as an end table.
#3 – Modern Cat Litter Box Hider
Image Source: Modern Cat Designs via Amazon.com
The Modern Cat Litter Box Hider has a ventilated back to allow air to flow through it, so this box won't hold odors inside. The removable top and laminated finish make for easy cleaning. This box also has hooks inside to hold the litter scoop and a waste bag.
#4 – Designer Catbox Litter Box Enclosure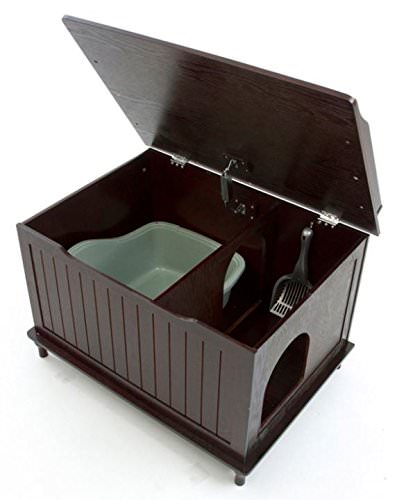 Images sourced from Designer Catbox via Amazon.com
The Designer Catbox has a staggered entrance and interior panel that prevents litter from being kicked out onto the floor. The lid lifts up for easy cleaning and will stay securely up with a hydraulic safety hinge. The entrance hole can be configured in several different ways so it's easy to fit this cabinet into your home.
#5 – Etna Kitty Litter Hide Away End Table 
Image Source: Etna via Amazon.com
The Etna cabinet is perhaps the cutest one out there since it's complete with cutouts of a kitty and paw prints. It's pretty simple too– it just sits over your existing litter box to hide it away. As you can see from the picture, it would also make for a great sleeping cabinet to give your cat a bit of privacy.
Still looking for the perfect litter box? Check out the 11 Best Cat Litter Boxes For The Purrfect Potty Experience for more options.