iHeartCats is reader-supported. When you buy via links on our site, we may earn an affiliate commission at no extra cost to you.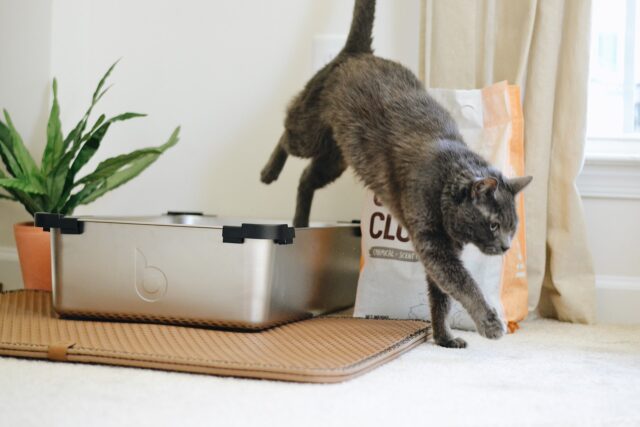 The 11 Best Cat Litter Boxes To Appease Even The Pickiest of Paws
The subject of cat litter boxes can be a stinky one, but the cat lovers of iHeartCats are here to help you and your cat get the potty process down to a purrfected art! Because no cat is the same and each kitty has their own litter box preferences, picking out the right litter box can be overwhelming as the market is flooded with litter pans that range from inexpensive simplicity to luxury-priced with all the bells and whistles. But, for every need and every stage, we've got you covered with our choices for the best cat litter boxes!
Before we get to the pans, here are some tips to keep in mind when setting up litter boxes:
When it comes to the number of pans you need, remember it's one litter box for each cat, plus at least one extra.
Too big is better than too small when considering cats and their litter pans.
Location can be everything to some cats, so when you're trying to figure out the best spot for the litter box, check out The Best And Worst Spots In Your Home For Your Cat's Litter Box.
Stick to unscented litters as artificial perfumes and fragrances can overpower cat noses. All that scent might detract felines from going in their box.
And for happy cats, remember to scoop litter twice daily.
Now, get ready to find your kitty's new litter pan among these 11 choices, and your cat will feel like royalty in their litter throne!
#1 Best Automatic Cat Litter Box
When it comes to the best automatic cat litter box, look no further than the Litter-Robot 3 Connect. While on the pricey side, it's a splurge that's worth it. This best-rated self-cleaning cat litter box does the smelly work for you and sifts away kitty's business after they go. All you have to do is empty the waste tray when it gets full. Plus, when you pair this WiFi-enabled automatic litter box with the Whisker app, you can run cleaning cycles, monitor your cat's health, and know when the waste tray needs emptying.
Also, if you're traveling and need to leave your cat at home for a few days, this self-cleaning litter pan is an excellent option as it takes care of the mess while you're away. Just ask whoever you have checking in on your kitties to ensure everything is still running right. Chances are, it will be because you have complete control with the app. It's space-aged cat care, fur sure!
#2 Best Overall Cat Litter Box
When it comes to litter boxes, you're probably used to seeing pans made of plastic. But plastic litter boxes can break down under cat claws that scratch at them multiple times a day. And no matter how much you scrub, the odor and stains just don't come out of plastic. But check out the iPrimio Ultimate Stainless Steel Cat XL Litter Box. Because this extra-large cat litter box is made of stainless steel, clumps will never stick, and cleaning is a breeze because steel stands up to claws!
#3 Best Cat Litter Box on a Budget
Coming in under five dollars, the Van Ness Cat Litter Pan is a great budget choice for most cats. This large cat litter box provides plenty of space and sides high enough to keep the litter in, as long as your cat isn't a crazy litter kicker! From small cats to chonky ones, kitties will find this pan an ideal choice for doing their important business.
#4 Best Litter Box for Large Cats
On our hunt for the best boxes, size was a factor we greatly considered. Large cats need lots of space to spread out when they do their box business, and the Petmate Giant Litter Box gives flabby tabbies all the room they need. Not only spacious at 25 inches in length and 18 inches wide, but the sides of the box are also 10 inches deep to keep litter contained for minimal tracking. Those high sides will also keep urine inside the box if you've got a cat that aims high.
#5 Best Litter Box for Senior Cats
Due to mobility issues and arthritis, senior cats have a more challenging time climbing in and out of litter pans with high sides. The KittyGoHere Senior Cat Litter Box solves that issue with a drop-down entryway that's only three inches high. This litter box is also ideal for kittens transitioning into larger pans as they grow. Those high-sided litter pans can be a struggle for chubby, little kitten legs!
#6 Best Covered Litter Box
Covered litter boxes can be a tricky thing. Many cats don't care for the closed-in potty experience, but the clear top on this covered litter box may convince a kitty who's on the fence about a hood. If your cat digs having their own little poop cave, though, then the Petphabet Jumbo Hooded Cat Litter Box will be your kitty's dream come true! And because it's crafted with extra-large dimensions of 24.8 "L x 20 "W x 16.5 "H, the big kitties will find it a comfy fit, too.
#7 Best Top Entry Litter Box for Cats
One of the best features of the Modkat Top-Entry Litter is the lack of tracked litter on your floors. When cats jump on the lid on their way out, the litter dusts off and falls back through the holes in the top. Those same holes also help ventilate the box, so cats aren't trapped inside with their stink! This box might not suit large cats, but smaller felines will enjoy hopping in and out of this sleek top-entry litter box.
#8 Best Sifting Litter Box
If scooping isn't your bag, try the Arm & Hammer Sifting Cat Litter Pan for something different. This sifting litter box aims to extend the life of litter material by shaking away the waste to leave behind a fresh experience for your cat. Plus, in their reviews, more than a few cat parents commented on how well this sifting litter pan works with pine litter.
#9 Best Cat Litter Box for Small Spaces
When searching for the best cat litter boxes for apartments, you should consider a litter box furniture enclosure to save space. And the Sweet Barks Wooden Bench Cat Litter Box Enclosure provides a stylish option for small spaces. Inside the cabinet, you'll find two spacious compartments that offer you some options. You can either store litter supplies in one side of the cabinet with the pan in the other or put two litter boxes inside. The top provides a place for storage no matter where you decide to put it. To make this enclosure even better, the openings on either end are in the shape of a cat's head. Too cute!
#10 Best Litter Box for Corners
The Nature's Miracle High Sided Corner Cat Litter Box is great for a few reasons. One, it's made of sturdy, solid plastic that cats can't tip easily. Two, because it sits in a corner, this box offers even more stability and a sense of security with two walls on either side. And number three, it's a giant litter box for a large cat as it offers twenty-three inches of space from entry to the back. At 26 inches deep, cats can kick all the litter they want, and it will stay inside the box.
#11 Best Litter Box with Fun Flare
Since a house full of cats needs lots of litter pans, get one that's some fun! The Good Pet Stuff Hidden Litter Box not only keeps the litter box from view, but it also doubles as cute décor, allowing for a litter box in areas with higher traffic where space is limited. Plus, the plant on top needs no care; it's faux!
Surely, you'll find your little prince or princess's prime choice among this list of the best boxes on the market. And once you've chosen the purrfect litter pan, follow these 8 Tips For Keeping A Clean Litter Box to keep kitty's potty just right!
iHeartCats is reader-supported. When you buy via links on our site, we may earn an affiliate commission at no extra cost to you.