Art has the power to touch the soul, inspiring feelings as wide as the range of hues on the artist's paint palette. When a cat serves as the subject of a painting, those deep feels hit even harder.
And why is this?
Because cats are made of the same mysteries that bring great art to life.
In Tohukiro Kawai's oil paintings featuring regal felines, we see the truth of this revealed!
Imagination Brings Fantasy to Life
Japanese contemporary surrealist, Tohukiro sees the fantastical in his imagination, ideas of 'what is' and 'what was' flowing from his paintbrush to capture whimsical yet elegant pieces of art. With color and fantasy, he draws the eye of admirers, who then begin to consider how imagination and reality collide in a modern era.
His website explains his style, his inspiration. "Kawai approaches to work on the now fragile bond between story and picture to bring the two into reunion. Since gods and faith are less related to our modern society, Kawai complements the theme with his own imagination."
"Kawai's painting is always an illustration without chapters with classical technique portraying a story of modern lives."
Cats See Truth in the Surreal
In roughly a dozen oil paintings of cats featured as royalty or objects of devotions, Kawai certainly explores myth and truth, pairing them in his delightful works. His kitty subjects are often tended by angels while surrounded in lush landscapes or fabrics. This heavy renaissance style captures the majesty of felines in the most divine way.
But cats don't think of Tohukiro's work as imagination only. In their not-so-humble minds, they are destiny-chosen royalty! To cats, his work reveals a truth cats want humans to understand.

Tokuhiro Kawai via Bored Panda
Pay homage to your feline overlords in this gallery of oil-painted cats! 
This royal tuxedo cat is attended by cherubs who wrap their sovereign in his kingly raiment…
When his courtly duties are done, His Majesty requires sustenance of cream served by a heavenly host…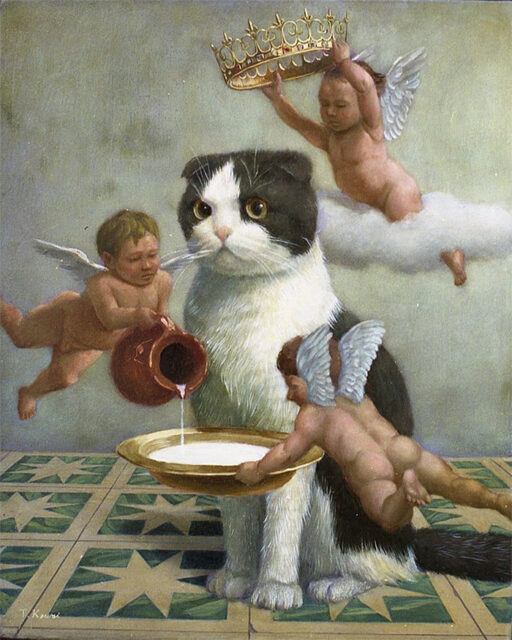 Tokuhiro Kawai via Bored Panda
Here we see the cat who could be the original Puss N Boots, so dashing in his hat and feather…

Tokuhiro Kawai via Bored Panda
Two sweet fairies crown a kitten with garden flowers…
The desires of felines are few, but not to be overlooked…

Tokuhiro Kawai via Bored Panda
Dynasties unite to solidify the power of cat…
Two sleek aristocats read I Am A Cat to enjoy a feline's view of human society…

Tokuhiro Kawai via Bored Panda
Feline beauties gaze upon a bird glazed in golden light. A dinner of fine presentation for such majesty!
H/T: www.boredpanda.com
Feature Image: @tokuhiro_kawai/Instagram