One of the many things that makes cats so great is that they're generally very good at grooming themselves. But even the best self-cleaning cats will occasionally need our help with an unruly knot or a nail trimming. Other cats, like ones with thick, long hair or a mobility challenge, may require more frequent help. Your cat may fall anywhere on that spectrum. No matter which kind of cat you have, there are some grooming products that may come in handy. Here are 6 products to have in your grooming arsenal:
#1 – Furminator

Any cat with hair will benefit from the Furminator, but it's particularly essential for those of us who have long-haired kitties. The Furminator easily pushes through your cat's topcoat to access and comb away loose hairs underneath. According to their website, this tool reduces shedding up to 90%! Less loose fur when your cat grooms herself also means less hairballs for you to step on in the middle of the night.
#2 – Nail Clippers
With many veterinarians and behaviorists speaking out about the pain and cruelty involved with declawing, many of us want a humane alternative. We want our cats to keep their claws…but that doesn't mean we want them to scratch us and rip up the side of the couch. That's where a good set of nail clippers comes into play. Choose a pair that are sharp, easy to disinfect, and have a guard that'll prevent you from trimming too far down. It doesn't hurt to have some styptic powder on hand to stop the bleeding, just in case.
Related:
Keep Your Cat's Claws and Paws Healthy With These 5 Tips
5 Cat-Friendly Alternatives To Declawing
7 Reasons To Never Declaw Your Cat
#3 – Knot remover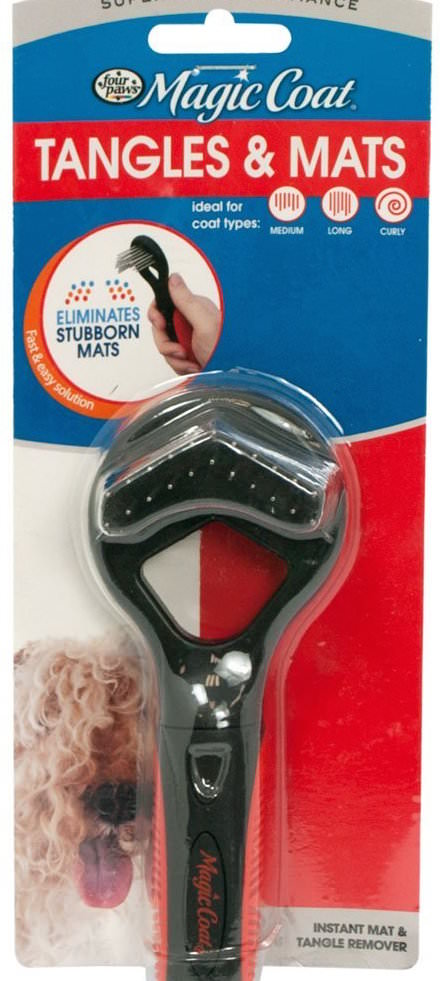 If your cat has a long, thick coat, you're probably very familiar with knots in hard to reach areas like the beard or booty. A mat removing brush will quickly and easily remove tangles and clumps. One of my long haired cats has no teeth. As you can imagine, we put this tool to good use and we'd never be without it.
#4 – Wet wipes
These wipes are great to have on hand if your cat ends up sticky, messy, or otherwise dirty. If the "situation" is simple enough, you can even use them to avoid giving your cat a dreaded bath. They're hypo-allergenic, biodegradable, and contain natural conditioners that'll leave your cat's coat (and your hands!) smooth and moisturized.
#5 – Toothbrush and toothpaste
Brushing is a great way to keep your cat's teeth and gums healthy, which may help you avoid costly and painful oral procedures down the road. Make sure you choose a toothbrush and toothpaste that have been specially designed for cats. The toothbrush will be angled and smaller than a human's toothbrush to accommodate a cat's mouth. The toothpaste will taste delicious to your cat and will contain no toxic ingredients.
Related:
7 Tips For Brushing Your Cat's Teeth
9 Dental Problems To Look Out For
#6 – No-rinse shampoo
Does your cat hate water? You're not alone. But sometimes the wet wipes won't cut it and your cat will need a bath. Your cat will be thrilled to know that a bath doesn't have to involve water. Lots of companies have developed waterless cat bath products. You just massage the product (which is generally a foam) into your cat's fur and let it clean your cat's skin and fur while it dries.
Related: