Britain's most famous internet cats, The Magnificent 7 Cats, are Rocky, Prince, Junior, Ugs, Princess Pixie, Tom and Norman. They live with their people in London, England.
Here's another selection of the best pictures from our Facebook page together with some of our favourite comments from friends from around the world.
Pixie and Junior: Back off Junior! I've got this!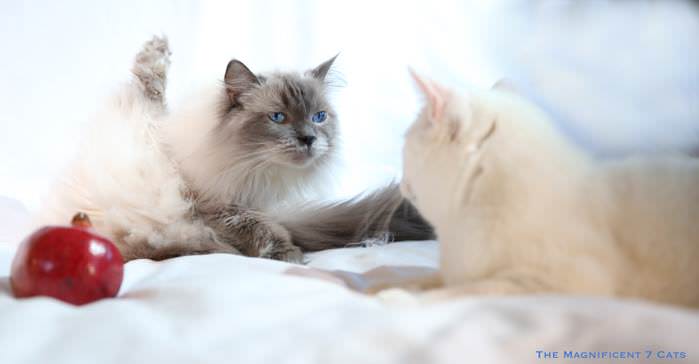 Our favourite comment: 'If you come one paw nearer I'm gonna whack you'! (from Sylvia Mclenahan, Dundalk, Ireland).
Norman: The Golden-Eyed Boy!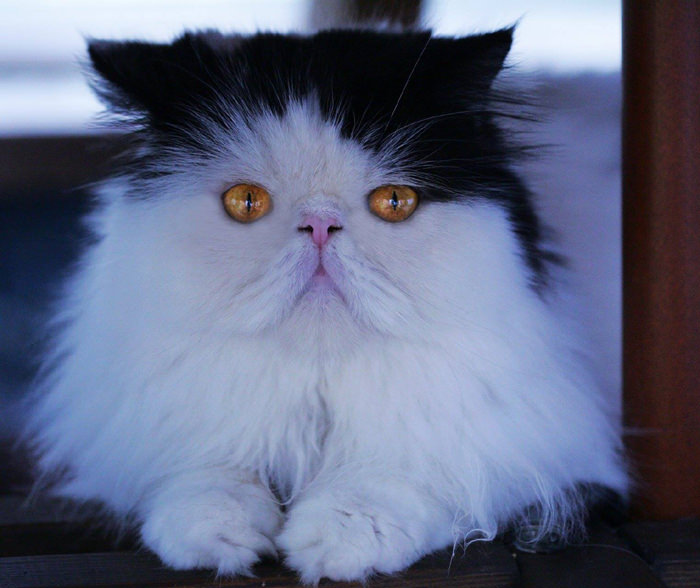 Our favourite comment: 'Sheba: Hi Norman you are a very handsome boy Tonight I'll pick you up then we have many adventures together'.  (from The Maine Coons, Casanova and Raffie).
Pixie: 'Ole Blue Eyes' Perfecto!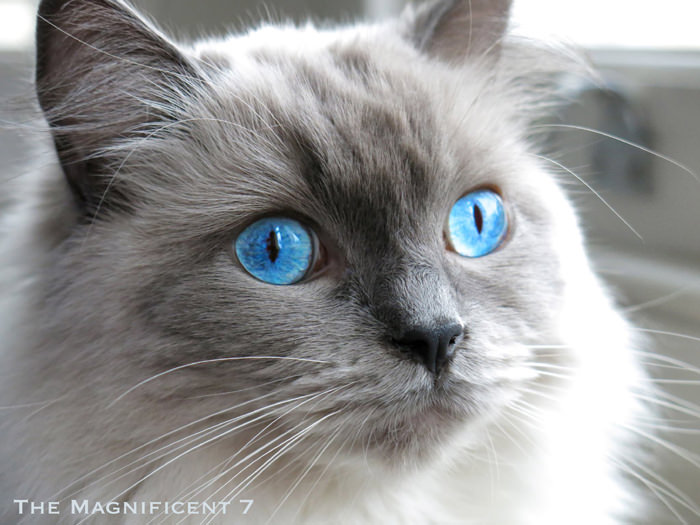 Our favourite comment: 'So beautiful, You're the most beautiful cat in the world that's why my little cat gets a little jealous of you' (Translated).  (from Sabrina Yasmine, Algiers, Algeria).
Junior: He loves to pose!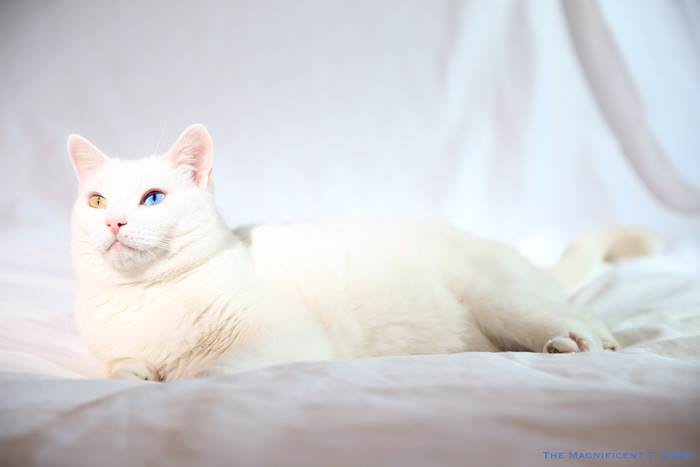 Our favourite comment: 'Well this beautiful boy, in addition to being worshipped by mumz and dad, was born to be a model'. (from Ruth Ann Peterson, Albuquerque, USA).
Norman: Don't forget it is our contest day tomorrow. Bright and early!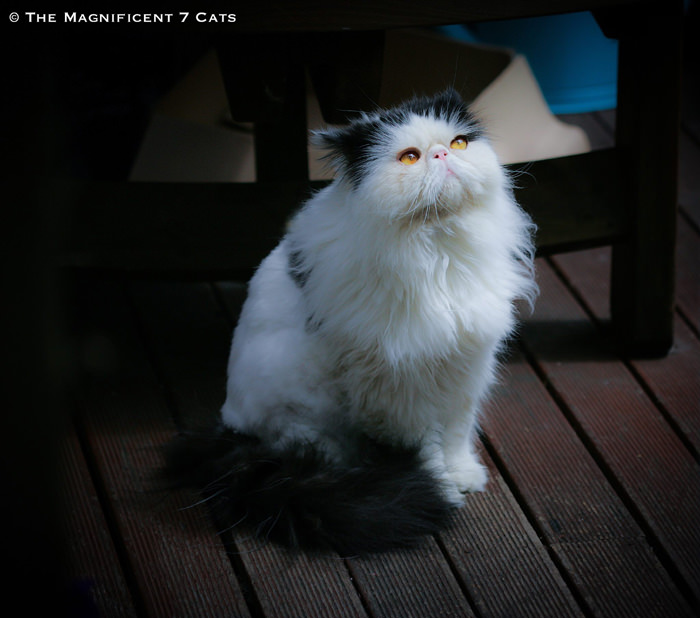 Our favourite comment: 'Hello, my precious Norman! Were you star gazing or watching the red moon last night when mumz took this picture? Love you, sweetheart'! (from Pam Lamb, Santa Monica, USA).
Prince: Good morning everyone!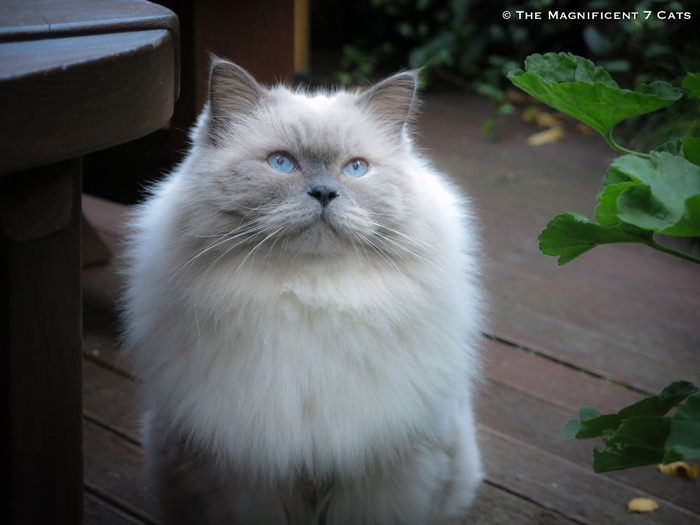 Our favourite comment: 'Good morning to you roaring good looking Prince'! (from Louise Boynton, Montreal, Canada).
Tom: Roll up, roll up! Caption Tom's photo!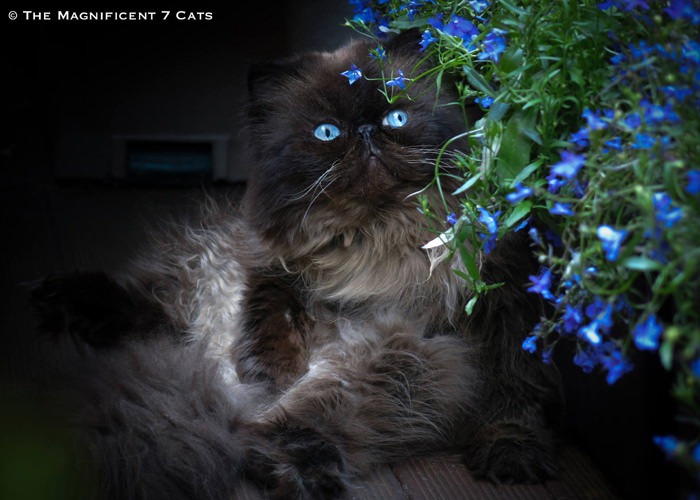 Some of our favourite captions (too many brilliant ones to choose from):
'Really? For me? And you got them to match my eyes? Awww shucks'! (from Charlotte Cutts, Hamburg, Germany).
'Tom found the master class in the art of camouflage most useful at bedtime….'. (from Steph Gell, Nottingham, UK).
'My name is Tom- who are you? Look into my eyes- they are a mesmerizing blue… Then I shall scare you with my cat's meow. Boo'! (from Kami Wegner, Garden City, Kansas, USA).
Ugs: Knows what's going on!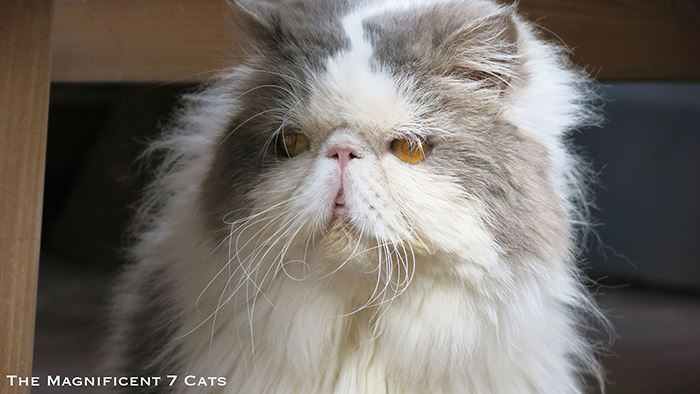 Our favourite comment: 'Wanna SMOOOCH that lovely face'. (from Michelle Chelle Mia Markussen, Haslev, Denmark).
Prince: New cover photo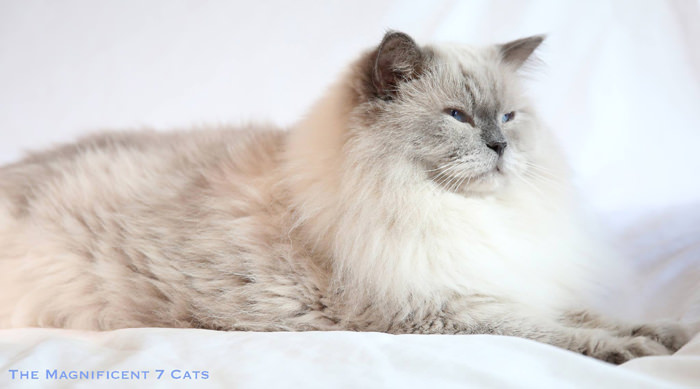 Our favourite comment: 'I'm in love'! (from Liz Jazzie Lancaster, Truro, UK).
Come and meet all seven cats on  The Magnificent 7 Cats Facebook page or see the best of our pictures on Instagram.
We post great new photos every day and we'd love to hear from you – and your kitties. Maybe we can share your comments here!