Cats are fabulously talented creatures and when one turns up named after a human, that human should feel honored!
And in the case of Dennis Quaid the black cat, actor Dennis Quaid indeed felt the honor of having a cat named for him. So much in fact, Quaid adopted his kitty namesake from the Lynchburg Humane Society in Virginia.
Now the 6-year-old rescue cat has made a cross country journey to join the Innerspace actor in his new forever home.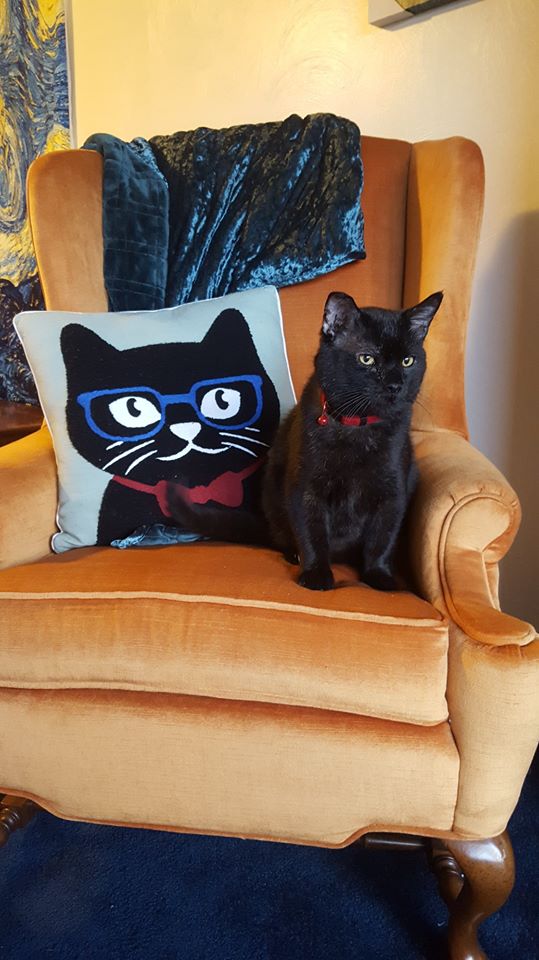 Lynchburg Humane Society/Facebook
The Tale of Two Dennises
In an effort to "Clear the Shelters", WSLS-TV often features animals in need of homes. When Dennis Quaid had his feature moment on the news, his profile caught the attention of his famous namesake.
Seeing his namesake needed a home, Quaid knew Quaid the cat was meant to be part of his family. He said, "It was really off the wall, but I just couldn't resist. I had to. I'm out to save all the Dennis Quaids of the world."
Quaid and his "The Pet Show" podcast cohost, Jimmy Jelinek, called the Lynchburg Humane Society to inquire about the cat, but it took a few minutes to convince staff they weren't being pranked.
LHS manager Danielle Ulmer told WSLS-TV, "I was like, 'There is no way this is real.'"
But once staff realized the call was fur real, they arranged a meeting for the Dennises via Zoom. From there, the stars aligned and the cat soon made ready to leave his year-long stay with the caring hearts of Lynchburg.
Jelinek made the trek to Virginia to pick up Dennis Quaid, explaining, "When Dennis said he wanted to adopt this cat, I felt compelled to go and get it. I don't know, it felt like a story that needed to happen."
While there, he toured the facilities and stressed the message, "Adopt them from shelters. There's so many pets facing euthanasia, and we don't want that to happen. There's opportunity for every animal to have a home if people just adopt them."

Lynchburg Humane Society/Facebook
Regarding Quaid the cat's destiny, Jelinek said, "He is going to be a Hollywood cat and we expect him to fulfill his destiny as a celebrity pet and he is going to live a life of luxury, a life of leisure."
https://www.instagram.com/p/CD_9CkXhhqQ/
And by the way, Dennis Quaid was adoption number 1,381 for the Lynchburg Humane Society since January. Congrats to the Dennis Quaid duo!

Lynchburg Humane Society/Facebook
About Dennis Quaid's arrival on the West Coast, the human Dennis Quaid said, "It's a bad day for California mice."
H/T: www.metro.co.uk
Feature Image: Lynchburg Humane Society/Facebook & @dennisquaid/Instagram