97 kittens in an RV sounds like paradise to a cat lover, but as Best Friends Animal Society reported, "It was a ride to save their lives." For the kittens, the destination would be paradise—the paradise of a forever home.
The almost 100 rescued kittens will now have the chance to grow up happy and healthy thanks to the efforts of Best Friends Animals Society and their amazing volunteers.
These dedicated cat lovers face the tidal wave of kittens hitting shelters every year when the weather gets warm. And this year is no different. Already, kitten season has started the flood of cats and kittens needing rescue in Texas. When Palm Valley Animal Society (PVAS) in Edinburg saw their hands full with furry babies, they put out a call for help on Facebook.
Saving Kitten Lives
Amy Kohlbecker, director of Cat World at Best Friends Animal Sanctuary, saw the PVAS plea about so many kittens in need and hopped on helping. Amy contacted Carrie Lalonde, head of lifesaving operations for Best Friends in Texas, to see about transporting the kittens from Edinburg to Best Friends' branches in Utah.
As it turned out, Carrie was already at work trying to arrange a transport of orphaned kittens from SPCA of Brazoria County, a shelter near Houston, TX. The shelter had been overwhelmed by dozens of kittens. Amy and Carrie knew they had a huge task ahead of them, facing the question of how to go about moving nearly 100 kittens who need 24/7 care.
Amy joked about renting an RV, but the more they talked logistics, the RV made purrfect sense. Room for all the kittens and the space for the volunteers who would be tending them. As if meant to be, finding the RV and the volunteers proved an easy task.
Let's Ride!
Peter Dayton and Chris Sotirake, two transport volunteers with oodles of experience in moving animals, were ready to go. Best Friends' Megan Lee and volunteers Penny and Bob Burleson loaded up with Peter and Chris, ready for the feedings, cleanings, and all-around care young kittens require. The ride from TX to UT would bring a busy stretch of hours, but all the work would most certainly be worth it!
The RV rolled out from Houston with the first wave of kittens and volunteers aboard, heading for Edinburg. Once they picked up the kittens from PVAS, the load was 97 kittens heavy! The trip from Texas to the Sanctuary in Kanab, UT, took 40 hours to complete. Upon arrival in Kanab, the furry ones and their caretakers were greeted by 25 people ready to treat the road-worn babies to some good food and care. But the journey wasn't quite done yet.
While the kittens were in motion, Jackie Hernandez, foster coordinator for Best Friends, contacted their foster care volunteers in Kanab and Salt Lake City. The outcome? All 97 kittens are now in foster care, growing healthy and strong for their forever paradises to come!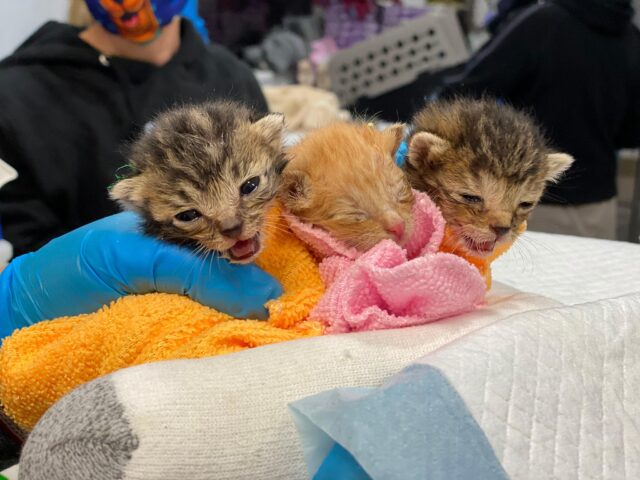 "Without foster homes and this lifesaving transport, the kittens' chances of survival were not good," said Carrie. "But by working together we were able to save these litters of baby kittens."
72 Hours Made It Happen
Within 72 hours, the mission to move the kittens went from inspiration to success. Talk about impressive! But that's just what animal rescuers and volunteers do; they make life-saving moves every day, ensuring cats in need get the love and safety they deserve.
"Kitten season sounds cute, but it can be devastating to our shelters," Amy explained. "Our volunteers know they'll lose some sleep, but then, knowing you played a vital lifesaving role is so rewarding."
And the work won't stop until every cat finds a home!
H/T: www.bestfriends.org
Feature Image: Best Friends Animal Society/Facebook