Francisca Franken missed having a cat.
Growing up, the Franken family always had cats and their current feline, Joker, was a big part of her life. But when she moved out, Joker stayed home. He was a cat used to some outdoor exploration in their rural German neighborhood. City living wouldn't have suited him. Plus, the place Francisca moved into was small. It was better Joker stayed put to stay happy.
A year went by where Francisca lived with no cat. Something was certainly missing from her life with no feline to call friend. So, she moved to a bigger place with an outdoor balcony and decided to take some time to find a cat. But Francisca soon found fate cares nothing for the bonds of time when she came across pictures of Bean, an exotic shorthair with a look all her own!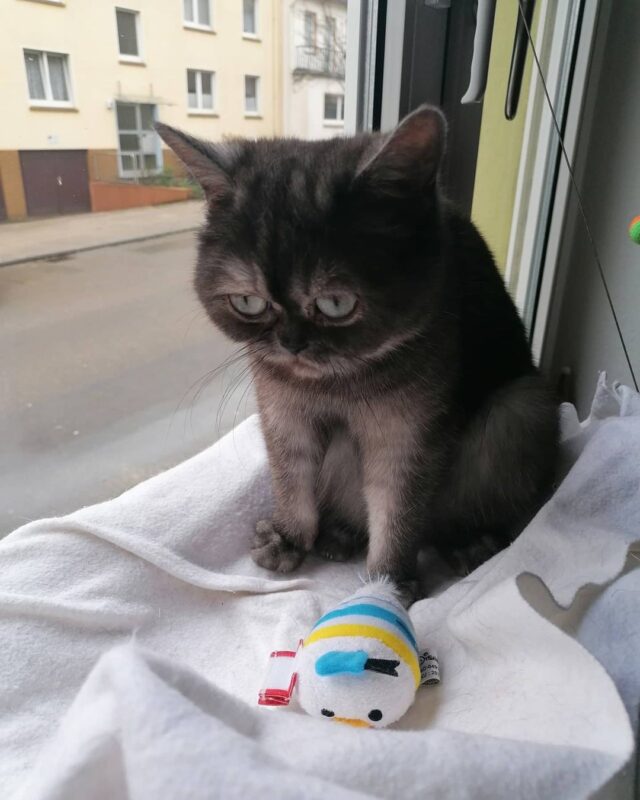 "I saw her photo and fell in love the second I saw her. Well, at first I laughed because the pictures were so funny and I'd never seen a cat like this before," Francisca told Bored Panda.
Francisca was smitten with this unique cat, described "as a feisty little diva, who had some health problems," and she needed to know more.
"She looked like she was 20+ pounds and a real rough street gangster. So naturally, I had to meet her."
Francisca emailed the shelter right away, putting in her best efforts. Waiting for a response was agony, and Francisca shared, "I couldn't sleep all night because I was so nervous."
When the Phone Rang
The next day, Francisca got the call she was hoping for. But what she learned was surprising. The lady from the rescue was verifying that Francisca was truly inquiring about Bean as she'd been at the shelter for months with no inquiries because people thought her 'grumpy' and 'ugly.'
 "The woman who called me was scared that I just pressed the wrong button or something and was not really interested in her at all. I teared up at the thought of poor Bean having nobody that wanted to love her."
Francisca made an appointment to meet Bean the very next day.
Meeting Her Furry Soulmate
When Bean was rescued, she was in bad shape, suffering "a horrible eye infection, struvite stones, and a beginning blockage." If rescuers hadn't intervened when they did, Bean might not have lived to make her appointment with Francisca.
But thanks to the magic of rescue, Bean was there waiting when Francisca arrived, dressed in her best clothes to make the best impression. When Francisca finally got to see Bean in real life, "I started crying when I walked into her room because I was so overwhelmed. She was not at all what I had imagined, but it was so much better than that."
"Bean was (and still is) so tiny and small, she has very stubby legs and a short tail. And the cutest face I had ever seen."
On Instagram, Francisca shared Bean "was a teeny tiny forever baby, that started rubbing against my legs the second I came in." It was love at first sight, and the pair went home together that day!
Sassy Diva, Forever Home
Bean took to her home with Francisca right away, exploring her surroundings or hanging at her new mom's side. She loves to harass the Amazon driver with her musical song and terrorize the insects that dare enter her domain.
The beautiful cat also loves to share snacks with her mom, her favorite being olives. In fact, Bean loves them so much; the naughty cat even resorts to stealing them. Francisca reports, "She broke into the fridge, gobbled down two or three of them, and got off at lightning speed when I tried to stop her."
Full of joy, Bean is truly the happiest of cats, even if people think her grumpy!
Francisca knows without a doubt she and Bean were meant to be. Gushing to Bored Panda, "I fell in love with her the second I saw her and she's the best thing that happened to me."
H/T: www.boredpanda.com
Feature Image: @bebbybeansprout/Instagram