So, your cat means the world to you and you want to give him the absolute best food for his body. Given the chance, your cat is an absolutely stellar hunter but you're not really keen on the "presents" he leaves on the front step. But you get it. Cats are carnivores and meat is their thing.
What if it's not your thing, though? You want your cat to have the healthiest life possible but you have your limits, right? You're really more of a scoop the kibble or pull of the lid kind of cat person rather than a shoo the cat outside to hunt kind of cat person. Is there a cat food out there that offers your cat the absolute best nutrition for her body in a tidy, delicious, easy to serve form?
Behold "I and love and you." This pet food company is serving up love in every meal.
The "I and love and you." Story
"I and love and you." got started by two employees of an independently owned pet supply store in Boulder, Colorado back in 2010. Well before the real pet food movement began, they started mixing up delicious, wholesome, real meals for their own pets, who happened to be dogs. Their dogs loved it so much that they started to sell the meals exclusively in that single store. It didn't take long for them to recognize that there was a real desire for real food among pet families of every kind. So, they grew.
By 2012, there were "I and love and you." foods on the shelves at retailers like Whole Foods, Kroger, and Sprouts. With the mission of helping ALL pets live happier, healthier lives, "I and love and you."raised the bar for premium pet food brands everywhere and consumers took notice. As more people began feeding with "I and love and you." foods, by 2015 the brand caught the attention of major players Amazon and Chewy. Today they are sold nationwide.
Despite their huge growth, they have maintained a steadfast focus on their mission. It all comes down to serving up love, one heart-shaped kibble at a time.
It's all about the ingredients. You won't find a single weird thing on the list. Instead, "I and love and you." foods are packed with protein from actual meat, nutrient-rich with vitamins and supplements, allergy-friendly, and filler-free. "I and love and you."  cat foods contain prebiotics and probiotics, which are known to help digestion issues such as bad breath, rumbling tummies, loose stools, or gas. Fish and coconut oils support healthy skin and a positively beaming coat.
Avoid that look of absolute disdain at meal time and serve up something that will bring smiles to both of your faces. Every single one of "I and love and you."products have been approved by their holistic veterinarian to include the optimal combination of complete, whole-food nutrition, freshness, and premium ingredients your cat will flip over.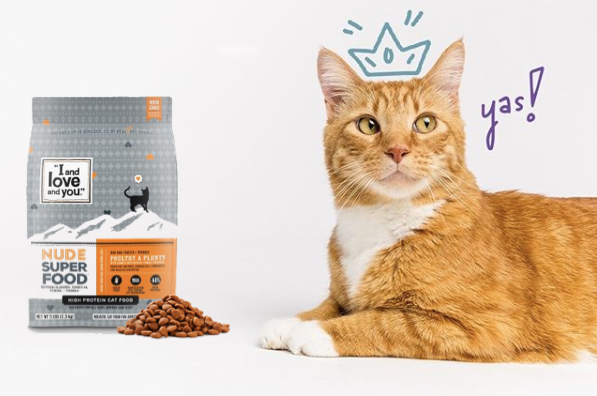 Carrageenan-Free Recipes = Less Tummy Troubles
If your cat is prone to upchucking after meals, it might be due to carrageenan. This common cat food ingredient is known to cause inflammation of a feline's digestive tract. It can lead to bloating, gas, IBS, and food allergies as well. Not only can this make your cat violently reject it's last meal, it can make her feel lousy. Worse yet, chronic inflammation is bad news bears for all of us, including cats.
Lower risk for disease, make your cat feel more energetic, and have less clean up duty by feeding her meals that do not contain carrageenan. At "I and love and you." we leave out the carrageenan and mix in nothing but love.
Choosing the Best Food for Your Family
"I and love and you" offers a variety of kibbles and wet foods to choose from. How do you know which will be the best for your cat? "I and love and you"takes the guesswork out with a simple and fun to fill out questionnaire about your pet. In just a few minutes or less, "I and love and you"can gather some basic information from you, analyze it, and recommend a formula that works best for your fur baby and your lifestyle.
Cat people, we get you. You want your feline to be healthy, happy, and satisfied at mealtimes. You also want the convenience and affordability that comes with kibble and cans. Serve up some love with "I and love and you." brands of pet food and get all of that and more. "I and love and you."will give you 5% off subscription orders or free shipping on orders of $30 or more, all day, everyday.
How's that for some love?
Exclusively for the iHeartCats community, "I and love and you." is offering $10 off off any order with code ILY10!