Cornelius Cornbread is a dapper lad, a 'pawsh' feline, if you will.
A shiny Bombay cat, he loves a bow-tie and describes himself as "Sassy, Stylish & Southern."
And he's had his eyebrows camera ready since kittenhood.
Purrfectly sculpted, Cornbread's eyebrows are actually spots where his black fur has thinned. The lack of fur above his eyes creates the illusion of white eyebrows, which give the handsome cat an air of everlasting sophistication.

@corneliuscornbreadchronicles/Instagram
The Cat Behind the Brows
Four-year-old Cornelius calls Nashville, TN, home. And there he lives with his mom, Karen Mellette, and a herd of furry siblings. The happy family has much love to give and their mom is teaching them the values of helping those in need. Karen cares for a colony of feral cats and one of Cornelius's "sisfurs" is a feral who decided home life was better than the wild.

@corneliuscornbreadchronicles/Instagram
And while he's a Bombay cat who gives back, Cornelius also knows the importance of looking his best. He's been working on his strong eyebrow game since he was kitten, according to his mom.

@corneliuscornbreadchronicles/Instagram
She said, "The 'eyebrows' are formed by the white skin revealed through the thinner area of black fur in his brow area. The combination of the sparse black 'brow' hair and the unique rounded shape of the white skin showing through make him appear to have well-groomed eyebrows."
And the thinning hair happened naturally. No plucking for this handsome boy!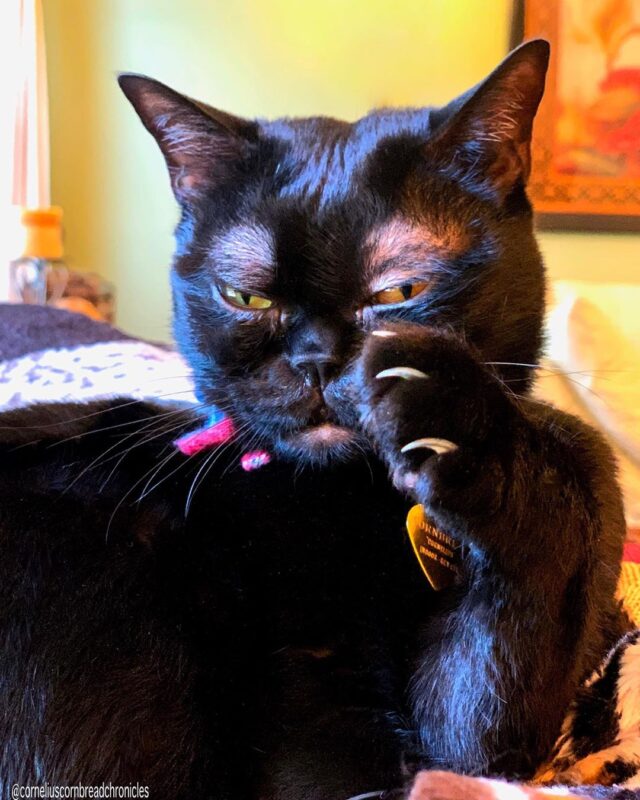 @corneliuscornbreadchronicles/Instagram
"His brows are most definitely on fleek," kidded Karen.
Cornelius quite enjoys being the center of attention, but his mom assured he's anything but vain. "He's also a sweet, affectionate cat."
Karen shared, "Bombay cats are nicknamed 'velcro cats' because they are so clingy, and Cornelius is no exception.
"He loves following us around, curling up on our laps or snuggling up next to us, and unlike many cats, he enjoys being held and carried."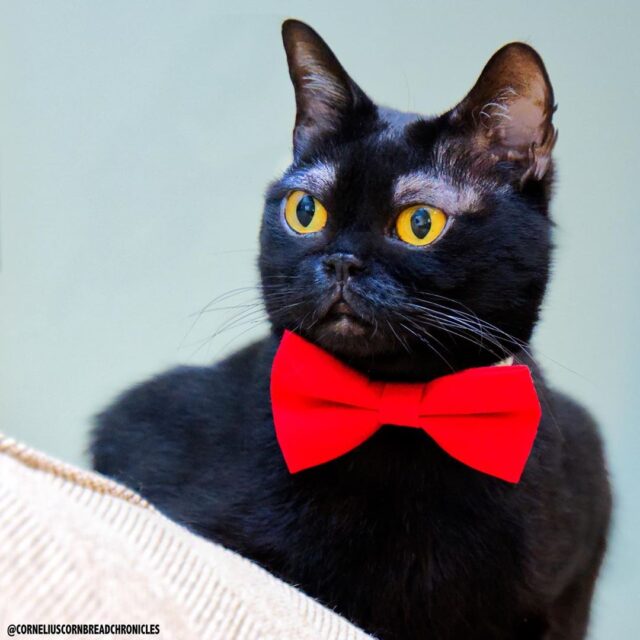 @corneliuscornbreadchronicles/Instagram
Because he's a clingy cat, "he does not like to be left alone or ignored, and gets very anxious when he thinks I'm going to leave home without him."
And with a face so cute to snuggle with, home is the best place to be!
The "Pawsh Cat Club"
Cornbread can be found on Instagram, where his mom has shared the Cornelius Cornbread Chronicles since 2018. His efforts at social media aren't just limited to just his own page though.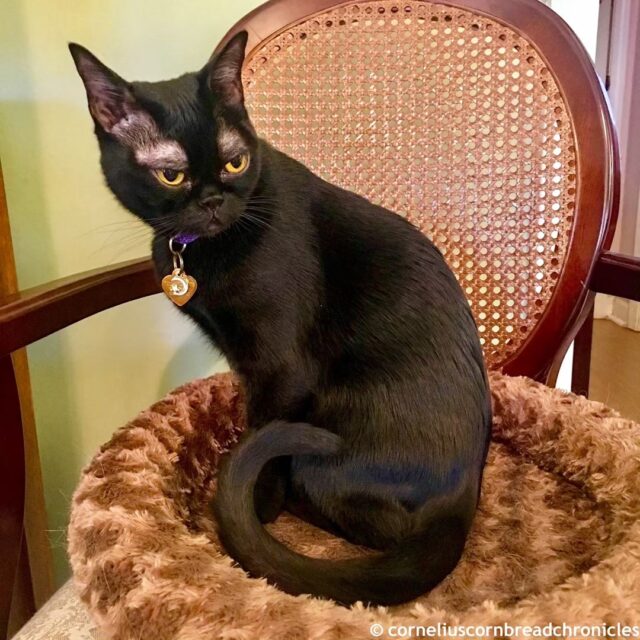 @corneliuscornbreadchronicles/Instagram
He and his good-looking buddy, Kevin the cat, run the Pawsh Cat Club. There, Cornelius and Kevin feature the most fabulous felines on Instagram.  The cat lovers of iHeartCats.com have already hit the follow button!
H/T: www.dailymail.co.uk
Feature Image: @corneliuscornbreadchronicles/Instagram