When a Canadian police officer emerged from a disciplinary hearing in Whitby, Ontario this week, she was greeted with cheers from the crowd that assembled outside.
A charge of discreditable conduct against"discreditable conduct"had been dropped.
But among the crowd of animal welfare advocates who lobbied for the officer's cause, there was one tiny soul who Richardson couldn't make her way to fast enough: a cat named Tia.
Because for Richardson, everything she had gone through — from the threat of demotion to losing her job entirely —  was for this cat.
We wrote about Richardson, the police officer who saved a kitten from a drug den, back in December – you can watch a news clip on the incident below:
According to reports, she was visiting a home to check on the condition of a woman who lived there. Richardson allegedly found the resident in the midst of a drug binge that had lasted days.
She also found a kitten cowering under the table. Richardson wasted no time in collecting the frightened animal and taking her to a veterinarian.
As no animal shelters were open at the time, the police officer opted to keep Tia at her own home.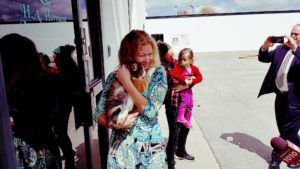 Not long after that, the kitten's owner filed a complaint with the police department: The pet had been taken from the home illegally.
Richardson found herself at the center of a legal battle. While Tia was ordered to be returned to her original owner, Richardson faced a tribunal hearing that could have stripped her of her job.
Meanwhile, animal welfare advocates rallied to the police officer's side.
"We need to remind the decision makers that animals matter and what Constable Richardson did was an act of compassion which she should not be penalized for," noted one petition that collected nearly 20,000 signatures from people around the world.
This week, after a prolonged legal battle, the charge against Richardson was dropped.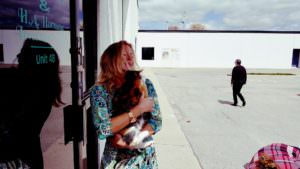 The media campaign likely had a lot to do with ensuring the happy outcome.
"While all this support helped Beth, it also went a long way to pressure her superiors to do the right thing," Mary-Chris Staples wrote on Facebook. "Never doubt that everything you do has the potential to make a difference!"
And as for Richardson's biggest supporter? Tia was there to meet the officer when she left the hearing, along with the cat's new family. The kitten, who has since been surrendered by her owner, will stay with that family — a happy, safe place — for the rest of her life.