Warning: the photos below may be disturbing for some readers. 
A 10-month-old kitten named Phoenix was found outside a laundry room, covered in burns from toe to tail. It is thought that she got scorched while huddling beneath a dryer for warmth.
But lucky for the kitten, she was taken in by the Dumb Friends League (DFL) in Denver, Colorado.
Phoenix got treatment for her injuries, including the removal of her burned skin and reconstruction of her ears. All the while, the tiny white kitty, who'd endured so much pain in her short life, showed love and affection to her rescuers.
A woman named Gloria–who still bears burn scars on her face, neck, and hands from an accident that occurred when she was 16–heard about Phoenix on the news. According to an article on the DFL website, the story sparked a thought in Gloria: "We're kindred spirits."
The woman wasn't exactly in the market for a new pet; but when she got a phone call from her daughter, who had also seen the news story, it seemed to be a sign. Her daughter insisted that Gloria would be the perfect cat-mom for little Phoenix. With further encouragement from her daughter and friends, Gloria went to visit the Dumb Friends League.
"When something is meant to be, the world gets real small," she said in the DFL article.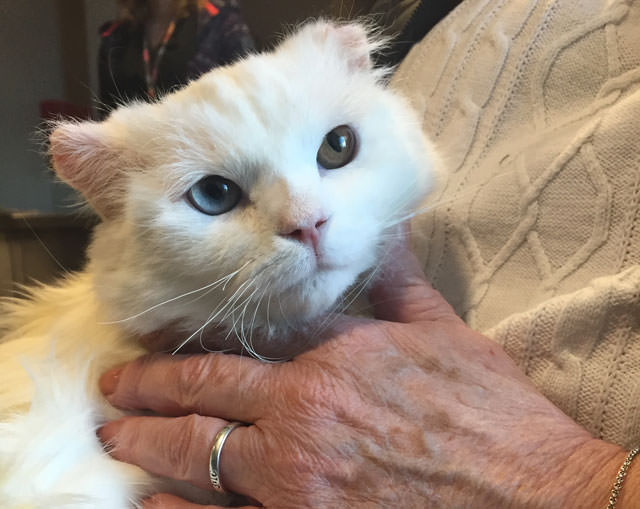 And when Gloria and the kitten finally met, their fate was sealed–there was no way she was going to go home without Phoenix!
Said the DFL article, "We could tell it was the perfect match as Phoenix lay dozing and purring happily on her lap. [Gloria] is planning to rename her 'Rosebud' because of the shape of her tiny, pink ears."
What purrfect soulmates!
Check out this news segment from CBS Denver: