Cats can be persnickety when it comes to sharing their space with others. If you live with cats, you've certainly seen one of your kitties give a good swat to another over a prized spot for napping. A cat in Colorado loves his spot under the deck of his home, but instead of swiping at the big kitty he found in his spot, he went and told his mom.
Lily Rutledge-Ellison and her boyfriend were keeping Lily's cat, Wesley, company as he walked around in their Englewood, Colorado yard one evening. As usual, Wesley patrolled the area, detouring under the deck to have a look around, but suddenly, he ran out from under the deck in a state of alarm. As Lily described to KDVR, Wesley "came jumping out with a really bushy tail."
What Did You See Kitty Cat?
When Lily's boyfriend looked under the deck to see what had Wesley so agitated, he found the big kitty Wesley had seen. Turns out the cat was actually a mountain lion and she was looking right at him. When he told Lily, she couldn't believe it.
"I was like 'in Englewood? No way.' That's why I really didn't believe it was a mountain lion. I thought maybe a bobcat."
Lily and her boyfriend assumed the mountain lion was seeking shade before heading back into the wilds at nightfall.
Colorado Parks and Wildlife (CPW) explained, "Mountain lions do come into urban areas to utilize prey resources, which could be deer in the greenbelts in the city, skunks, raccoons or even pets or hobby livestock."
So, when CPW arrived at Lily's house around 9 p.m. that very night to capture the mountain lion, it probably wasn't the most unusual endeavor for them. But unusual or no, over the next five hours, CPW agents worked to capture the 60 lbs. lady as safely as possible with the use of a tranquilizer.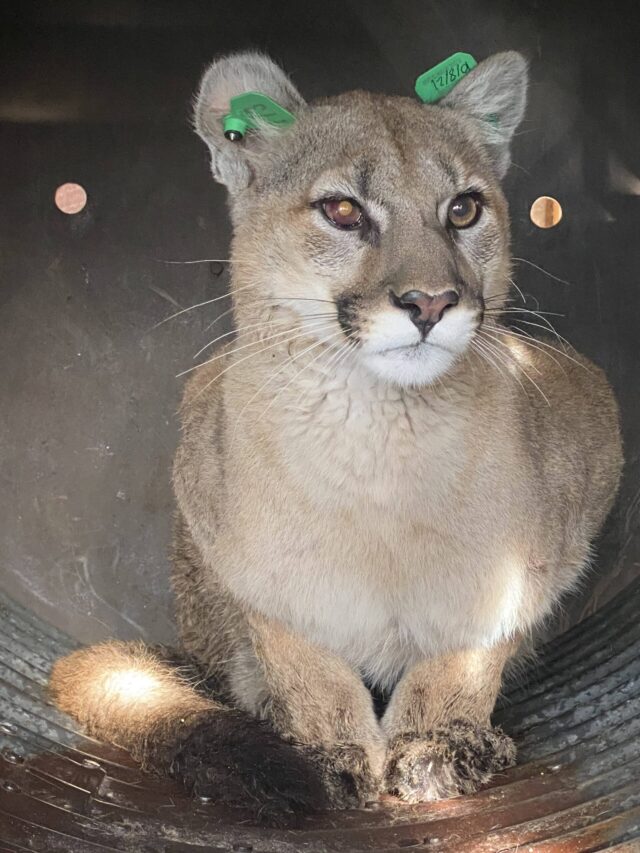 "The reason we chose to go hands on with this mountain lion was because it was so deep in the heart of the city," said Area Wildlife Manager Matt Martinez. "We are glad this operation worked out so smoothly for that neighborhood and for the mountain lion. We'd like to thank the Englewood Police Department and Code Enforcement for assisting us in getting that lion out safely."
Back to the Wild
Once the mountain lion was safely captured, it was determined she was roughly two-and-a-half years old and in good condition. Concerning a mountain lion sighting a few days prior just 10 miles away,  CPW acknowledged this cat could possibly be the same one. However, they have no way of being certain. But thanks to the CPW, people probably won't spot this mountain lion in town again as they released her "out of town and into a more appropriate habitat."
"Everybody was very gentle," Lily said of CPW officers. "They were really trying to be as safe as possible for all the people around."
As for Wesley, surely, he was soothed with snuggles and treats after finding a really big kitty in one of his favorite spots!
H/T: www.newsweek.com
Feature Image: @CPW_NE/Twitter