When Janie the kitten was found all alone on a hot sidewalk, she was barely 24 hours old.
Tiny But Mighty Kitten Rescue knew just what to do for the kitten in need once she came into their care. Founder Mellissa told Bored Panda, "The people who found her told me she was screaming for her life. She was left in the full sun which resulted in some pretty bad burns on her back paws."
On top of her burned baby feet, Janie was tiny. On Mellissa's scale, she weighed in at 82 grams. For an idea of just how small Janie was when found, picture a small apple. But to be so tiny, Janie was certainly mighty. Mellissa reported Janie to be a "quite active and vocal" kitten.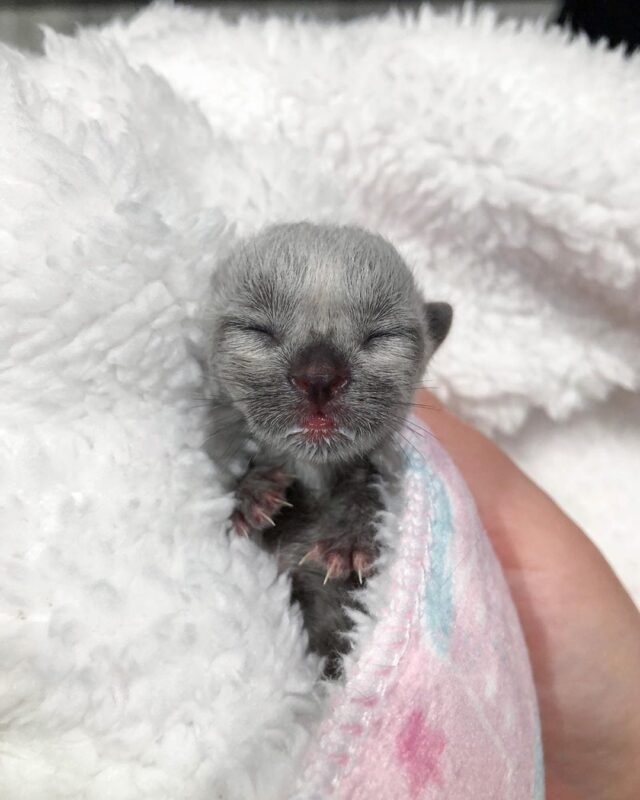 @tinybutmightykittenrescue/Instagram
Silver Fur and Sassy Paws
Janie has an unusual look about her which has captured the internet's attention. Her silver dusting of fur had cat lovers on social media asking if Janie might be Siamese or pointed in color. But Mellissa explained it wasn't likely as Siamese kittens are born white and Janie wasn't old enough to have developed any coloring yet if that were the case.
The fact of Janie's unusual coat is a phenomenon known as "fever coat."
"Janie was born with a fever coat which can happen when pregnant cats are sick or stressed."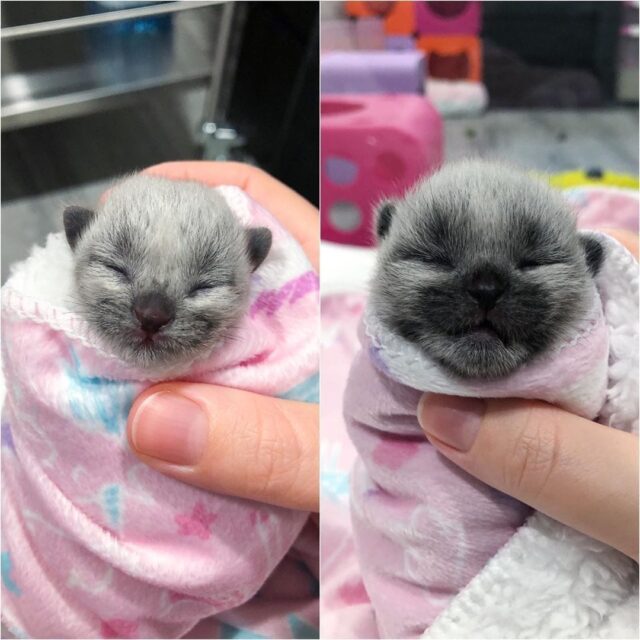 @tinybutmightykittenrescue/Instagram

@tinybutmightykittenrescue/Instagram
Eventually, her silvery fur would transition to black. But in the meantime, before she became a sleek black cat, Janie had some growing to do. And, she found comfort and care from not only Mellissa but a mama cat with young kittens named June.
A Mom and Some Fuzzy Siblings
While Janie spent her two weeks in quarantine from other felines, June would watch the kitten inside her incubator. Mellissa spoke to Love Meow, saying, "She wanted that baby so bad and kept crying at the incubator."
Once the time arrived for Janie and June to meet nose-to-nose, the devoted mama cat "immediately accepted Janie as her own".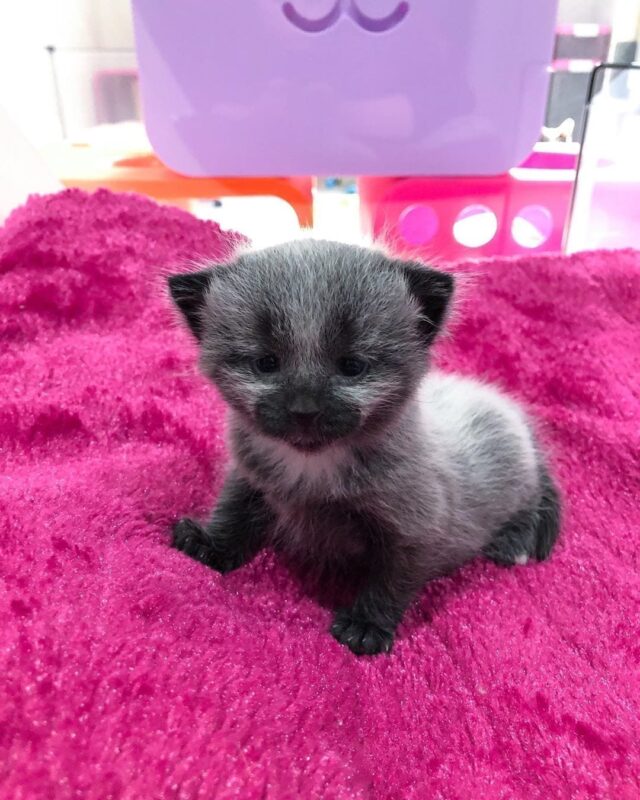 @tinybutmightykittenrescue/Instagram
"June had to lick and clean her for a good 10 minutes, and then she cuddled up with everyone while June's babies were nursing. It was such a sweet moment to witness."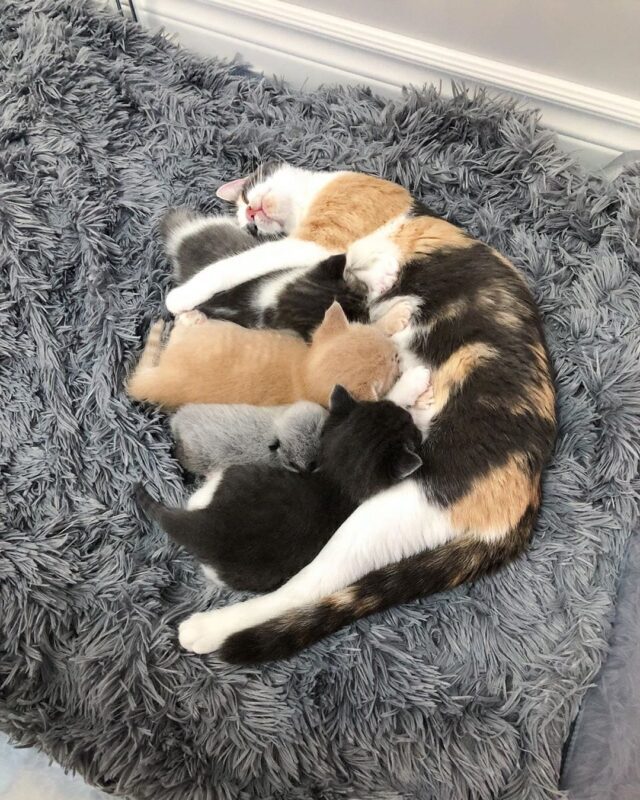 @tinybutmightykittenrescue/Instagram
While June's kittens were still young, they looked so big next to their tiny baby sister! But they all welcomed Janie to the furry pile. Big sister Jasmine took particular interest in her new littermate.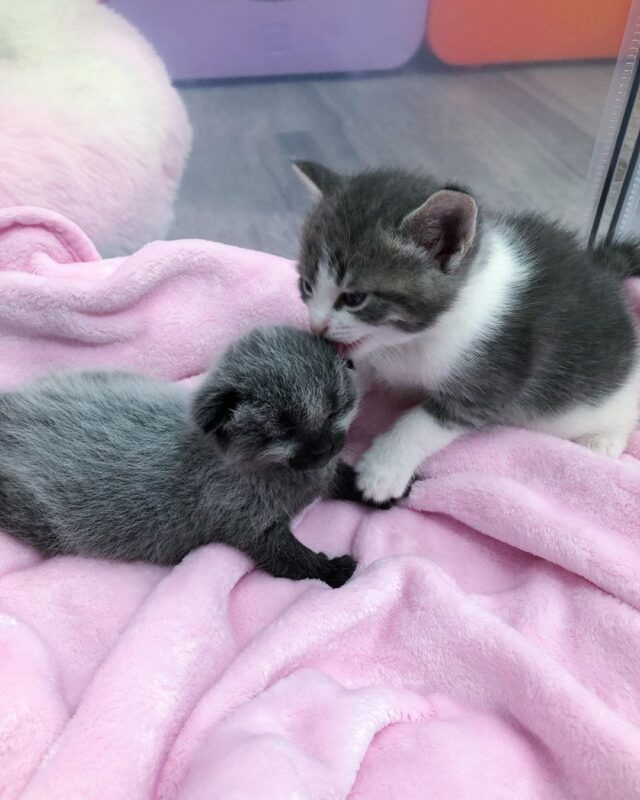 @tinybutmightykittenrescue/Instagram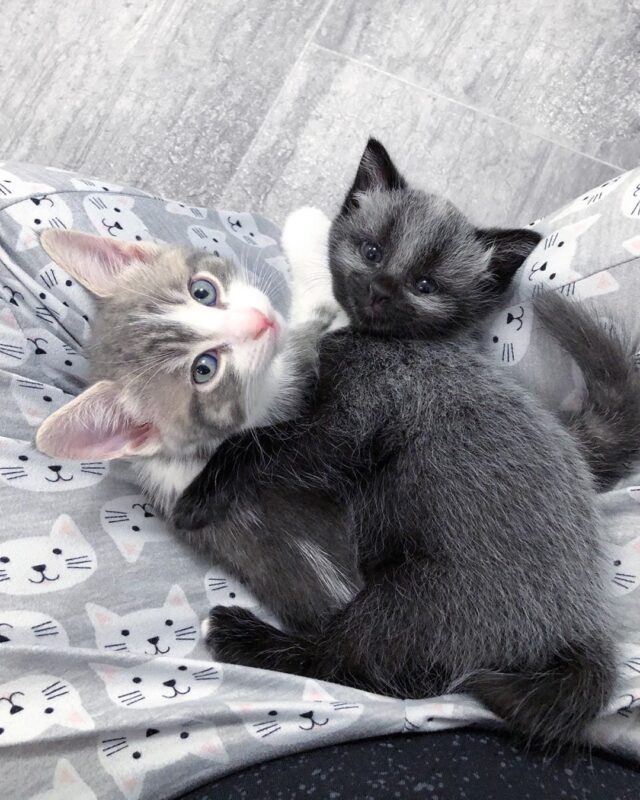 @tinybutmightykittenrescue/Instagram
As Janie has grown, the silver color of her fever coat is fading away, but her sassy attitude has remained intact. Janie is another purrfect example of Tiny but Mighty!

@tinybutmightykittenrescue/Instagram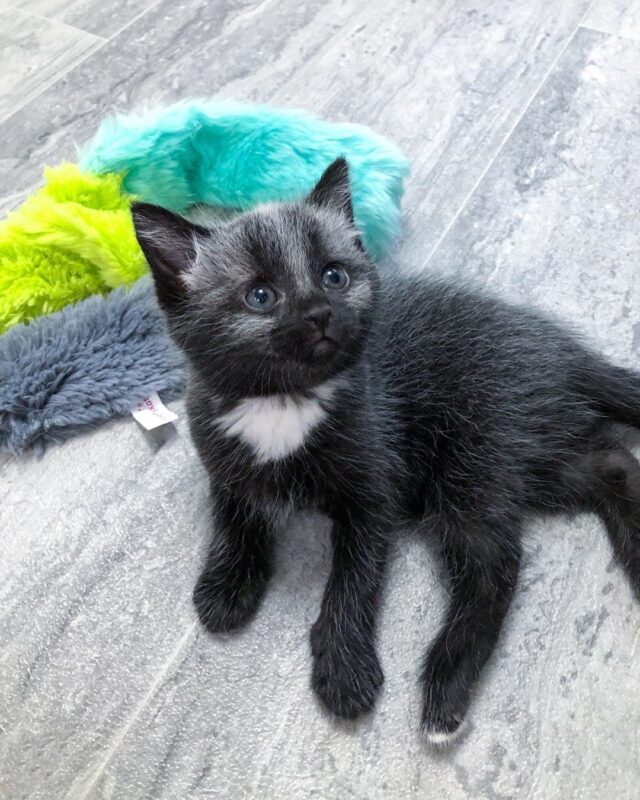 @tinybutmightykittenrescue/Instagram
H/T: www.pawsplanet.me
Feature Image: @tinybutmightykittenrescue/Instagram