When Reddit user milkymoocowmoo saw Savannah's picture posted by a small local shelter, he immediately loved her. When he went to meet her, though, she was painfully shy. In fact, she'd been overlooked by many potential adopters for this reason. But unlike everyone else, this new cat-dad didn't let her skittish personality deter him.
"Her siblings were snapped up quickly, but nobody was interested in this shy little girl…until me!" he posted.
The man found out that Savannah and her litter had been dumped at a vet clinic, and she was about 4 months old. When he picked her up, she was so nervous, she tried to hide in his arms.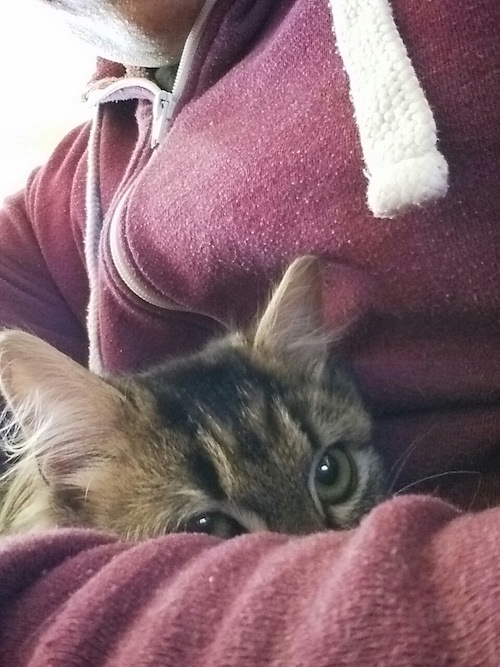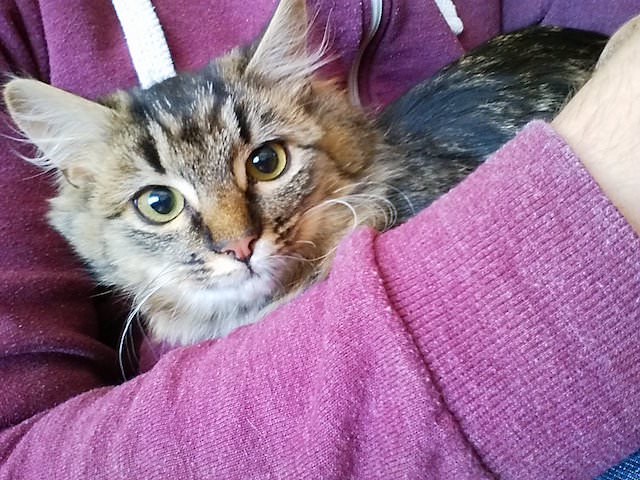 But by the time he had to leave her to be spayed and vetted, Savannah was already warming up to her new dad.
"When it was time to say goodbye she made sure I'd come back by reaching up to bump noses with me," he said, according to Love Meow.
A few days later, it was time for this fluffy girl to go home! Her new dad was thrilled, and made sure she felt comfortable from day one. At first, she was very nervous in her new surroundings, but he let her explore, trying not to make any sudden movements or noises. He even came up with a great idea to give her some space while still making sure she stayed safe.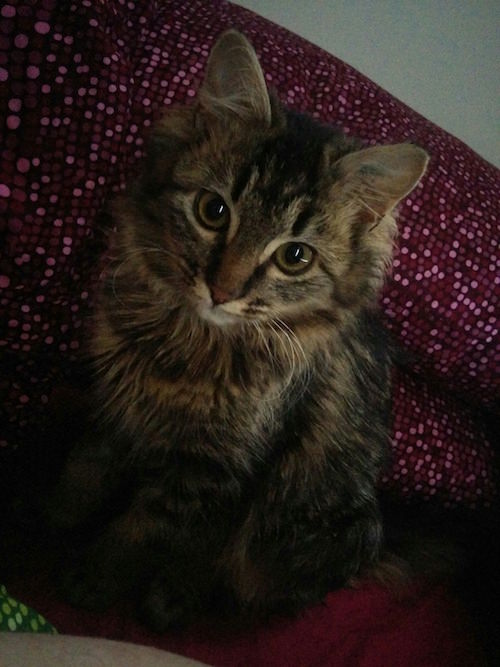 "I wanted to keep an eye on her but also not overwhelm her, so I set up a webcam to watch her from another room," he told Love Meow.
In fact, he was very accommodating to all his new kitty's needs.
"A little later on she was a bit more curious, so I let her roam around. She appeared to not like heights, such as the couch, so I sat on the ground with her," he said in the story.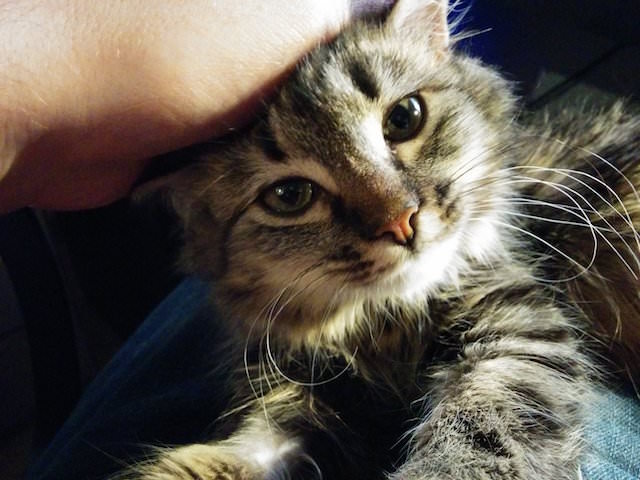 It's been over a year, and needless to say, Savannah has completely come out of her shell! She loves snuggling, belly rubs, and stealing her dad's attention any chance she gets!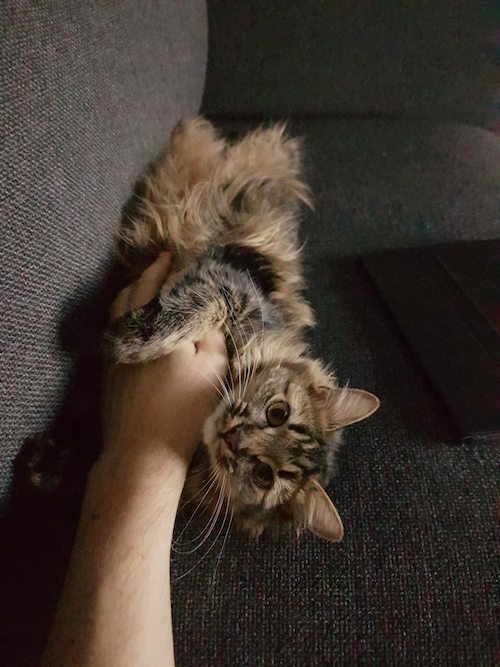 "Savannah insists that she do everything I do," he said in the story.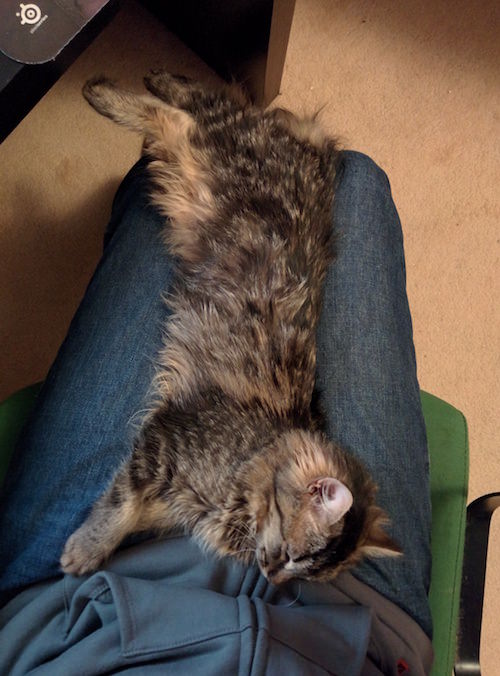 Savannah loves to lay on her dad while he's at the computer or watching TV. When she gets really comfy (which is more often than not), she'll refuse to budge and stay there for hours!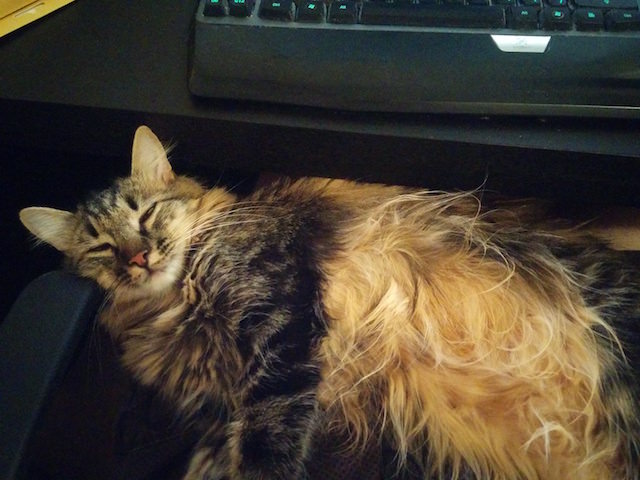 This kitty is so happy and confident now, she even makes sure to guard their home!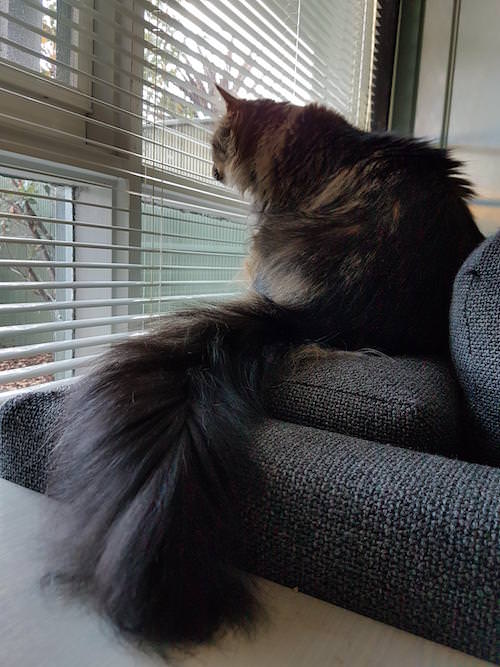 Aww, isn't she beautiful? This is a wonderful story of how shelter animals can have the best personalities if you just give them a chance! We're so glad this man knew that once Savannah felt safe and comfortable, she'd make an amazing companion.
How did you help your cat transition when you took him / her home?
(h/t: Love Meow)