If you're spending time on this website, you probably love cats. We're with you. In fact, many of the folks behind this website have made careers out of their love for cats. Sound too good to be true?
Not too long ago, many cat lovers chose to go into veterinary medicine because it was one of the only ways to help animals. These days, as more and more people consider their cats to be a part of their families, there are more options. Now there are a lot of ways to build a fruitful and fulfilling career out of your love for cats. Many of them can be offshoots of jobs or hobbies you are already trained or skilled in.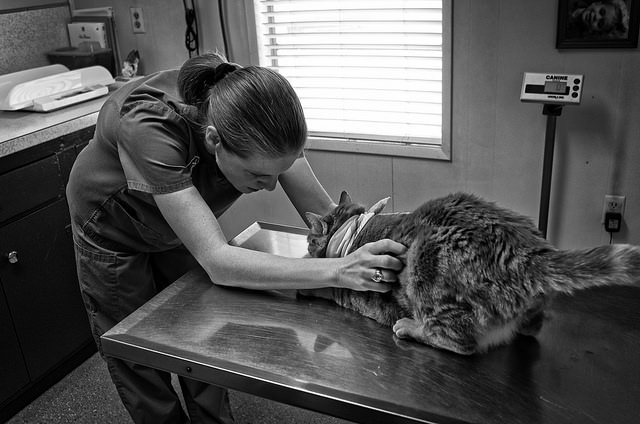 Image Source: Anne Worner via Flickr.com
1. Veterinarian
As I stated above, this is the most obvious job for people who love animals. If you have cats, you know what kind of magic veterinarians work. They keep our cats healthy with annual checkups, develop comprehensive plans when our cats need lifestyle changes, and work hard to pull our cat through to the other side of an emergency.
You'll need to obtain a Veterinary Medicine Degree and a special license to practice veterinary medicine. The good news is that, once you have the necessary education and licensure, there are a variety of ways to use them. Veterinarians aren't limited to traditional clinics anymore. Do you want to focus your career on caring for cats? Fine. These days many cities have clinics that are exclusive to cats. Do you want to travel to the homes of clients rather than working from a clinic? That's great too. Mobile veterinarians are becoming more and more popular.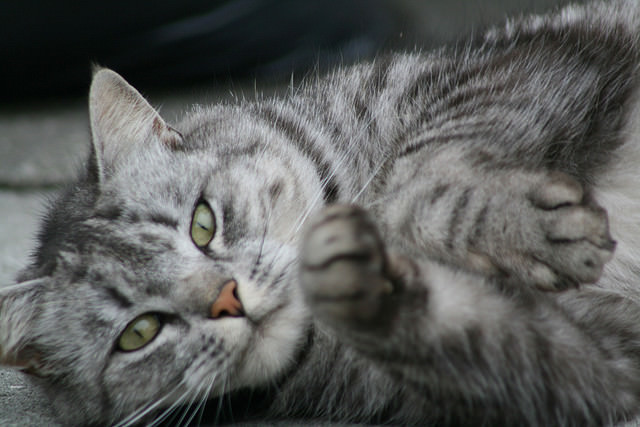 Image Source: Helgi Halldórsson via Flickr.com
2. Hospice Caregiver
If you've been properly trained but being a veterinarian wasn't the right fit for you, you may consider offering in-home hospice care for chronically ill cats who are at the end of their lives. Because cats can become anxious when they travel, many cat parents are choosing to bring the final care to their homes rather than travel to a veterinarian for frequent checkups, procedures, and pain management.
This job is great for people who want to offer comfort to people and animals who are in pain and grieving. The International Association of Animal Hospice and Palliative Care is a great resource for people who are interested in pursuing this big-hearted career.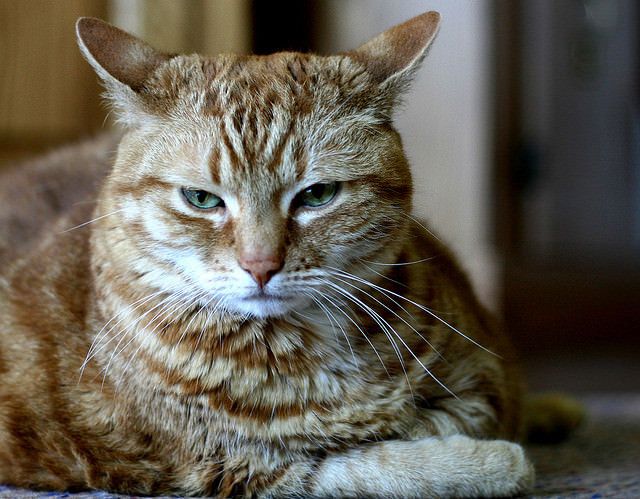 Image Source: Chris Erwin via Flickr.com
 3. Cat Behaviorist
Have you ever considered yourself to be a "cat whisperer"? Do you feel like you instinctively understand why cats do the wacky things they do? A career as a Cat Behaviorist may be for you! Popularized by Jackson Galaxy's show My Cat From Hell, a behaviorist works with cats and their people to solve behavior issues such as aggression, destruction, and litter box problems without offering medical advice.
You won't need a degree or certification to become a behaviorist, but a behavior degree or certification from an organization such as International Association of Animal Behavior Consultants will certainly help your credibility and hourly rate. The main thing you'll need is a ravenous desire to keep researching, studying, and learning about cat behavior and new innovations in the industry. Start by asking your veterinarian questions and gaining a lot of practical, hands-on experience by volunteering time at a densely populated cat environment such as a shelter.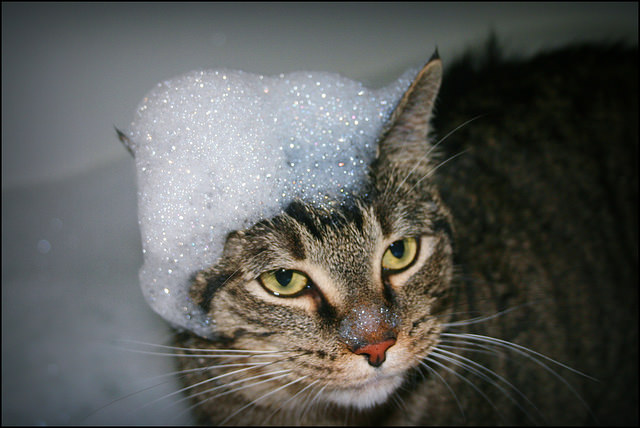 Image Source: Ali Leila via Flickr.com
4. Groomer
Groomers primarily brush, bathe, and trim nails. Even though cats are known for grooming themselves well, some cats need extra help. Cats who are most prone to have grooming challenges are cats who have mobility problems, such as cats who are obese or have arthritis. Even cats who groom themselves well can occasionally have matted fur or need additional help.
Since most grooming businesses will train on the job, specific education and certification aren't necessary. It never hurts to build your confidence and skills though, especially if you plan to begin grooming without the backing of an established business or organization. The National Cat Groomers Association of America is a great resource.
Image Source: Pixabay.com
5. Cat Sitter
Because cats tend to be anxious when it comes to traveling, many cat parents choose to leave their cats at home when they go away. Cat sitters are hired to come into your home each day to make sure your cat has access to fresh food and water, and a clean litter box. Cats will also assess any immediate health issues and have the power to make emergency decisions.
You won't need any special certification to become a cat sitter, and you can get a few positive testimonials by watching your friend's cats for free or cheap. You can find more work (and get paid better) if you acquire some training in animal first aid. You can also join an association, like Pet Sitters International or the National Association of Professional Pet Sitters, to help network, grow your business, and get some cred behind your name.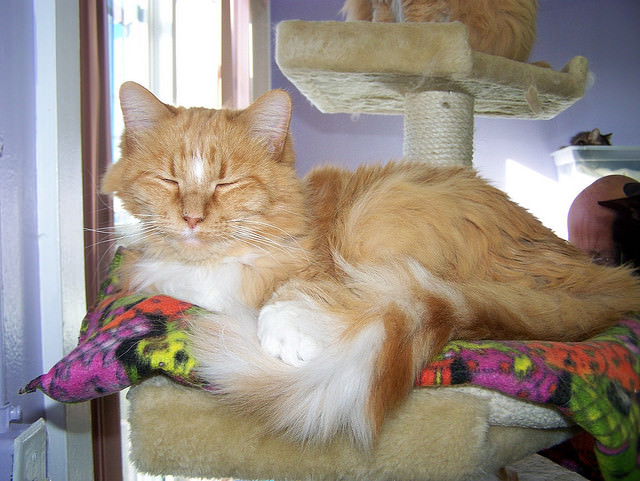 Image Source: Rocky Mountain Feline Rescue via Flickr.com
6. Boarder
Some people would rather bring their cats to another location while they travel rather than allow a pet sitter into their home while they are away. A boarder will take cats into their home and provide food, fresh water, and care in the same way that a pet sitter would.
There are a few things to consider if you're thinking about boarding animals in your home. Do you have the time and energy to care for other people's pets? Is your home large and organized enough to safely and comfortably house more animals? If you have your own pets, will your home allow for each animal to have their own space? If your answers are yes, check out the International Boarders and Pet Services Association for more information on how to get started.
Image Source: Pixabay.com
7. Cat Café Owner or Worker
You may have noticed in the news lately that cat cafes are getting more and more popular. Who wouldn't want to snuggle up with a cat while they sip a latte? Some cat cafes are even bringing adoptable cats from local shelters into their cafes to help find loving homes for cats in need. This is a great opportunity for a cat lover who has experience in the food business or has equal love for coffee and cats. Denver Cat Company and The Cat Cafe in San Diego are living the dream.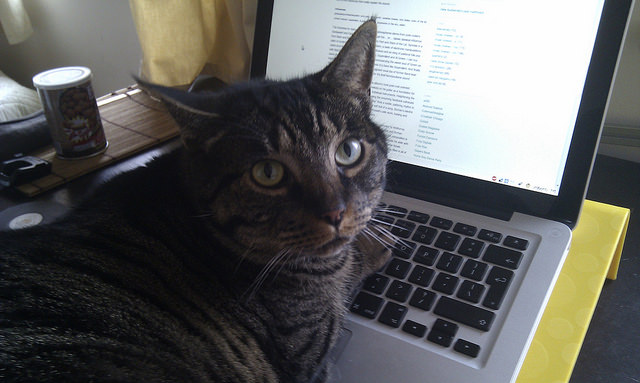 Image Source: Glenn Strong via Flickr.com
8. Cat Writer
If you love writing, you can funnel that talent into writing about cats! People like you write all of the content on your favorite websites and in your favorite cat magazines. Even cat-centric businesses often need help with copywriting.
Despite popular beliefs, you won't need a degree to be a freelance writer. What you will need is a few samples of your writing (clips of pieces you've published in your local paper, a blog, etc.), an ability to show that you understand cats, and a desire to keep learning and improving. The Cat Writers' Association and BlogPaws are packed with information for budding cat writers.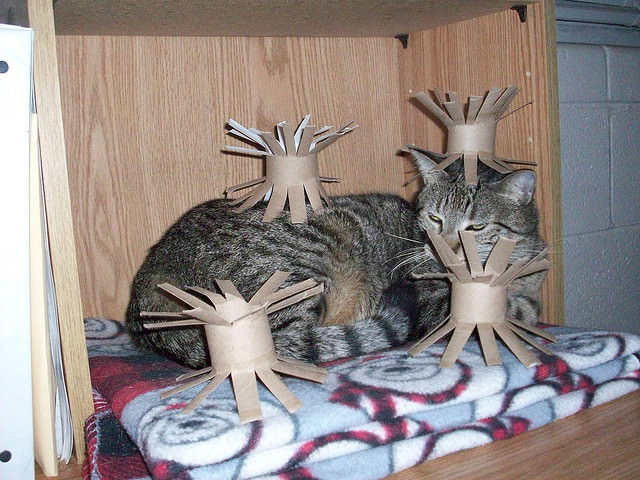 Image Source: Alisha Vargas via Flickr.com
9. Cat Accessory Crafter
If you're crafty you can put your skills to use making cat accessories, toys, or furniture. Whether you sew, knit, bake, or work with wood, the options are limited only by your imagination. Cat parents will often pay more for something that is handmade with love.
Crafters can sell their goods at craft fairs, farmer's markets, flea markets, pet fairs, in local shops, and on websites such as Etsy.com.