First off, let's be clear: we DON'T think these folks are off their rockers. When we say "crazy," we mean that they're crazy about cats! We love how nowadays, the terms "crazy cat lady" or "crazy cat guy" are worn like badges of honor–as they should be! Below are 8 of the biggest, most dedicated cat enthusiasts out there.
1. The Woman Who Cares For 1,100 Cats
Lynda Lattanzio is "the ultimate cat lady" in the most classic sense: she lives with over 1,000 cats that roam around her 42,000 square foot house and 6-acre property.  The Cat House On The Kings in Parlier, California, is the state's largest no-cage, no-kill sanctuary. Read more about it here.
2.The Couple Who Married In A Cat Sanctuary
Canadian couple Dominic Husson and Louise Véronneau are true animal lovers. When it came time for them to wed, they decided that the lush, rolling hills of The Cat House On The Kings (yes, the same sanctuary mentioned above!) provided the perfect ambiance–and feline guest list–for their nuptials. Read more about it here.
Canadian couple weds at The Cat House on the Kings in Parlier. Video:https://t.co/Iq1yynuE6m pic.twitter.com/UW7WhB0vVn

— Craig Kohlruss (@ck_foto) May 17, 2016
3. The Woman Whose Cat Inspired Her New 'Do
This artsy "hair tattoo" took the internet by storm when Instagram user @laserb.kate posted a picture of her candy-colored cat 'do. "My sleepy cat with me always," she captioned the photo. Read more about it here.
4. The "Kitten Lady" Who's Saved Hundreds Of Neonatal Kittens.
It all started with a stray kitten. Not wanting to take it to a high-kill shelter, Hannah Shaw used research and good sense to raise her first furry baby. After that, stray kittens started finding their way to her…until she became known as the Kitten Lady! Now she works with local shelters and trains other caregivers, and has saved the lives of at least 300 kittens so far. Read more about it here.
5. The Man Who Walks With Cats As He Blesses Them
Kuzmich lives in a monastery in Russia. Every day, he takes a walk with a group of cats that live at the monastery, all the while blessing them. His feline friends follow him because he cares for them and they know that he'll keep them safe.
6. The Grandmother Who Passed Away Hours After Her Cat Crossed The Rainbow Bridge
This bittersweet story shows how close one elderly woman was to her feline best friend. After the woman's husband died, she and her cat Gabby became particularly close. The two grew older together until it came time for Gabby to cross the Rainbow Bridge in peace. When the woman returned home from the vet, all alone, she laid down to take a nap…and joined her kitty in Heaven. Read more about it here.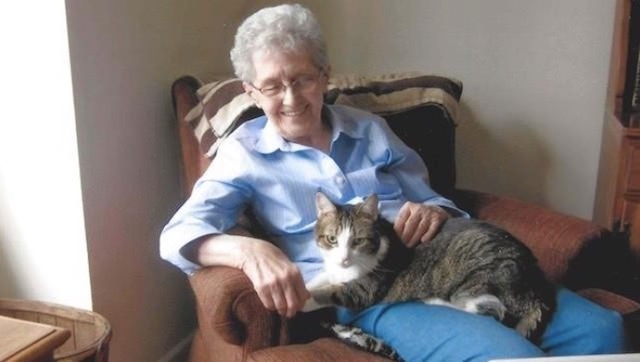 7. The Female Who Actually Thinks She's A Feline
Nano, a 20-year-old Norway native, literally believes she is a cat trapped in a woman's body. Because she identifies herself as a cat, she lives her life a little differently. She sleeps in sinks and on windowsills. She hisses at dogs and hates water. Sometimes, she walks around on all fours. Read more about it here.
8. The Cat Detective Who Reunites Lost Cats With Their Families
Kim Freeman has dedicated her life to helping families find their lost felines. Using cat behavior science, probability, and even high-tech equipment, Freeman has reunited hundreds of lost cats with their families. "The smaller picture is reuniting families and often, saving cats' lives. The bigger picture is keeping cats from ending up at shelters," she says. Read more about it here.