Kim Freeman has a truly unique talent: she can strategically and accurately locate people's cats when they've gone missing.
Freeman seemed to know this was her calling from the time she was a little kid. "I was eight when I saw three lost cat posters and told my father I was going to find all the missing cats when I grow up. The turning point came when my own cat went missing, 25 years later," she told iHeartCats.
The Lost Cat Detective uses cat behavior science, probability, high-tech equipment (like night vision goggles and a bionic hearing device), and even CSI missing persons training in order to get the job done. She also has a partner-in-crime for when she needs back-up: Henry the Search Cat.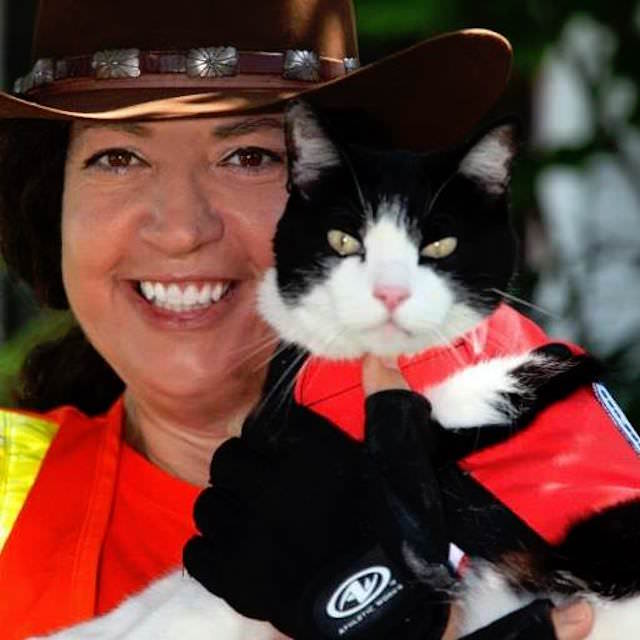 In particular, this forensic feline helped find Little Mo, a six-month-old kitten that went missing during a family's four-hour drive to move to a new house. They had stopped at a gas station, and when they arrived at their new home, realized that their beloved Mo was no longer in the car. Luckily, they enlisted the help of the Cat Detective and Search Cat Henry! Watch as he sniffs the missing kitten out:
While Freeman is based out of Austin, Texas, you don't have to live in the area in order to get her help. The Lost Cat Finder website provides several options for frantic feline parents to enlist the talents of the Cat Detective, from a quick, "need help now" phone consultation, to an in-depth situational analysis, to calling in the big guns: in-person searches involving Freeman herself (and maybe Henry, too!).
In addition to her extensive training and gift of intuition, it seems that Freeman's success is due to the fact that she assesses each situation individually. No detail is overlooked, from the cat's personality, to the geographical layout of its home, to the circumstances in which the cat went missing, and beyond.
Freeman says that her job isn't just about finding lost family pets, but spreading awareness about prevention. "The smaller picture is reuniting families and often, saving cats' lives. The bigger picture is keeping cats from ending up at shelters. The first is clear to see. I'm still trying to educate shelters on the second," she said.
She knows that one of the cat owner's biggest fears when losing their feline is the threat of coyotes. But she posted on her Facebook page wise words from the Community Cat Coalition about something far more dangerous.
"Lost cats face many dangers, and coyotes are usually at the top of people's list. But there's something far more dangerous than coyotes — and it takes more missing cats than people realize.

When searching for a lost cat, there's always at least one person who says, "You know, there's coyotes around here." This may be the single most damaging thing to say to a lost cat owner.
Because when they hear this, many give up hope and stop looking…If you've lost your cat, don't give up! Giving up is what kills more cats than coyotes.
It seems that her motto is, "Persistence pays off!"
If you love happy endings, you can check out hundreds of testimonials on the Lost Cat Finder's website and Facebook page, complete with detailed accounts of the strategies Freeman employed to locate the missing kitties.
How does she feel when she helps facilitate a feline-family reunion? "Total unadulterated joy. I'm often crying in happy relief as much as the client. I've made several long tight friendships doing this work. It's truly a bonding moment you never forget," she told us.
Find out more:
(Featured image adapted from the Lost Cat Finder's Facebook page.)