Throughout the day, Disney's California parks are packed with fans of the Mouse. When night falls, though, those same corridors and walkways, now empty of humans, fill with cats. These unofficial Disneyland cast members call the place home and work hard to keep the manicured grounds free of rodents. But don't worry, these felines are friends to Mickey and Minnie and know they're not for chasing.
Sadly though, there's one less set of paws on the prowl, with Disney announcing beloved community cat, Nutmeg, has passed away. And fans of the little-known Disneyland cats are mourning the fluffy ginger's death.
Disney's Dream Included Feral Cats
According to Disney Blog, Inside the Magic, the tale of feral cats at Disneyland began not long after the park opened in 1955 when Walt Disney and a team of engineers were inside the Sleeping Beauty Castle for planning and discovered a colony of cats. Since then, the colony of community cats at Disneyland has swelled to roughly two hundred kitties strong. These helpful hunters undergo TNR procedures and receive vaccines to keep them healthy, so they can be at their best while providing those excellent extermination skills.
RELATED: Disneyland's Secret Cat Population Makes It Even More Magical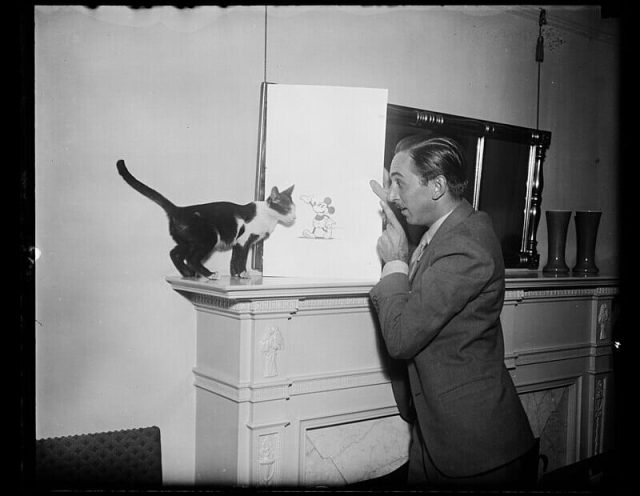 While not many visitors know these cats are even in the park, others come with a mission of finding them. You can find plenty of fan photos of the felines across social media, with Cats of Disneyland on Instagram being a favorite spot to see shared snaps. And being a friendly cat, Nutmeg, also called Giovanni, was a favorite of park visitors, who often captured pics of the chill cat enjoying life.
Nutmeg's Legacy
Most of the cats avoid visitors, but Nutmeg enjoyed human company and often perched at The Magic Key Terrace, an annual pass holder's lounge in Disney California Adventure. Because this was one of Nutmeg's favorite haunts, the adorable floof was honored with a drink of the same name a few years ago. The Nutmeg blends Myers dark rum, Bailey's Irish Cream, Frangelico hazelnut liqueur, and apricot liqueur with a sprinkle of nutmeg.
The Disney Food Blog explained, "If you're a rum fan, a sucker for dessert cocktails or a secret menu hunter, it may be worth a try. Especially if you love Disneyland cats."
Fans of the Disney cats are mourning Nutmeg's passing, with tributes appearing across social media. Cat-whispering superstar Jackson Galaxy tweeted, "Everyone who knows the Disneyland cats is mourning the death of Nutmeg, a true celebrity amongst the beloved feral cats of Disney."
"We join everyone in mourning Nutmeg's passing and give many thanks to Disney for elevating and embracing community cats," shared Galaxy.
The next time you make it to Disneyland, raise a Nutmeg cocktail in memory of one good cat.
RELATED: Shiro, The Internet's Favorite Zen Cat, Has Passed Away
Feature Image: @disneylandcats/Instagram