The phrase, "Curiosity killed the cat" very nearly came true for a frightened 4-month-old kitten in Singapore.
The tabby cutie managed to climb out the window of her human's 12th floor apartment – perhaps in pursuit of a bird – and onto a narrow ledge.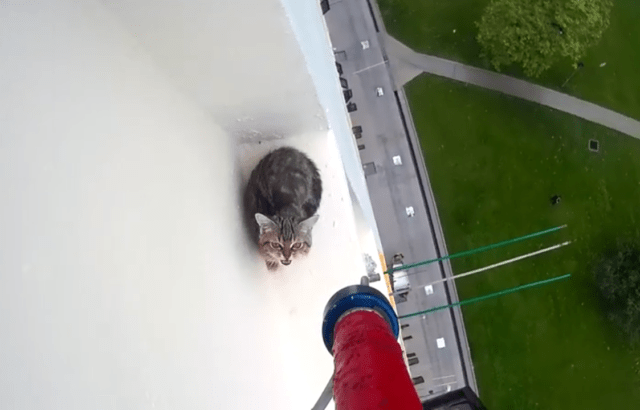 A concerned neighbor contacted SPCA Singapore after seeing the little fluff ball cowering on the ledge. Rescue officer Yao Huang climbed to the 12th floor unit while police officers waited below with an open blanket in case the kitten panicked and fell.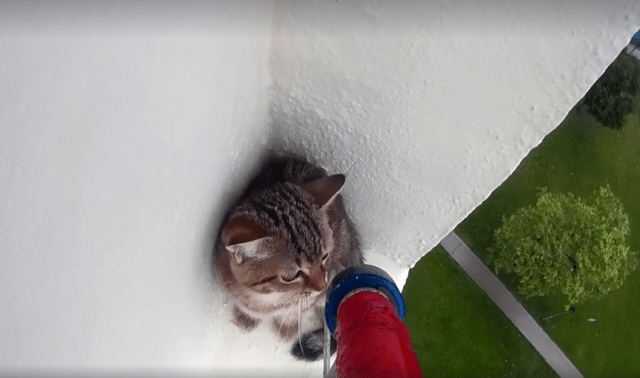 A heart-pounding video of Officer Huang's attempts to gently snare the kitty with a looped pole was posted to Facebook just in time for World Animal Day.
Luckily, the kitten remained calm and was safely returned to her owner after the ordeal. The SPCA took the opportunity to remind everyone that World Animal Day is about animal rights and protecting defenseless creatures from harm.
Officer Huang spoke to the kitten's owner about putting screens on his windows and gate in order to prevent the little tabby's curiosity from getting the better of her in the future. SPCA Singapore posted via Facebook:
"Cats and kittens are curious animals and they risk falling out of an open window by simple acts such as chasing a bird that was flying past."
Thanks to the fast response of the SPCA, this particular cat-astrophe was avoided!