Polly the calico kitten almost missed her chance at finding her forever home, but Sparkle Cat Rescue came to the rescue!
Sparkle Cat recently got a phone call from a transportation company in North Carolina regarding a kitten alone and scared in their yard. Rescue staff came running and little Peterbilt, a fluffy, grey kitten, was so happy to be rescued. Brittany from Sparkle Cat said rescuers checked the yard, looking for other kittens, but Peter was the only baby there.
"The day we rescued him we looked under all of the buses and around the buildings, and there was no sign of another cat or kitten," assured Brittany.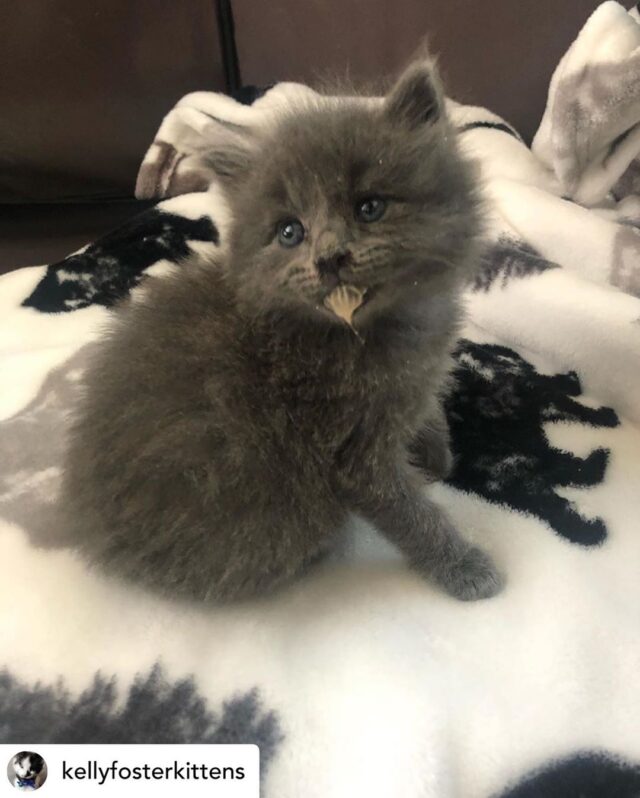 Fluffy Peterbilt @sparklecatrescue/Instagram
But a phone call just a few days later revealed another kitten in the same transportation yard. And where Peter was happy to be found, tiny Polly was afraid.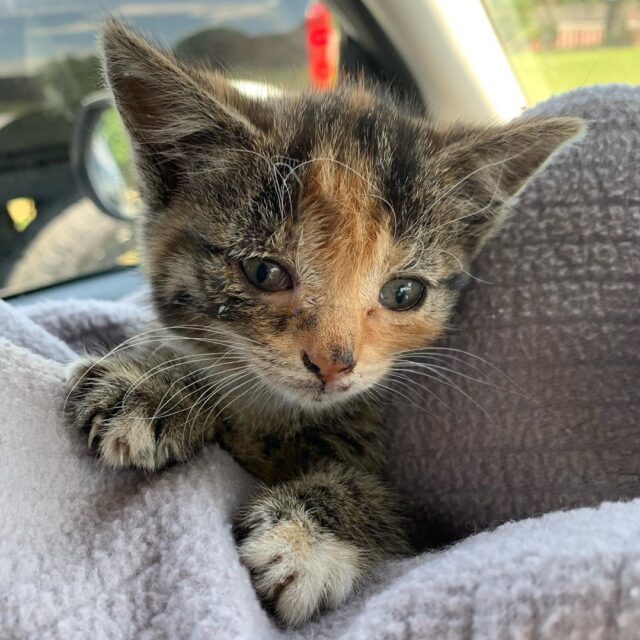 Calico Polly @sparklecatrescue/Instagram
Stephanie, a volunteer with Sparkle Cat, hurried to the yard and was met by a calico kitten cowering inside a bus wheel well. "She was hollering at the top of her lungs when I arrived to get her after an employee contacted us," shared Stephanie.
 "I believe she spent a long night alone there before being found."
Hungry Tummy Leads to Safety and Snuggles
When it comes to rescuing cats and kittens, food seems to be the ultimate secret and the apprehensive kitten couldn't resist a bite to eat after being on her own. Polly ventured out from her hiding spot for some food and soon found herself safe in Stephanie's car.
Stephanie wrapped the calico kitten in a blanket and cuddled her close. Soon, the sadness in her sweet eyes faded as she realized she was safe.
As Polly had been found in the same spot just a week after Peterbilt, Stephanie scanned the area again. "There's a house a good block away and across a parking lot, so we don't know if she made that long trek or if a mama cat carried her there. We saw no other kittens around."
It's still a mystery as to where the kittens came from, but one thing is certain. Both kittens are safe and sound in foster care.
Regarding the once shy Polly, Brittany told LoveMeow, "She quickly turned out to be a cuddle-bug,"
And as for Peterbilt, under the care of his foster mom, he's thriving. And he's earned the cutest nickname thanks to his zeal for food, "Peter Peter the messy messy eater".
Both kittens are expected to find their forever homes thanks to Sparkle Cat Rescue!
H/T: www.lovemeow.com
Feature Image: @sparklecatrescue/Instagram