From 4,000 hopeful "bunny" wannabes to 10 finalists, the competition is getting tight for the 2020 Cadbury Bunny Tryouts. Each of the 10 animal candidates are vying for the top honor of donning bunny ears as this year's Cadbury Bunny mascot.
The $5,000 cash prize that comes with the title ain't too shabby either. That much money goes a long way in food and treats!
Ask Henri the bulldog, last year's Bunny Tryout winner!
But, this year, cat lovers are hoping for a feline "bunny"…

Oklahoma Humane Society/Instagram
Ten Animals, Two Cats, One Prize
The Cadbury Bunny Tryout commercial has been a favorite among television viewers for decades and, with the success of last year's contest and commercial reboot, Cadbury has brought the tryouts around again this year.
And here in Catland, we might be a little partial to kitty whiskers and jellybean toes. Our hopes are riding high on one of two cute cats who've made it to the final round!
Let's get to know Lunchbox and Eggbert, shall we?
Lunchbox
Dressed in his finest tuxedo, Lunchbox is 23 lbs. of pure sweetness dressed in his finest tuxedo.
https://www.instagram.com/p/B7RGjpLhBqs/
Lunchbox the cat currently resides at the Oklahoma Humane Society. There, the handsome tuxedo cat and staff are working hard to get his weight down as the rescue group points out, "the average adult cat weighs between 7.9-9.9 lbs".
Though he's chubby, Lunchbox is just too cute.

Oklahoma Humane Society/Instagram
On Lunchbox reaching the finals, OHS said, "Hours of acting classes, private tutoring sessions, and ***a few*** off-diet bribe treats have paid off."
Indeed!
Together, Lunchbox and the Oklahoma Humane Society are devoted to helping cats in need find their forever homes.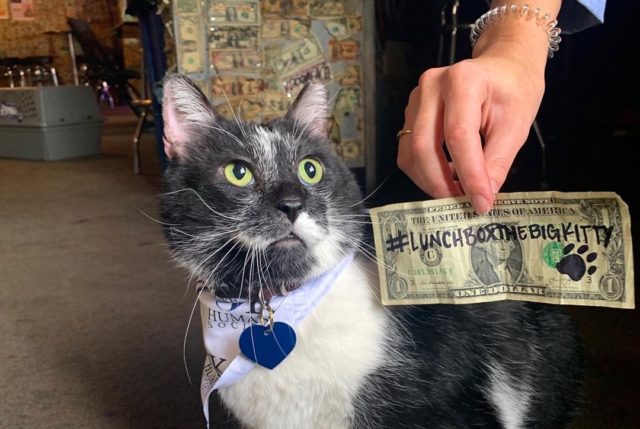 Oklahoma Humane Society/Instagram
Wouldn't Lunchbox be the cutest chonky cat bunny? Cast a vote for the big boy here.
Eggbert
He's Incredible, he's Pettable, he's the "Incredible, Pettable Eggbert"!
https://www.instagram.com/p/B8mUkzbH6EQ/
Eggbert lost the use of his hind legs after suffering from meningitis, but that doesn't slow the big-eyed cutie down. He enjoys traveling from the safety of his bag and loves rolling around in his cart, or just chilling at home, playing with his favorite toys.
As part of the Chris Griffey Memorial Feline Foundation, Eggbert and his humans work to help cats with special medical needs find their second chance at life and love.
While we love these kitty darlings as winners, all the contenders bring a special magic to the tryouts. With two cats, three dogs, a hamster, a pig, a miniature horse, a duck, and even a llama, the competition is wide-ranging. Who will be the winner?
Help make the final decision by casting your vote for Cadbury's next "Bunny"!
Voting is open until Wednesday, March 18th. Winner will be announced Tuesday, March 24th.
H/T: www.koco.com
Feature Image: Ellen Carozza LVT/Instagram & Oklahoma Humane Society/Instagram