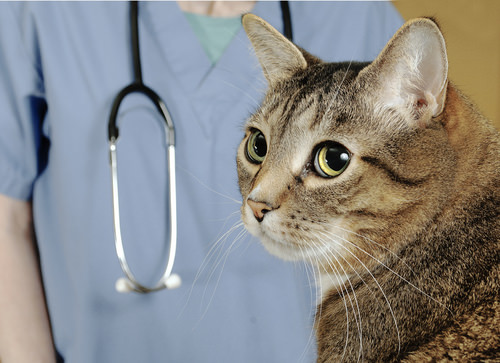 Did you know that your vet is actually performing a physical exam every moment that he/she is in the exam room with you and your cat? That's right, me and other vets are stealthy and ninja! We are able to start assessing your cat, the minute we walk in the room. Here are some of the things we might be looking at.
Mentation
We are checking to see if your cat is bright and alert. A visual exam from a distance can be very valuable to an educated eye.
Neurologic status
We might let your cat explore the room some and we may not seem like we are watching as we talk to you, but we are. The way your cat moves and reacts to the things in the room can speak volumes to a veterinarian.
Symmetry
It might not seem important, but normal animals are symmetrical. Your vet is looking at your cat's eyes, ears, face and body for any sign of imbalance that could indicate a disease process, even before touching your cat.
Odor
If there is an unusual odor around your cat, you might not notice. You are with your cat all the time, but your vet isn't and since he/she sees cats all the time, your cat may have a distinctive smell that means something to your vet. Dental disease and ear infections specifically have an aroma that is familiar to a vet.
After the visual exam at a distance, your vet will want to feel and listen to your cat, but do not assume that he/she has done nothing when they come in to chat. The exam begins even before your cat is on your lap or the table.
Love cats? Join the cat-versation and become a FUR-iend by finding me on Facebook. Click here.