Our cats are our best friends, and we'd do anything to save them in the face of a cat-astrophe. I, for one, have found myself laying on the floor of my living room as smoke billowed above me, trying to coax my dear friend Pippi out from under the couch (don't worry; Pip survived and lived to the ripe old age of 17). We like to think that our cats would do the same for us– that they'd alert us if there was a problem and try to nudge us to safety.
Here are four stories of heroic cats who put themselves in harm's way to save the creatures (both feline and human) who were most precious to them.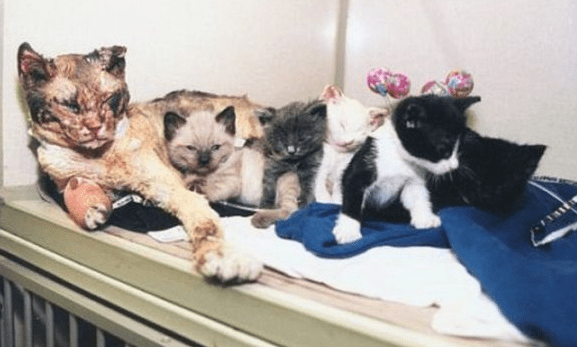 Image Source: 9 Lives Around The World
Scarlett
In 1996, Scarlett made international headlines when she braved a raging fire to rescue her five kittens who were trapped inside. She suffered severe burns to her eyes and ears, but managed to nudge each of her kittens to make sure they were okay before she collapsed herself.
A compassionate firefighter brought Scarlett and her kittens to North Shore Animal League America, where they were nursed back to health. One of the kittens succumbed to a virus a month later, but Scarlett and the other four kittens continued to heal and thrive.
The story gathered so much attention that over 7,000 people offered to adopt them. Ultimately, the four remaining kittens were adopted in pairs and Scarlett was adopted by a woman who gave her loads of love until she passed away at 13 years old. Her adoptive mama said "She was the most precious and loving cat, and in our household, it was all about Scarlett."
Tara
Last year, Tara amazed humans all over the world when she stormed a dog who was attacking her 4-year old human friend in the driveway of their California home. Everyone was so impressed with her act of heroism that Tara was bestowed an unusual honor: the 33rd Annual Dog Hero Award by the Los Angeles SPCA. You read that right. For the first time ever, the dog award went to a cat!
Miss Kitty
Earlier this month, Miss Kitty saved her human friend Jessie from a fire that spread quickly through their mobile home in Idaho. Jessie only woke up that night because Miss Kitty began pawing at her face and meowing loudly. She noticed the smoke and escaped with Miss Kitty right away. Unfortunately, their dog friend died of carbon monoxide poisoning before the escape.
Lou Monson, a local volunteer firefighter, was first to arrive on the scene. He was amazed and thankful to see that Jessie and Miss Kitty had gotten out safely, noting that the fire had traveled very quickly. He believes that due to where Jessie had been sleeping and where the fire had started, there surely would have been another fatality if Miss Kitty hadn't acted. "Animals are amazing the things that they will do," he said.
Major Tom
Australia-native Grant MacDonald was awoken by his cat Major Tom when their yacht began to sink. They had lived on the yacht, The Osprey, for the past six years. After being awoken by Major Tom's persistent headbutts, Grant found that The Osprey was quickly filling with water. He had no choice but to abandon the yacht and escape on a life raft with Major Tom in tow. A few hours later, they were rescued and brought to shore by a Chinese crew.

Did you like this?