It's a brand-new year and we're celebrating in one of our favorite ways. Forget firecrackers and sparklers; we're rejoicing a time of beginnings with things far more fun and cuddly…cats and dogs!
To start 2022 off right, spend a few minutes scrolling through these posts about cats and dogs. Purrhaps you'll find inspiration for those resolutions. Or, maybe you'll just have a laugh. Either way, time spent focusing on the furry ones is bound to brighten your New Year. So, have a shiny day and enjoy a moment with this week's funniest finds on social media!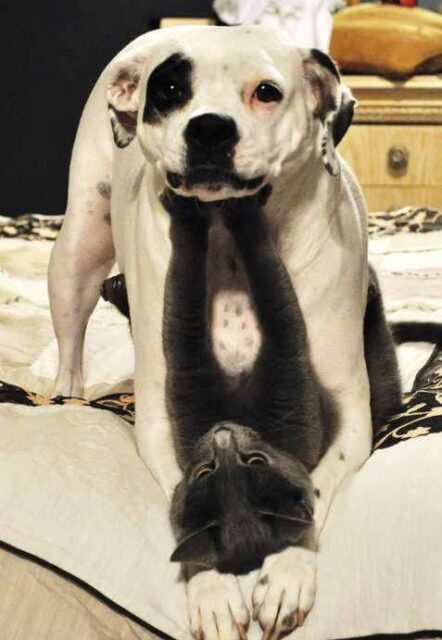 21 Social Media Posts about Cats & Dogs to Make Your New Year Ring with Laughter
#1 – Tidings for a purrfect New Year!
May your 2022 be filled with love and cats 🐈‍⬛ 🐈 🐾 🐱 pic.twitter.com/g9KvGWqtUl

— Leo🐈 & Vinnie🐈‍⬛🐾 (@LeoandVinnie) January 1, 2022
#2 – He's definitely on to you.
#3 – Calm, quiet, and cute is how the void sucks you in…
#4 – And every eve, for that matter!
Normalize giving ur dog a New Years Eve kiss

— ᴘᴀᴠʟᴏᴠ ᴛʜᴇ ᴄᴏʀɢɪ (@PAVGOD) January 1, 2022
#5 – Sound on for your ultimate New Year's soundtrack.
#6 – Same, and it hurts.
never feel more harshly judged than when one of the dogs enters a room i'm in, scopes out the vibe, and decides to leave

— Brandy Jensen (@BrandyLJensen) January 1, 2022
#7 – Imitation is the finest form of flattery.
#8 – Dogs prefer a quiet New Year's Eve, thank you very much!
A dog is posting on nextdoor https://t.co/xYTJW9AQuw

— Jaypeg (@alsojaypeg) January 1, 2022
#9 – Better watch your back…
#10 – Enjoy the dogs that made you laugh in 2021!
The Dogs of 2021 pic.twitter.com/aXNh5jD13H

— WeRateDogs® (@dog_rates) December 30, 2021

#11 – Catzilla cometh…
My cat and my dollhouse are two of my favourite things. pic.twitter.com/DXg4XTf5xp

— Liang Ding (@Liang_in_Motion) December 28, 2021
#12 – Deep thoughts…
#13 – It's the answer to why my phone is so quiet…
all of my friends are cats pic.twitter.com/Udv8lRV4VF

— Lonelily🦋 (@ImLonelily) January 2, 2022
#14 – Be sure to seek your truths in the New Year!
#15 – For your daily allowance of cuteness…
the cdc recommends letting me smooch all your cats

— miranda! the cat twittter fan (@CatTwittterFan) December 29, 2021
#16 – And to get your fill of sweet dreams…
The CDC recommends letting ur dog sleep on the bed

— ᴘᴀᴠʟᴏᴠ ᴛʜᴇ ᴄᴏʀɢɪ (@PAVGOD) December 31, 2021
Seriously, I'm convinced cats were put here on earth by some kinda alien species 😳🤣 pic.twitter.com/DZlFENDAyX

— LadyD 🖤🐺🔮🌛🌝🌜🖤 (@LadyD420Empath) January 2, 2022
#18 – New Year's Resolution No. 1, get a tattoo.
#19 – New Year's Resolution No. 2, start eating right.
#20 – To be a fresh start, it kind of feels ruff already!
idk what this dog had been going through but same pic.twitter.com/lMlo61s9fd

— ✨ (@lnFeeling) December 30, 2021
#21 – See ya later, 2021.
Here's to a happy and healthy 2022 that's filled with joy and laughter. And to help you get those all-important laughs, Discover The Hilarity Of Cats & Dogs In These 21 Funny Social Media Posts!
Feature Image: @LeoandVinny/Twitter & @usualpups/Instagram