When Hannah Rountree decided to volunteer at Saving Grace Pet Adoption Center, she received a surprise three years in the making.
Three years ago, while the Rountree family was away on vacation, their family cat ran away. For months, the family searched for Spunky. But, there was no sign of the tuxedo cat anywhere. Hannah Rountree was around twelve at the time of Spunky's disappearance. Now fifteen, Hannah told KPIC,  "He was my first cat and the first thing I bonded with as a child, so it was really hard; I cried a lot."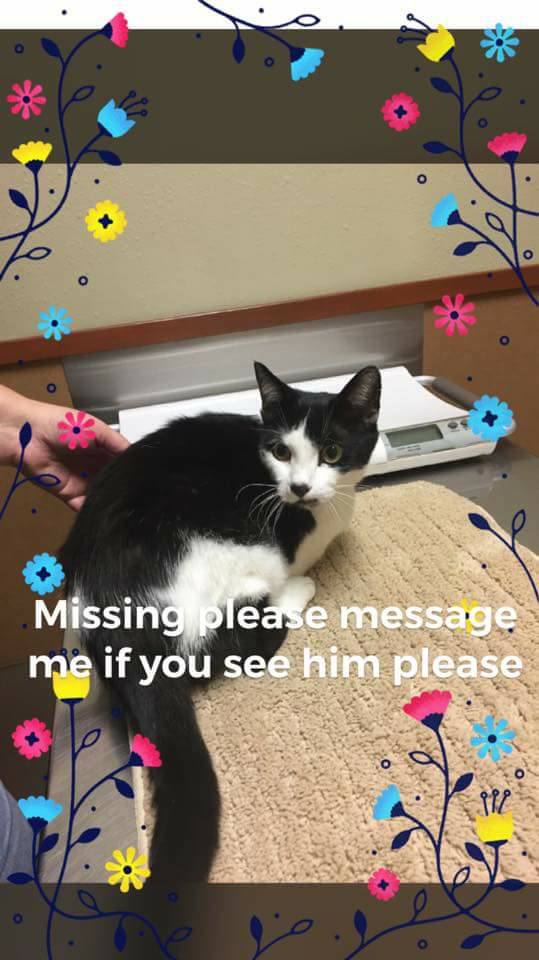 Ruth Ann Hooten Rountree/Facebook
With Spunky still missing after months, she accepted he was gone. "That's when I was kind of like, I think he passed away, or someone took him far away."
Losing a beloved cat was a hard truth for Hannah to learn, one cat lovers sadly know too well, but Hannah and Spunky's tale was far from over.
Hannah's Giving Heart Finds Reward
Not long ago, Hannah decided to volunteer at the Saving Grace Pet Adoption Center in Roseburg, Oregon. On her second visit to help with the shelter animals, Hannah glimpsed a familiar face among the cats. One she knew from the days of her childhood.
"I was like, is that my cat? It literally looks so much like Spunky," she said.
Indeed, the tuxedo cat was the missing Spunky!
Childhood Friends Together Again
Spunky landed at Saving Grace in September, where he was renamed 'Bear'. Saving Grace Director, Wendy Kang, said, "He was brought in as a stray who had been found off the side of the highway in Winchester." The handsome boy became a quick favorite among staff and volunteers.
But Spunky and Hannah nearly missed each other. Only a couple weeks prior to Hannah volunteering at the shelter, Spunky went to what might have been his new home. But the place wasn't a fit. Spunky was returned to the shelter because he wouldn't catch mice.
His return to the shelter turned out to be the best thing that could've happened as Spunky and Hannah were destined to reunite.
Of Hannah and Spunky's reunion, Kang said, "It's just perfect that she was able to find her pet while helping us."
With a microchip now in place, Spunky is home with the Rountree family and happy to be there, Hannah reporting the handsome cat is "very comfortable. I knew he would just perk up and remember."
A sweet reunion just in time for the holiday season!
H/T: KPIC Roseburg, OR
Feature Image: @arahasenstab/Twitter