Some days you just need a laugh and the Dailypurrr can sure give you that.
Ainars, a graphic designer from Rezekne, Latvia, creates simple line drawing recreations of cat pictures and they are hilariously adorable. How does Ainars describe what he does?
"Every day I draw stupid cat portraits to make you smile at least for a little moment."
A purrfect way of putting it! But how did Ainars fall into drawing the cat portraits? Simple! Feline adoration and spontaneous creativity came together to inspire the Dailypurrr. As a cat dad, Ainars finds artistic revelation in his two cats, Nika and Kuzya. Before the three came together, the cats were living on the streets, but Ainars put an end to that, bringing them home to love and safety.
As for the art, Ainars told Bored Panda, "I just really love simplicity and primitivism in art, and always wanted to draw something simple and share with the people."
That "something simple" definitely caught the attention of the people. About 100 posts in, the cat lover and his art went viral. With over 645k followers on Instagram, cat lovers eagerly await his doodles every day. Those fans want him to draw their cats' pictures too. Ainars reports, "I get a lot of submissions."
"One time, when I decided to ask people to send me their funny cat pics in an Instagram story, I got like 150+ messages in one day."
And what makes an ideal choice for his art?
"When I choose a pic for drawing, I'm looking for awkward poses, stupid cat looks, interesting situations, etc."
Let's have a look at some of the most awkward, derpy, and interesting choices Ainars has posted to Dailypurrr!
Dailypurrr Equals Daily Smiles
"When it's that day of the month, when you pay rent to a hoooman."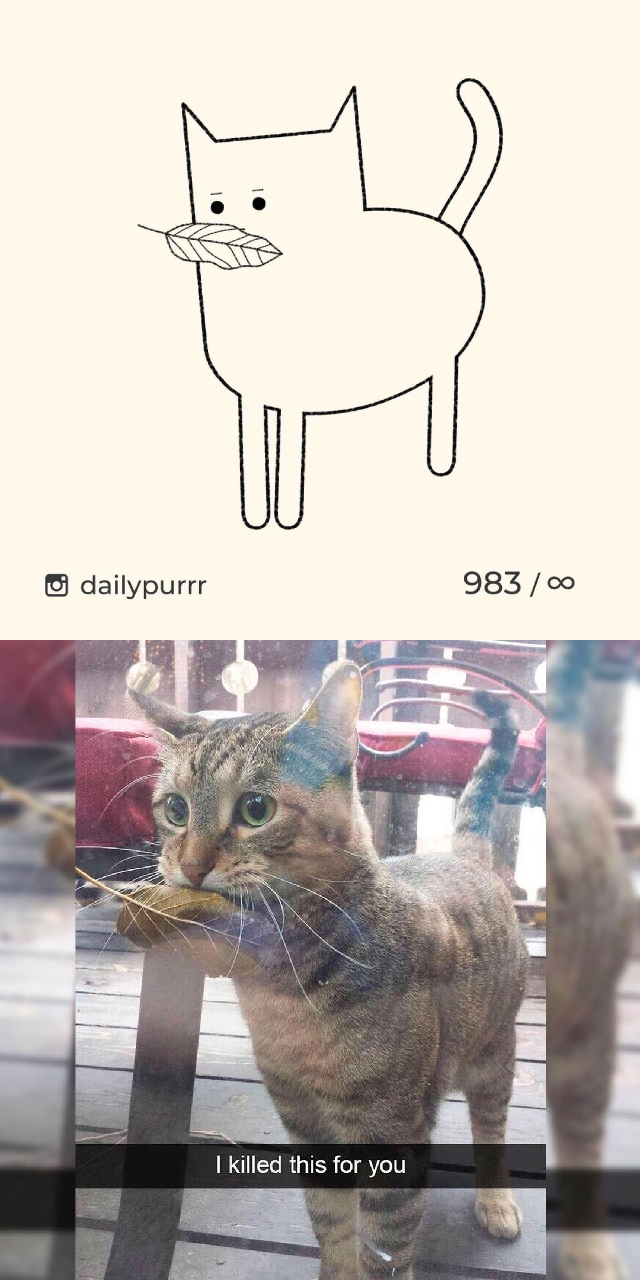 "Well, hoooman, take a seat. It appears that you're in close relationship with neighbour doggo. Can you explain this somehow?"
"

When you skip leg day in the gym but at least have massive paws."
"When neighbour doggo can't handle criminals and turns on Catman spotlight."
"I want to know, who or what will be summoned during this ritual?" 
"When you're dumpling with a taste of the void."
"When hooomans spend hundreds of bucks on shampoos to make their hair shine… And you just lick yourself."
"When you want to look at your life from different perspective."
"When you got so much love, that you can't handle it anymore."
"When you're seconds before teleport to the tuna warehouse."
"When you're some kind of astronaut, but remember that there's no tuna in outer space."
To see fresh content and simply smile, follow the Dailypurrr on Patreon and Instagram.
Feature Image: @dailypurrr/Instagram