Any true animal lover would never consider purchasing a pet online. Although we love browsing adoptable pets' profiles on the web, the thought of "ordering" a puppy or kitten to be shipped to you from an unknown source is completely ridiculous. Sadly, there is a market for online pet purchasing, and unsurprisingly, they're almost always sourced from puppy mill-type breeders. Another scary fact: some pet sellers get their "supply" from these mysterious online sources, which is why it's so important to get purebreds from a reputable breeder or a rescue.
Scottie, a purebred Scottish Fold kitten, was purchased from the Ukraine by a kitten reseller in New York City, then bought by someone in Boston. After a few days in her new home, the kitten was so sickly, the family surrendered her to the nearby MSPCA Angell humane society, where her ordeal was finally about to end.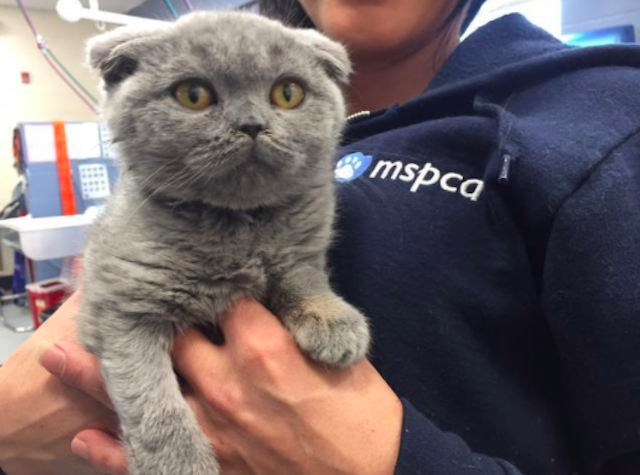 At only 2 months old, Scottie weighed 1.5 pounds, when she should have weighed 2. She had a severe upper respiratory infection, which could have been the result of the poor conditions in which she was born or the long journey being shipped overseas.
"Unfortunately, purchasing animals online and having extremely young animals shipped over long distances is dangerous and can result in significant complications with both health and behavior," MSPCA Boston adoption center manager Alyssa Krieger said in a Boston Herald story. "We've been able to reduce her symptoms over the last couple of months and she's a much happier cat as a result."
Scottie is now 5 months old and has regained her health, although she may be susceptible to upper respiratory infections or other medical conditions throughout her life. However, the staff at MSPCA-Angell are determined to help her find a family that will give her the care she deserves.
"Please NEVER buy pets online," the rescue posted on Facebook.
We're glad Scottie got her second chance and know she will find a purrfect home to spend the new year – and many more!
Update:
Scottie's profile is no longer active online. We hope she found her happily ever after!
(h/t: Boston Herald)