Move over, Willy Wonka, you ain't got nothing on Mama Mars's chocolate factory!
Mama Mars is a fluffy black cat from the California streets, and while her past might be a mystery, her life is now pretty sweet thanks to her kittens and the care of foster mom Mini Cat Town Kitten Rescue director, Laura Malone.
Coming into foster care, Mars was in pretty good shape to have been a pregnant stray, with Laura telling Love Meow, "Given her weight and her friendliness, I can assume she was cared for regularly by a human, but her paw pads are dry like a cat who has spent quite a bit of time outdoors."
But now, Mars has happily left the wild life behind for the comforts of indoors. With Laura and her family, this devoted mama cat can focus on raising her litter of sugar and spice and everything nice!
Candy-Coated Cuties
When Mars first arrived with her litter, the kittens were a bit of a surprise. Not only were they all female, but every one of the little cuties was coated in shades of chocolate and cinnamon.
"Noses and toe beans appear to be a pinkish brown color, which would lead me to tentatively believe that they will not darken to black like Mom, but may remain close to this color," Laura explained on Instagram.
Meet the floofs! Here's Twix with her white chin…
Baby Ruth is a solid piece of sleek-furred chocolate…
Hershey is also pure chocolate, but she wears her fur a bit shaggier…
And little Reese has the cutest spot of white on her nose…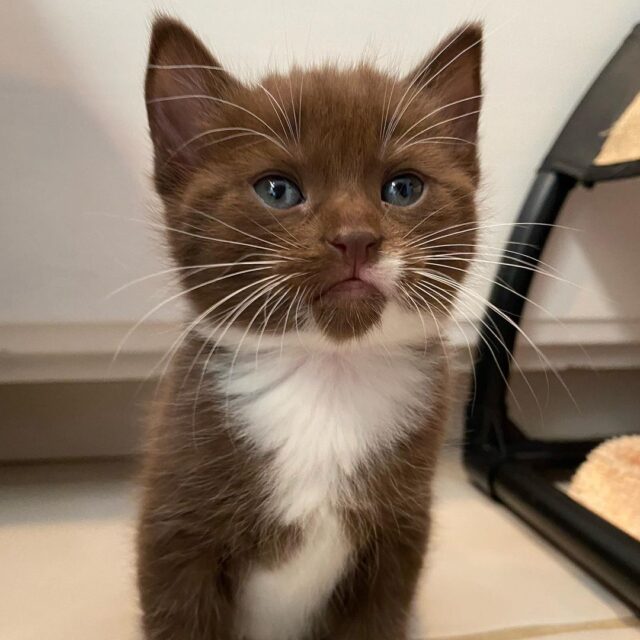 One kitten born brown in a stray litter is surprising enough, but for all four kittens to be chocolate or cinnamon is a sure rarity. Rare enough, you might as well have won yourself a golden ticket!
And these candy-coated cuties are just so sweet, you might start screaming, "I want a chocolate kitten! NOW!"
But slow down there, Veruca. It's rare to find brown kittens or cats in rescues or shelters. Most brown cats are purebreds who have long family roots of chocolate and cinnamon, their breeds demanding the color as part of their standard.
Twix, Baby Ruth, Hershey, & Reese weren't bred for the unusual brown fur, though. Instead, they were a chocolatey surprise of reduced eumelanin.
Less Pigment Equals Adorable Color
The chocolate and cinnamon brown coloring occur naturally in cats thanks to a genetic mutation of the black gene. This mutation causes a reduced amount of eumelanin, the pigment responsible for black coloring. This reduction dilutes black fur to a brown color.
Whatever the natural selection behind it, these kittens are cuteness in brown! Though they aren't fluffy mini-panthers like Mama Mars, they do seem to follow in their mom's pawprints when it comes to pure adorability. From her fang-tipped smile to her prancy biscuit-making dance, Mama Mars is absolutely purrfect!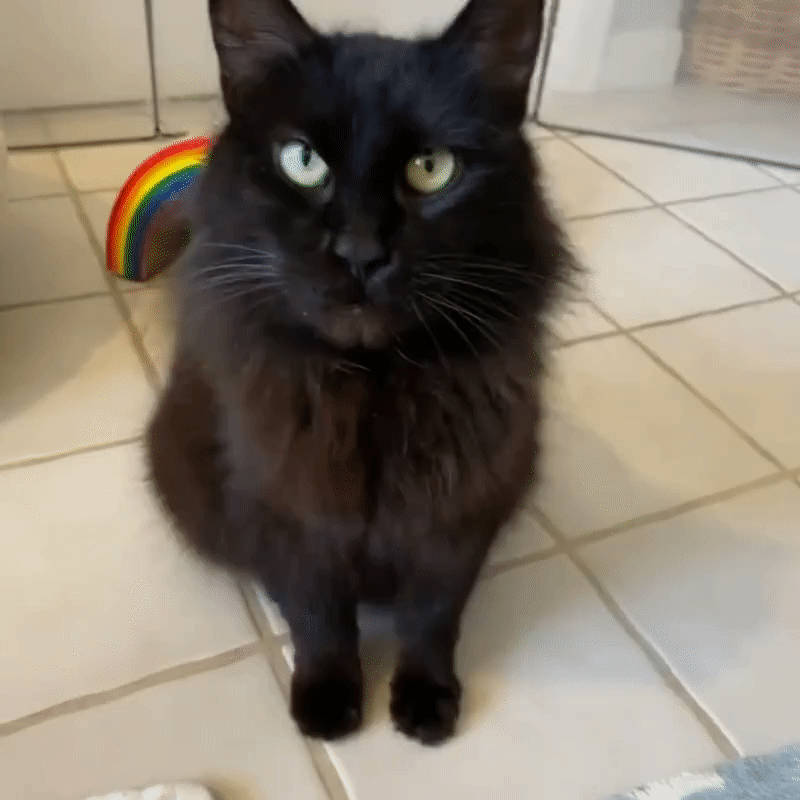 And together with her kittens, this feline family of five is pure sweetness.
Learn more about unusual coloring in cats with these 7 Rare Cat Coat Colors.
H/T: www.lovemeow.com
Feature Image: @fosterkittyfamily/Instagram