At seven weeks old, kittens should only know love and security. At a time when a kitten should be discovering the world through play and mischievous adventures, Smurf experienced terror and pain at the hands of cruel humans. Dyed purple and covered in gaping injuries, the tiny kitten was found on the side of the road and taken to the San Jose Animal Shelter.
Instead of euthanizing the sickly kitten, they contacted the Nine Lives Foundation of Redwood City, CA, for help.
The Nine Lives Foundation took charge of the tiny kitten, fearing he might not survive the abuse he'd endured. Stained head-to-toe in purple dye, the grey kitten was covered in wounds resembling bites. Nine Lives founder and veterinarian Dr. Monica Rudiger suspects Smurf was used as a chew toy for a larger animal.

Nine Lives Foundation/Facebook
Dr. Rudiger told ABC News, "I believe that, for someone's amusement, this kitten was used as a chew toy for their dog."

Nine Lives Foundation/Facebook
Once Smurf arrived at Nine Lives, his fur was shaved to remove the dyed and matted hair, exposing scars and wounds in need of treatment. Weighing in under two pounds, Smurf had a long road to recovery. But with the help of staff and volunteers at the Nine Lives Foundation, the kitten would grow healthier and stronger every day.

Nine Lives Foundation/Facebook
 Two Cats Who Had It Rough Now Have Each Other
While Smurf was housed with Nine Lives, the foundation experienced a shortage of kennels. As Smurf was still a young cat on the mend, staff thought it might be good to have him share his bed with Wanda, a blind cat who needed love too. The two kitty cats became family that first night.

Nine Lives Foundation/Facebook
The Nine Lives Foundation reported, "She was placed in the same cage as SMURF on her very first day and has become bonded with him. We will send them into foster care together next week 🙂 and yes they will be adopted together!"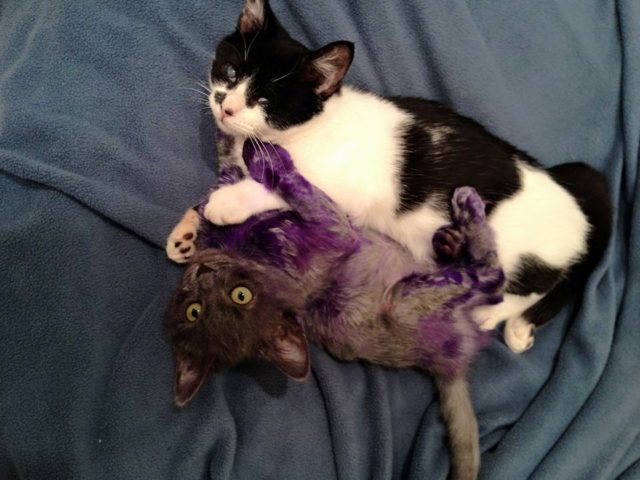 Nine Lives Foundation/Facebook
Together, the pair healed.

Nine Lives Foundation/Facebook
The kitties remained in months of foster care, their bond tightening every day. To be sure the pair remained together, one of the veterinarians caring for the grey kitten and tuxedo cat adopted the kitty cats.
A few years have passed, but the pair remains together and have grown from scared kittens to healthy cats.
It took months for the dye that remained in Smurf's fur to grow out. Smurf's coat came in lush and smoky gray. He's certainly a handsome man.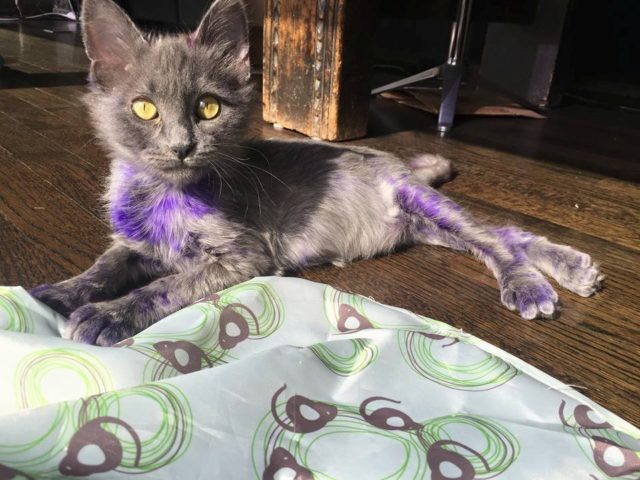 Nine Lives Foundation/Facebook
Wanda and Smurf are both loving kitties who got second chances at life thanks to kind hearts and their hard work. Rescue staff and volunteers are heroes to cats everywhere!
H/T: pawmygosh.com
Feature Image: Nine Lives Foundation/Facebook