This month, the new Jackson Galaxy Collection by Petmate is hitting Petsmart shelves. The "My Cat From Hell" star's collection focuses on cats as the heroes in Cat Play with a wide variety of products offering fun and interaction between human and feline. The collection includes eight new products that are made with your cat's natural instincts in mind. I received four of them for review. We know your kitty is dying to get her claws in them, the question is, are they a good buy?
Since my indoor kitty is a senior citizen no longer interested in play, I enlisted my mom's semi-feral barn kitten. Emma just turned one year old, and she is part of a great program that fixes feral cats and then puts them to work in barns as rodent control. She is becoming friendlier every day and was the perfect subject for reviewing the toys I received.
Air Prey Wand with Removable Laser and Without
The one with laser retails for $19.99. The one without for $11.99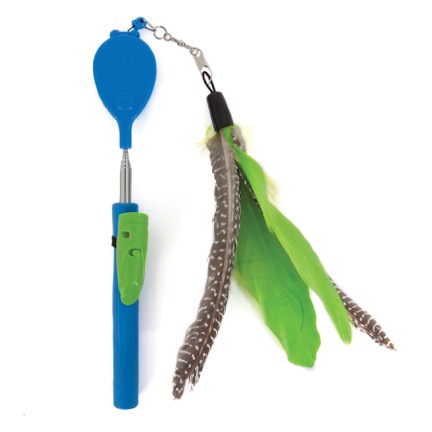 Design
I received two wands to try out. The wands are metal and extendible like an old radio antenna, allowing you to adjust according to the amount of room you have to play.
The cord AKA "prey" is on is also extendable with a button for quick retracting. Also useful.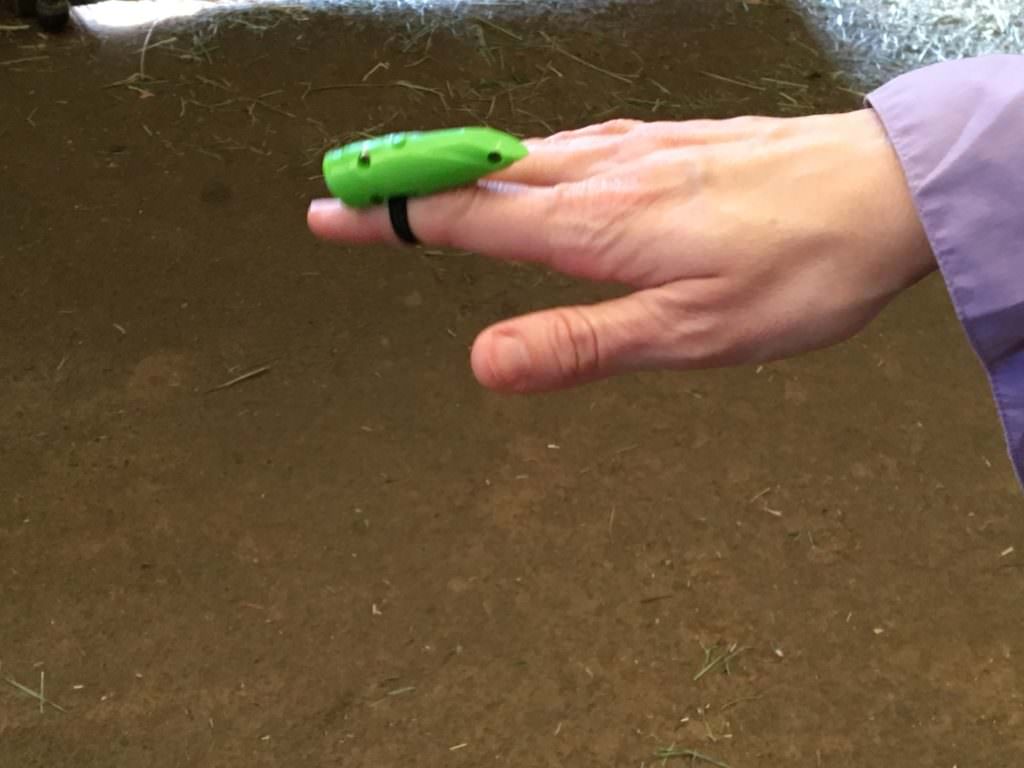 The laser stayed on my finger well, but it may feel a bit tight on larger hands (mine are pretty small).
Play
The laser is great for getting a cat that may not be interested in feathers at first, to engage. Since Emma is accustomed to real prey, she wasn't sure about those feathers (or an audience) at first. So I got out the laser. Immediately, she was interested!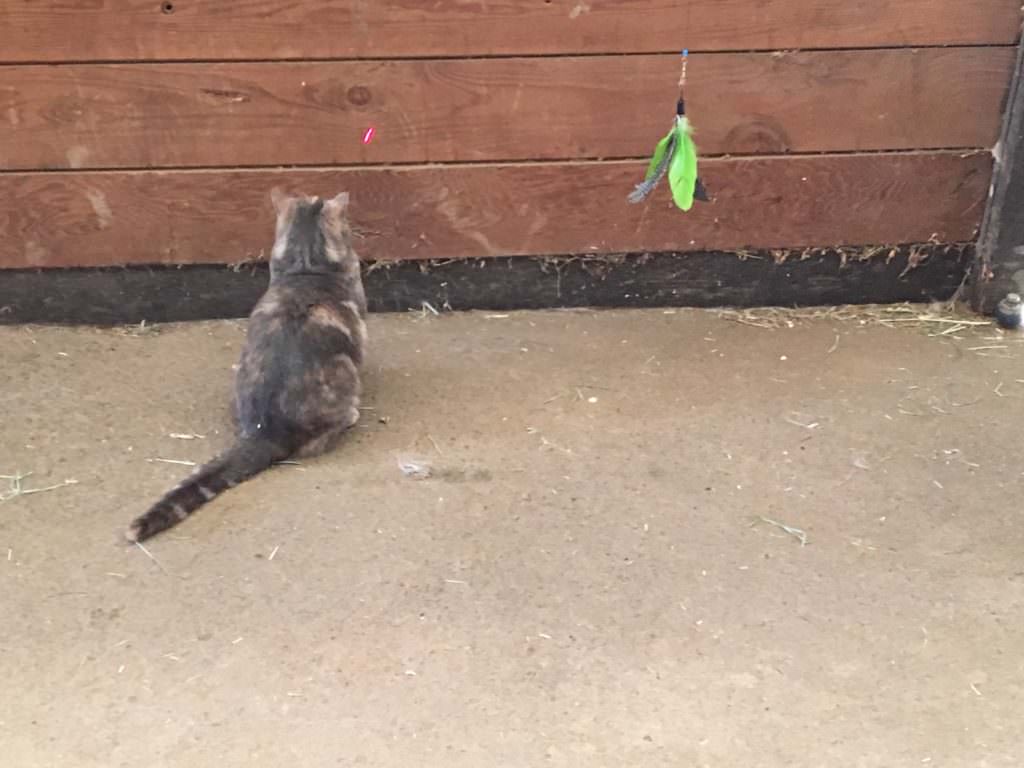 I then moved the laser to the ground and started to incorporate the feathers with the light.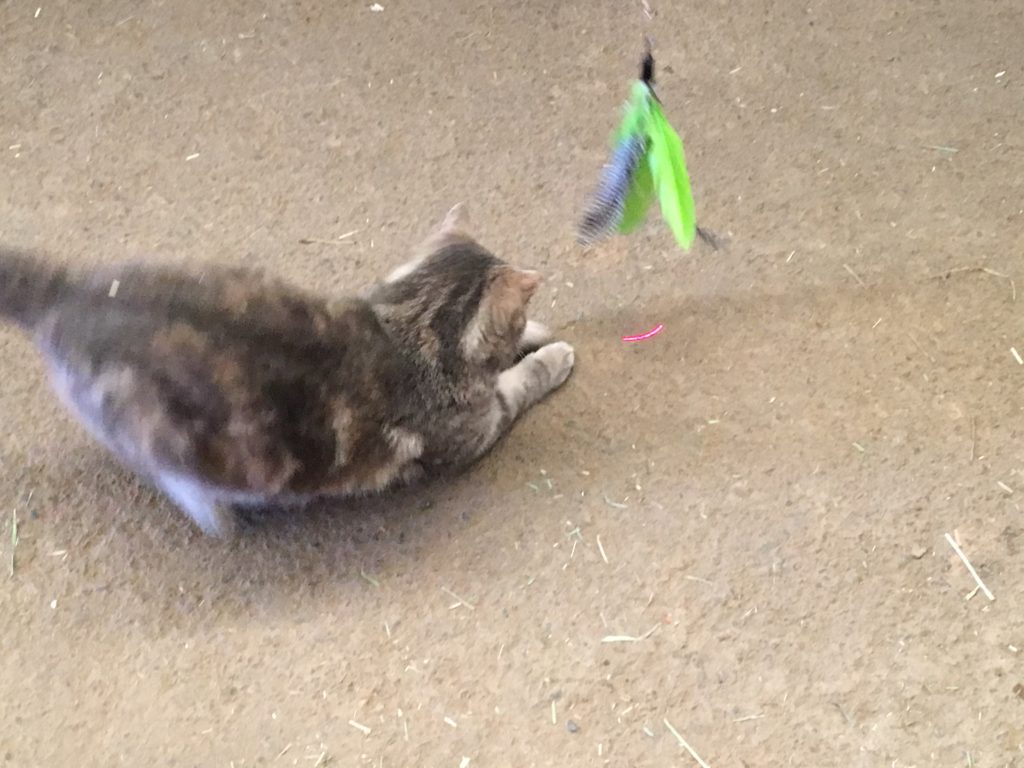 As followers of Jackson Galaxy know, you only want to use a laser with something like a feather wand or other "prey" toy so your cat can actually catch something and end the game. Otherwise, the laser becomes a constant tease and can drive your cat crazy, somewhat literally.
This worked really well for Emma! She started to notice the feathers and when I put the point right on them, she pounced!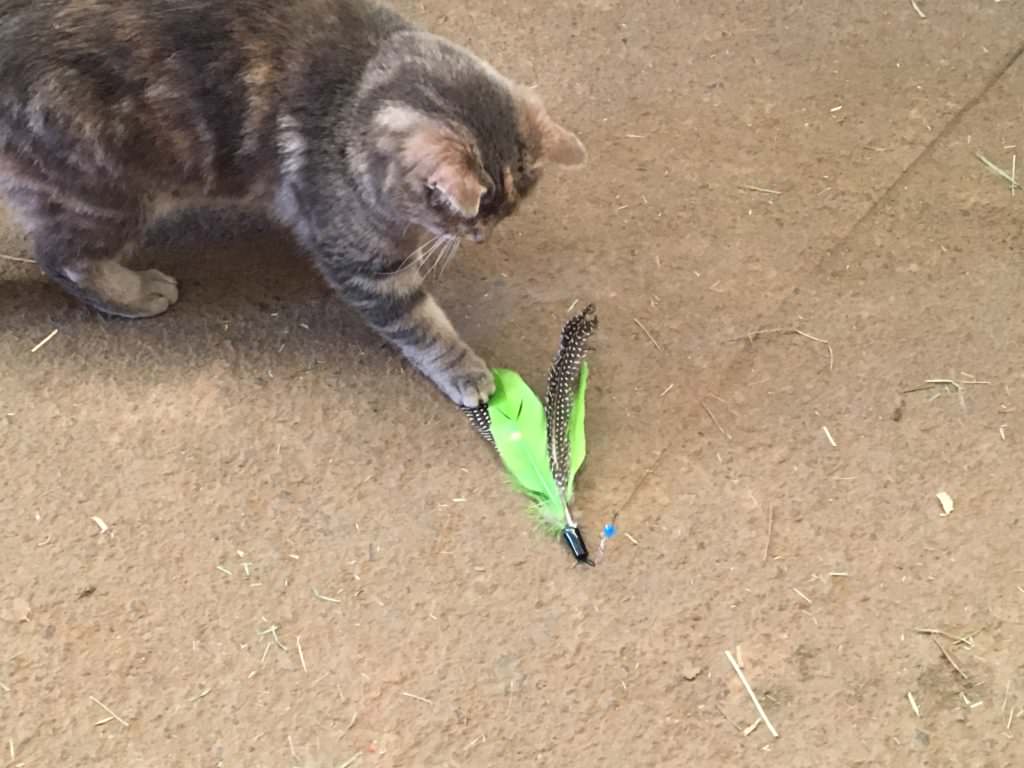 After that, I had no problem just transferring to the wand without the laser and she was still engaged.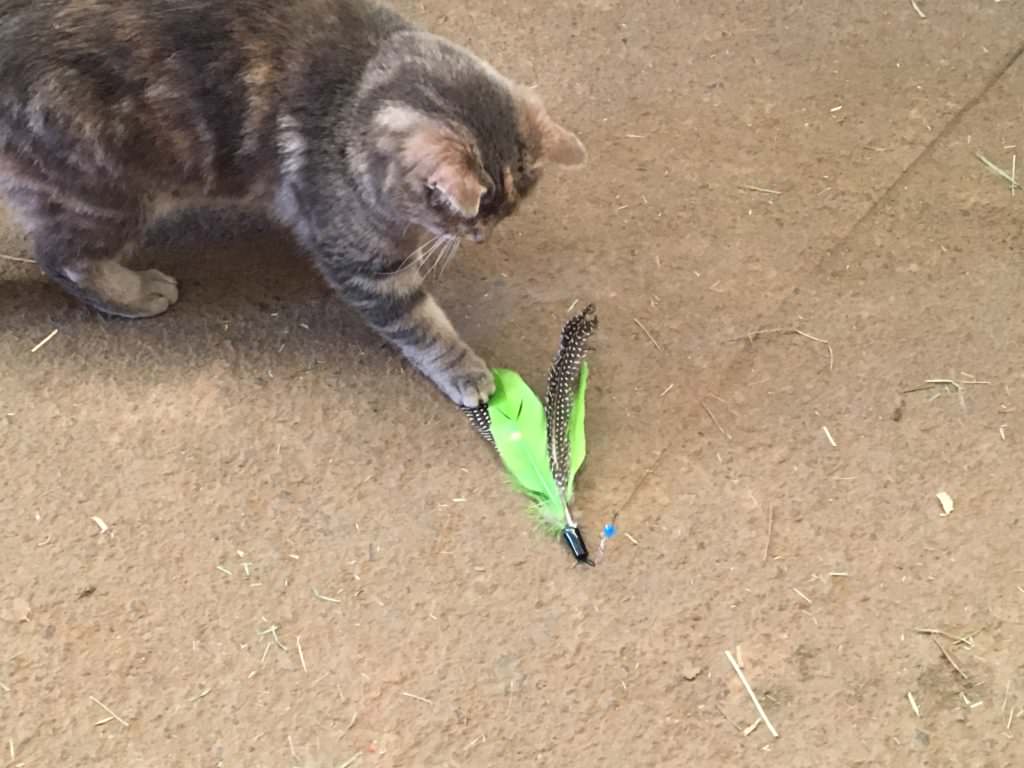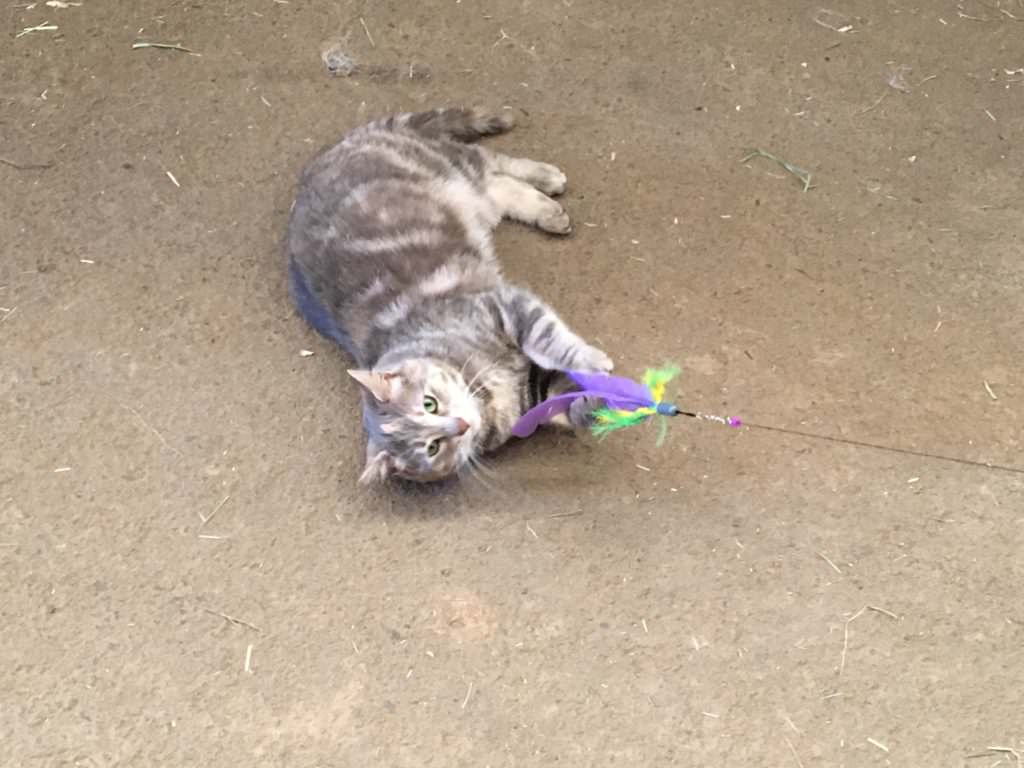 The two wands are identical other than the laser. Overall, the prices seems fair for the mechanics and sturdiness of the toy. The wand did not bend too much while playing; since it is metal, it's going to last a lot longer than those plastic fishing poles would. To me, it just makes sense to spend the extra money and buy the one with the laser – than you have it should your cat need to be enticed to play.
Comfy Cocoon
Comfy Cocoon retails for $19.99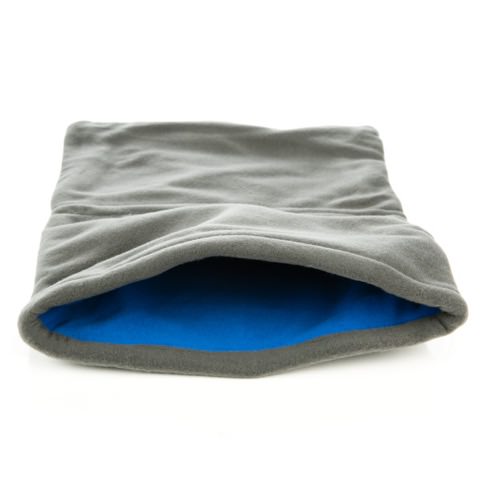 Design
This super soft cat tunnel and sack in one has a zipper at one end, so you can make it into a tunnel, or zip it up and it makes a cozy sleep sack. It is made of 100% polyester fleece
The permanent opening has adjustable wire so you can open it as wide as needed for your cat's personal preference. It also has wire in the middle, allow you the luxury of further customization – some cats like a really tight dark space, others want something roomier.
Play
Since Emma is still pretty feral, I knew she wasn't going to go for something closed off, so we opened both ends and made her a tunnel. Her curiosity overcame her hesitations and she went through it several times.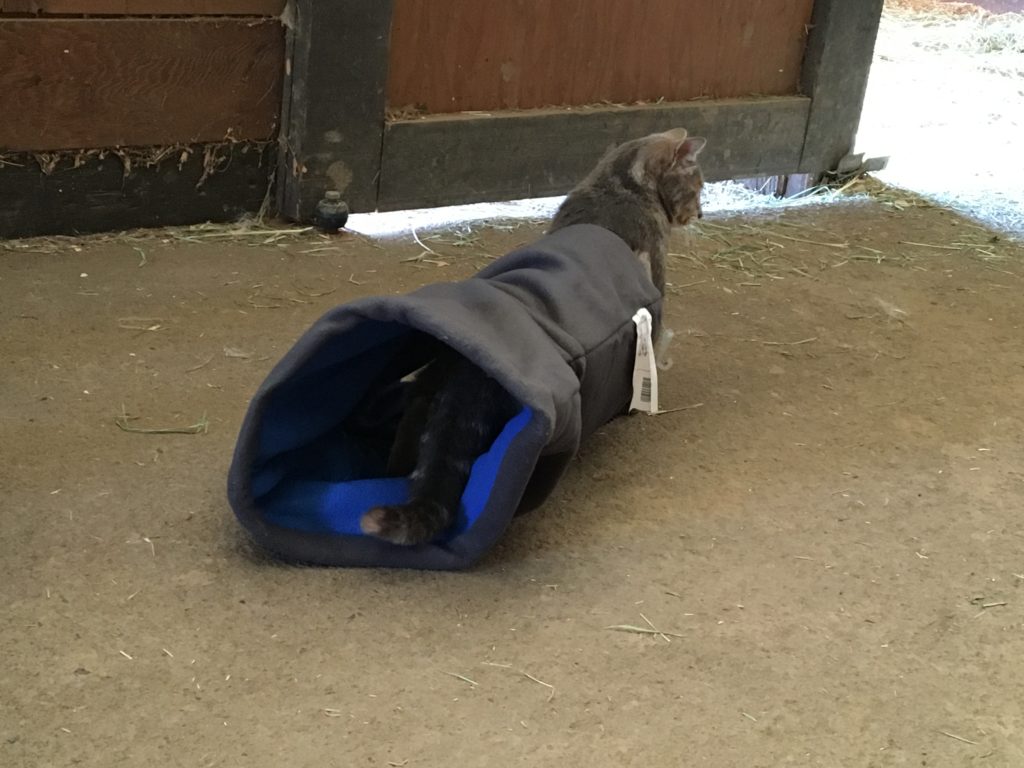 She also enjoyed rolling over the outside of it, and I suspect that she (and other cats) may end up using it as a plushy mat rather than a hiding sack.  The sacks dimensions are 19.5 inches x 16.5 inches, so it's not very big. It's definitely made for cats that like small spaces or for smaller cats. If you have a large cat that likes to sprawl out, this may not be the right bed for them.
The Vault Marinater
The final product I received for testing was the Vault Marinater. It retails for $11.99 for the small and $16.99 for the large size.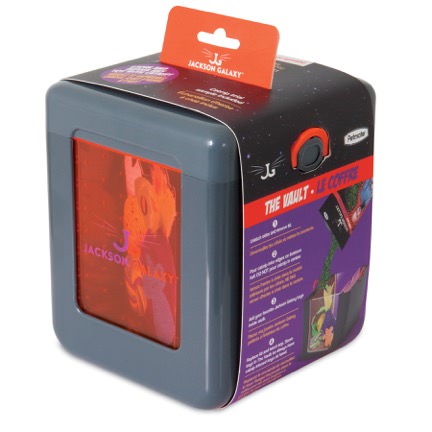 Design
Basically, this is a box to "marinate" your cat toys in to infuse them with the smell of catnip (think of a drawer with potpourri in it).
The entire box is plastic, which is fine, except that does make it easy to break. Which is exactly what happened to me while I was trying to figure out how to open it. To open it, you have to pull these thin, orange "handles" down on two sides of the box and the top lifts off.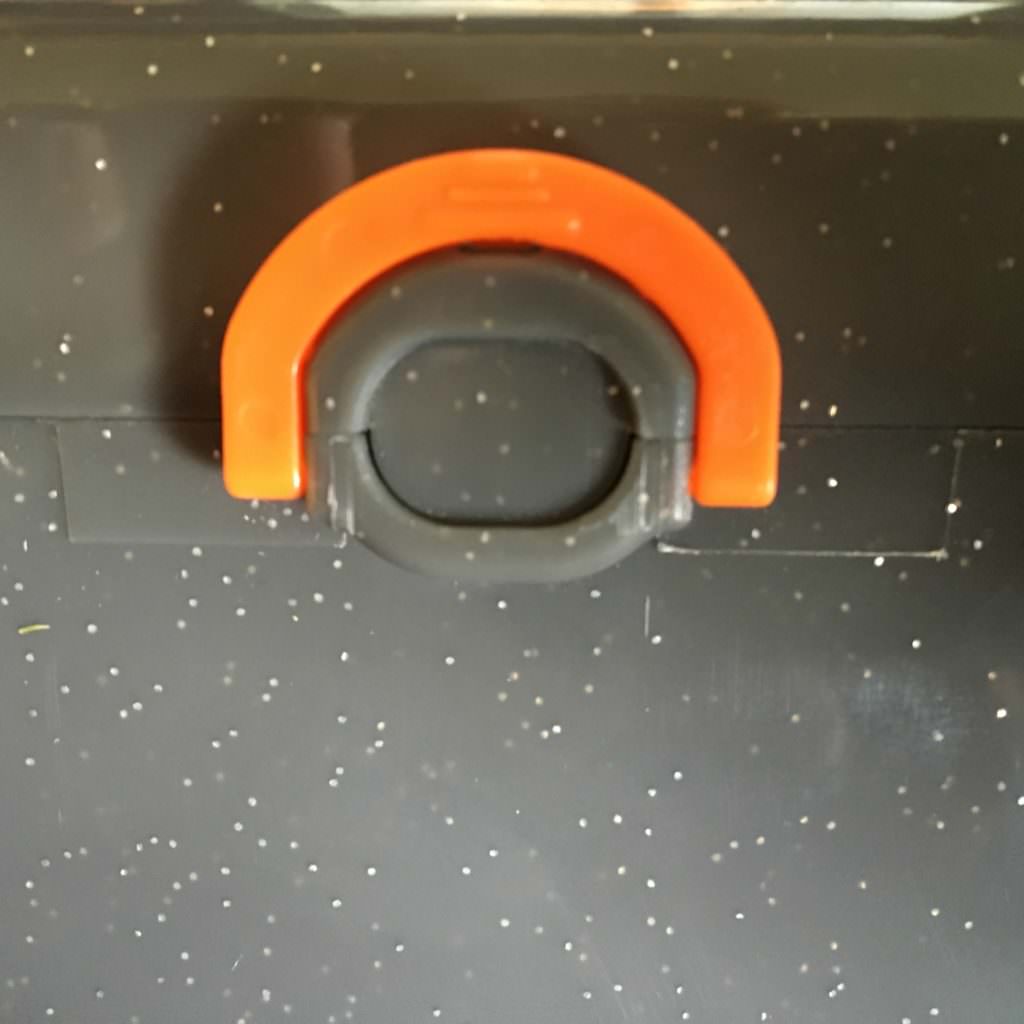 I only had one flipped down and the other snapped off before I had a chance to pull it down.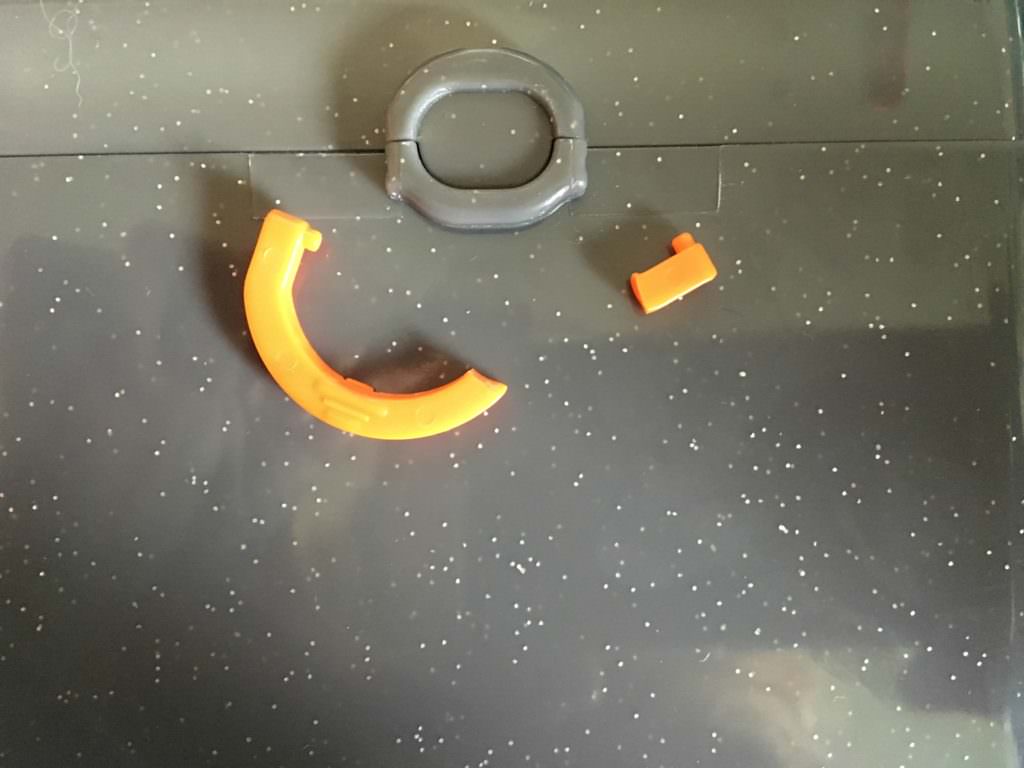 So, I think some finesse may be needed with the opening of it. The pieces are pretty thin so I do think that most people will probably break them at some point.
However, this will not affect the function of the box. It comes with some catnip and we tested it by putting some of Emma's old toys inside for two days. The old toys smelled strongly of catnip when we took them out, so it definitely does its job.
It's a great idea, since it revives old toys, saving you money. The lid could have just been a bit sturdier.
Other New Toys
The other toys that I did not review are a Motor mouse, that moves and vibrates to catch your cat's attention (retail $4.99), Space Station which has weighted balls that move in a track, a corrugated scratcher and a place for your cat to sleep (retail $29.99) and Cat Craw Tunnel which is made like a mini dog agility tunnel except it's mesh is somewhat transparent so you can see your cat (retail $14.99). All of the these products are now available at Petsmart stores and Petsmart.com.