When a cat comes into your life and chooses you as their own, you are often rewarded with cuteness, companionship, and sometimes even cuddles. Not only that, but cats are well known to help members of their household relax, and can offer many moments of comedic relief. But there's one aspect of kitty companionship that decades of pet parents have dreaded dealing with and desperately wished was different. Their furry best friend's litter box.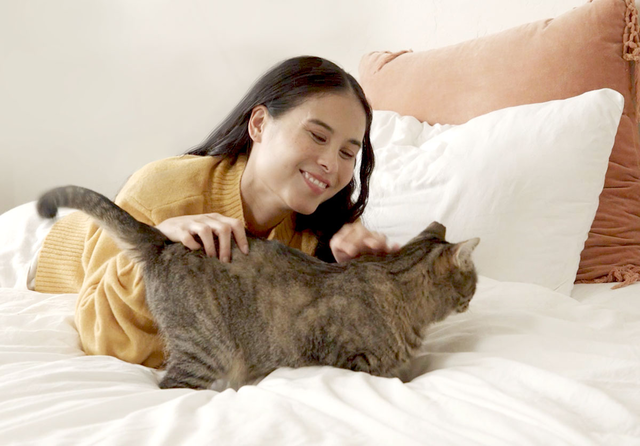 This is exactly why we wanted to share the news with you that PrettyLitter is a revolutionary new kitty litter that literally locks-in your cat's dirty business, helps eliminate litter box stress, and even offers multiple aspects of protection for both you and your furry feline. Try it today and receive 20% off.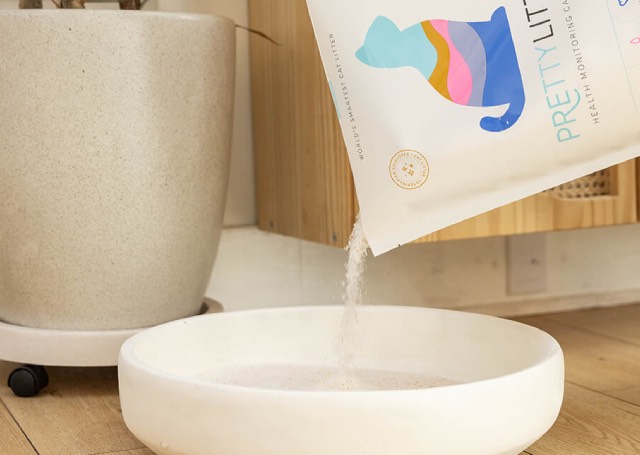 PrettyLitter is made from minerals that are lightweight, 99% dust free, and friendly for the whole family. Formally known as silica gel, these magical minerals are incredible at absorbing moisture and have completely changed the litter box experience for both purr children and their parents.
PrettyLitter Protects Your Pet's Precious Paws
Your beloved cat deserves to step on crystals that are as soft as beach sand. After all, their paws are essential shock absorbers, sensors, biscuit makers, and grooming tools. PrettyLitter is made from silica gel crystals that feel silky smooth on your feline's feet. So unbelievably soft, PrettyLitter's absorbent crystals keep both your feline's toe beans and your shared space tidy. Because PrettyLitter is made from naturally occurring minerals and is 99% dust free, you don't have to fret finding tiny paw prints coating every scampered-upon surface of your home. How purr-fect!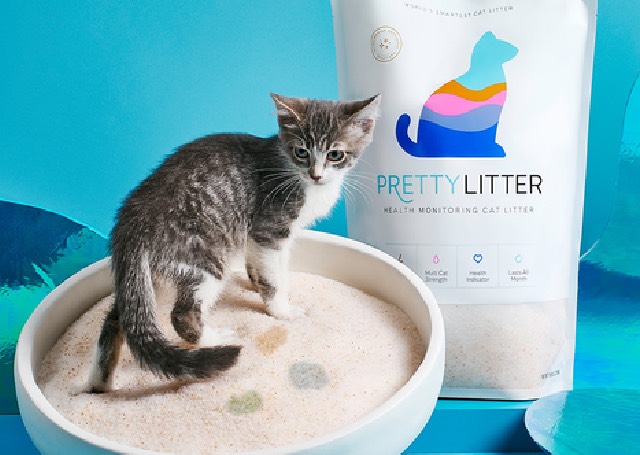 Not only that, but our feline friends deserve to place their paws on a litter that stays dry and is free from harsh ingredients or synthetic fragrances. PrettyLitter immediately absorbs offensive odors and moisture, leaving lots of room for your feline to do their business, and to keep their precious paws clean. When your cat uses PrettyLitter, they are practically pooping like royalty.
PrettyLitter Can Help Protect Your Cat's Health
PrettyLitter contains color changing technology that can point out a potential health concern early, allowing you enough time to take your beloved cat to see their vet before it becomes a bigger problem. Devastated after losing his beloved kitty companion from an illness, CEO Daniel Rotman created PrettyLitter to give purr parents the power to keep daily tabs on their cat's wellbeing. PrettyLitter can help bring you peace of mind, straight from the comfort of your own home.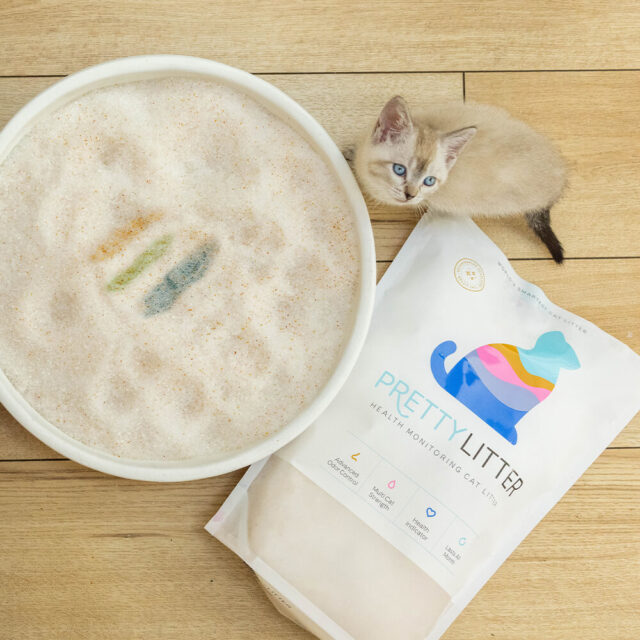 When your cat uses PrettyLitter, you can regularly expect it to turn dark yellow or olive green, but any other color lets you know there could be a potential concern. PrettyLitter will turn orange when urine acidity is high, blue when pH is low, and red when there may be blood. Cats are well-known to hide it when they're sick, but PrettyLitter can help catch a concern early, and give you an advantage in keeping your cat healthy.
PrettyLitter Protects Your Peace of Mind
You can check lugging large bags of kitty litter through the store off your "to do" list for the last time, because PrettyLitter is delivered directly to your door, hassle free, every month. PrettyLitter takes remembering and even the need to drive to store off your plate. Start by simply selecting how many cats you have in your household, and PrettyLitter figures out the rest. Plus, PrettyLitter is made without sodium bentonite, or any other clumping agents that expand when exposed to moisture. So there's no risk of internal blockages from your feline unknowingly licking left-behind litter off their paws and then later expanding.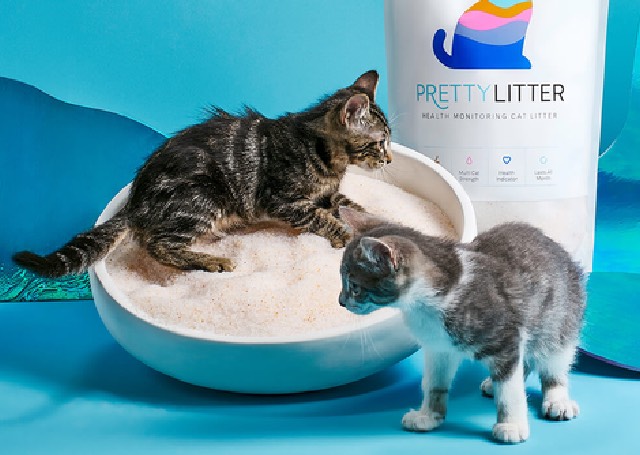 PrettyLitter is not only safe for your cat, and friendly for your whole family, but because it's made without clumping agents, you use less litter. PrettyLitter only needs to be refilled once per month. So not only does PrettyLitter give you peace of mind that your cat will never run out of litter, but PrettyLitter is both safe and effective. Plus, the world's smartest cat litter ships free to the contiguous US and offers a risk-free guarantee. So if you decide the "hassle free litter life" isn't for you, don't worry, you can cancel at any time.
PrettyLitter Protects Your Pocket Book
PrettyLitter is extremely affordable and is actually less expensive on average than other leading kitty litter brands. Plus, since PrettyLitter arrives without you having to lift a finger, you won't accidentally overbuy and overspend. The perfect amount of PrettyLitter arrives exactly on time, each and every month without you worrying about a thing.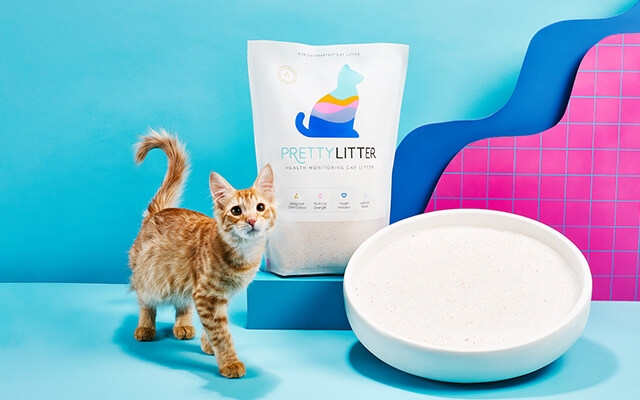 PrettyLitter Protects Your Back
Since you need to use so much less litter every month, bags of PrettyLitter weigh only six pounds. Long gone are the days where you are forced to figure out a way to lug 20-30 pounds of heavy kitty litter around a large store or even up and down the flights of stairs within your own home. PrettyLitter helps protect your back because each bag is so lightweight. Also, PrettyLitter's magical minerals trap the urine inside super absorbent silica gel, so you only need to scoop the poop. Less scooping means less lifting and bending.

PrettyLitter Protects Your Nose
PrettyLitter is made from naturally occurring silica gel crystals that instantly absorb moisture and trap both urine and odors within. The moisture is then completely contained and able to evaporate as the crystals quickly dry out your pet's poop. PrettyLitter aims to obliterate offensive odors altogether, not cover them up with something synthetic.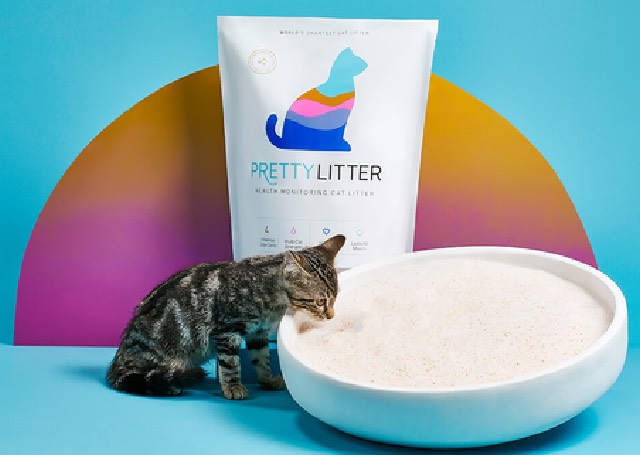 No enormous gray dust cloud and eliminating extraneous dust means less mess and fewer airborne irritants to worry about potentially aggravating both you and your feline's sensitive sniffers. PrettyLitter can help both you and your cat breathe a bit easier.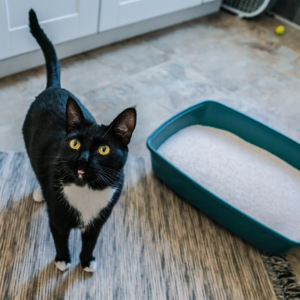 Adding a cat to your family can be an incredibly enriching experience, and result in an extremely rewarding relationship with your kitty companion. Don't allow dreading dealing with their clumpy, dusty litter take away from your lovely life together.

PrettyLitter is lightweight, offers multi-faceted protection for you and your beloved cat, and is delivered directly to your door. PrettyLitter can help catch potential health concerns and bring you peace of mind. Protect your kitty's precious paws and eliminate clumpy clay and excessive mess, PrettyLitter just makes sense. Receive 20% off your order today!