On a typical residential street in Medford, NY sits a home that is anything but typical. Chris Arsenault's modest Long Island residence serves as a shelter, rehab and nursery for more than 300 cats.
All of the cats at Arsenault's Happy Cat Sanctuary have been rescued from lives of abuse and neglect on the streets and from hoarding situations. At HCS they find safety, comfort and most importantly, love.
58-year-old Arsenault suffered a devastating loss in 2006 when his son Eric was killed in a motorcycle accident. His life reached a crossroads and he had to decide whether to give in to his grief or fight to regain control.
It was at this pivotal time that he stumbled across a colony of 30 sickly kittens. The experience of saving them and nursing them back to health awakened a new purpose in Arsenault, and soon Happy Cat Sanctuary was born.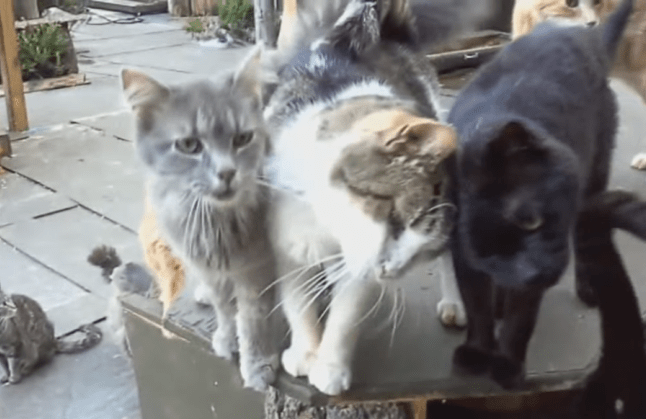 When he strolls his converted property, the mutual adoration between the man and his cats is clear. Several of the animals in his care have suffered extreme cruelty – from gunshot wounds to poisoning and starvation – but they show no fear at all of Mr. Arsenault.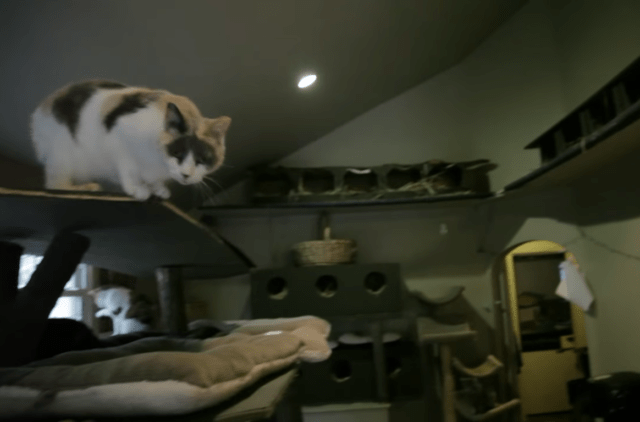 At the sight of him or the sound of his voice, they come running. He is rarely seen without at least one resident cat draped leisurely across his shoulders.
The yard itself is proof of his incredible dedication to the animals in his care. The fenced area is packed with tree forts, cat tunnels, and heated outdoor structures. They have access to the inside of the home through several cat doors.
Despite some informal complaints from neighbors, Happy Cat Sanctuary has twice passed SPCA inspection and the animals receive regular veterinary care. The following video from 2014 shows the cats looking healthy, well-fed and as the name would suggest – happy!
When feeding time rolls around, Arsenault is swarmed by more than 300 meowing kitties, weaving and purring between his legs. Luckily he has several volunteers to assist him. With a food budget of $1,000 per week, he relies on donations to keep things running smoothly.
To learn more or make a donation, visit the Happy Cat website.
Arsenault says opening the sanctuary has been mutually beneficial – he and his cats have saved each other. The only problem comes at bedtime when his adoring kitties battle over who gets to snuggle in the bed. Sharing a bedroom with 300 cats – now that's unconditional love!
All Images via YouTube/HappyCatSanctuary