In September 2015, Joe and Leanna Drnec moved from Southern California to Knoxville, Tennessee. But when they set out for their new home, one of their furry family members was missing from the journey. Sadly, kitten Ebi disappeared earlier in the year. When the Drnecs and their cat Eunice made the move, they had accepted the little one was gone for good.
The years passed, and Ebi's disappearance remained a mystery, with Joe and Leanna holding onto the hope that someone had found their missing kitten and given her a good home. But a phone call in early 2022 brought her memory back to life and the long-lost Ebi home to Tennessee.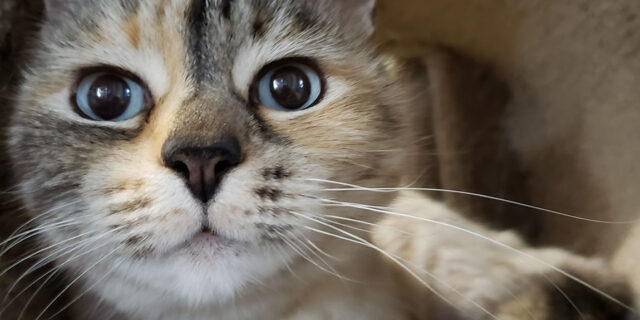 Missing Shrimp Found
When Joe and Leanna adopted a three-month-old kitten from the Mary S. Roberts Pet Adoption Center, they christened her Ebi. The Japanese word for 'shrimp,' Ebi is a purrfect name for a little kitten! But kitty shrimps can be pretty demanding, and Ebi Drnec often demanded time outdoors.
"She was primarily an indoor cat," Joe said in a release from the Riverside County Department of Animal Services. "But she just went crazy at the door, always wanting to go outside. We allowed it, but my wife always supervised her. She eventually was an indoor-outdoor cat. But one day she did not come back."
The Drnecs moved to TN, and years went by, but even after all that time, Ebi kept close to her original California home. As the Riverside shelter shared, Ebi came into their care "after a Good Samaritan found her on Lemon Street in downtown Riverside – not far away from where she first disappeared."
"An employee scanned the cat for a microchip and the scanner beeped. A hit!"
The information that came up revealed the kitty to be the missing Ebi. When Joe answered the call from Riverside and received the news that Ebi had been found, "he was stunned."
"We never thought we would ever see her again," shared Joe. "This is really an amazing story."
Getting Ebi Home
With Ebi identified and her family located, the next challenge would be reuniting them, given the distance between CA and TN. But Riverside County Animal Services head John Welsh was ready to make the journey, telling WATE, "We like getting animals back to their rightful owners even if they tend to be half the country away or to be more than half the country; away, so it's just fun."
And as John explained, taxpayer dollars can't be spent on personal pets, so he paid for the trip.
"It took us some time to figure out what we're going to do, how to get this cat back to Knoxville. The logistics were basically me asking my wife, 'Can I do this?'"
John and his wife recently experienced the death of their own beloved cat, so they understand the pain of losing a furry one. In John's opinion, being able to give a family back the cat they thought gone was "money very well spent."
In addition to John's personal donation, the Animal Solutions Konnection (ASK) Foundation also donated funds to help with reuniting Ebi and her family.
Settling In With Family
Eight-year-old Ebi has made it to her new home in Tennessee and will be spending a few days in her own room, adjusting to her surroundings. But soon, Ebi and the now 14-year-old calico Eunice will meet again, and the whole Drnec clan will be back together after eight years apart.
This happy tale is another example of the miracle of microchips! If your cat isn't already microchipped, talk to your vet about having your cat chipped. And once you've registered your contact information in the microchip registry, be sure to keep it up-to-date with any changes.
H/T: www.insideedition.com
Feature Image: Riverside County Animal Services