In the process of a move from Texas to Oregon, a member of the Martinez family slipped out of the car and went missing for months.
Closing in on the end of his journey, Antonio Martinez pulled over at the Deadman Pass rest area in eastern Oregon. While Antonio got out to stretch his legs, his grey tabby, Korra, slipped out of the car. Devastated, Antonio and his father searched for Korra, but scared cats gone into hiding are near impossible to find. After extensive hunting, they had to finish the drive.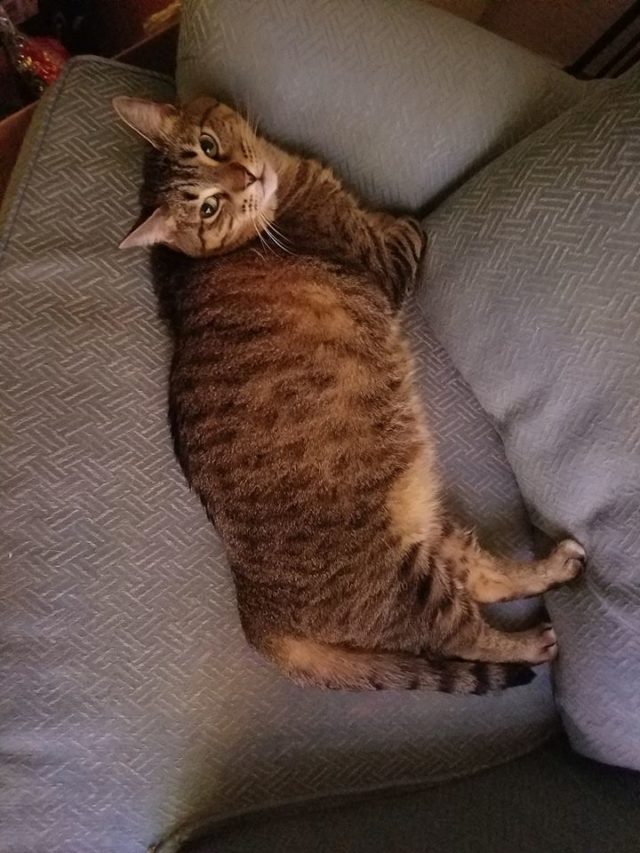 Eastern Oregon Pet Lovers via Antonio Martinez/Facebook
Antonio turned to Facebook group, Eastern Oregon Pet Lovers, pleading for help. He wrote that while Korra wore no collar, she was implanted with a microchip. Always a helpful thing, but the wait for her to find rescue staff to check the chip still loomed large.
Worried about the fall chill that had taken the air, as well as predators, Antonio asked, "Please if anyone sees her contact me immediately. She's my only cat and I miss her very much. It terrifies me to think of her alone with wild animals in this cold weather."
He also contacted Pendleton PAWS to alert them of the situation. Facebook followers put out the word too and comments revealed people in the area stopping by Deadman Pass to look for the lost tabby.
Months Go By
Fall became winter and Korra remained missing. Antonio missed his tabby girl, telling the Eastern Oregonian, "I started to lose a bit of hope, especially with the colder months coming up."
But a couple of weeks ago, the Holt family stopped at the Deadman Pass rest area, and there, a hungry cat caught their attention. Dad Robert coaxed the kitty toward the car and the ham sandwich he offered was Korra's undoing. Robert said, "Once inside the car, the cat was purring and happy."
Reunited by Kindness and Microchip
The Holts contacted Cat Utopia, an animal rescue group, about the found kitty. A rescue worker kept the tabby over night and transferred her to Pendleton PAWS. There, staff discovered and scanned the cat's microchip. Korra's identity revealed, the shelter contacted her family.
Antonio and Korra celebrated reunion about two hundred miles from the point of their separation.
"I was worried she might not recognize me but as soon as she sniffed my hand, she immediately started purring," said Antonio.
Korra came home to her new house in Beaverton, OR, where she's on the mend from her ordeal. Antonio said Korra "was skin and bones" but the tabby is gaining her weight back and her appetite is just fine.
Thanks to kind hearts with a ham sandwich, rescue workers, and the miracle of micro-chipping, Korra and her family found a happy ending just in time for the holidays.
H/T: East Oregonian 
Feature Image: Eastern Oregon Pet Lovers via Antonio Martinez/Facebook