What's something both kitties and their parents loathe? A stinky, dusty litter pan! But PrettyLitter solves typical litter box woes by delivering a crisp, clean litter experience that also monitors health.
Made from silica gel, PrettyLitter creates less dust and controls odor better than clumping-litter competitors. Plus, you won't be scooping any more messy, wet clumps from the litter pan when you make the switch to this safe and affordable option for your cat's most purrsonal needs. Just scoop those poops and stir the litter! PrettyLitter's revolutionary color-changing technology also lets cat parents keep daily tabs on their cat's health by simply checking the color of the used litter.
Cat mom Valerie D. loves PrettyLitter so much she's dubbed it the "Magical Kitty Glitter." And she's not the only happy cat lady. Thousands and thousands of cat people and their kitties have flipped over this amazing cat litter, and they're delighted to tell you how much they love it!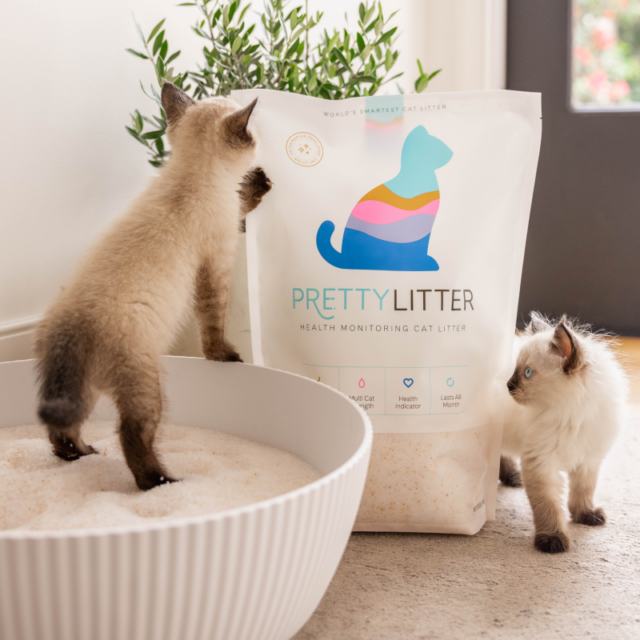 Here's Why Cat Parents and Their Feline Love Pretty Litter
#1 – Less Stink
Clay litter leaves odors at the surface, but the silica gels in PrettyLitter absorb the urine and odor, trapping it inside as the water in the urine evaporates out. And while this fantastic litter doesn't make the poop disappear, it does eliminate the smell by drying out the kitty deposits. Odors are obliterated even before you have a chance to scoop.
Let Tara R. tell you why PrettyLitter is the "Best Litter in the world!!!"

Pretty Litter is AMAZING! It's pretty, healthier (for me and my cats), and the best part… I DON'T EVEN SMELL THE KITTY LITTER BOX ANYMORE!!! I've got 2 cats, and no one coming into my home would even know that I had any cats until they saw them. =>" – Tara R.
For Tara and her cats, life is smelling far rosier. And Tara's right; PrettyLitter is pretty and clean in its appearance. Filling the pan with this crystal litter is like giving your cat the bougiest of bathrooms while still staying on budget!
#2 – Less Dust
Silica Gel litter is made from minerals, so PrettyLitter is safe for your cat and friendly for the whole household. And because it's not made from clay or corn, there's far less dust. And less dust is about more than just a cleaner home. For cats with allergies or respiratory issues, PrettyLitter can help them breathe easier.
Suzi S. says her family made the switch, and her cat is already feeling the difference.

"My cat has had upper respiratory issues since I had her—after just 1 week of use, her sneezing has almost completely disappeared since switching to Pretty Litter!! No litter smell whatsoever, hoping this continues over the next 2-3 weeks. Highly impressed so far."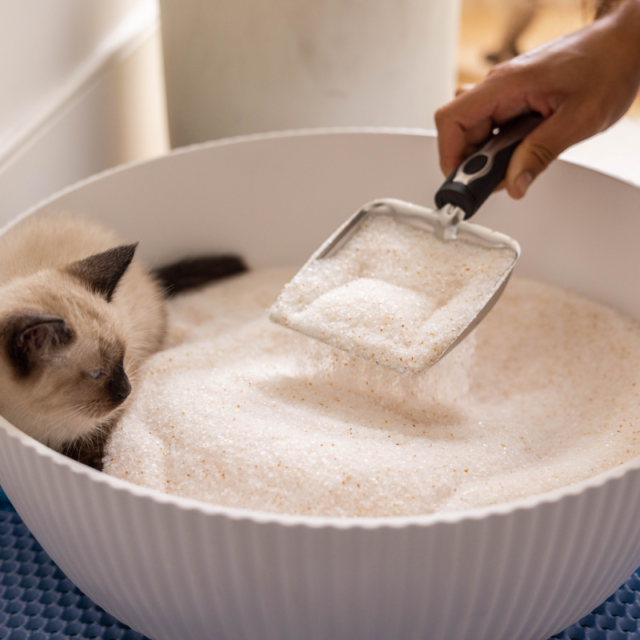 #3 – Easy to Maintain
Cat parents also dig PrettyLitter because all you have to do to keep it clean is scoop the poop and stir the litter. The silica gel crystals do the rest by soaking up the urine rather than clumping around it. When it's time to change the litter pan, simply throw away the used litter and replace it with a new bag.
Elisha P. is "So happy I went for it!"

"Best thing ever invented for cats! I wasn't sure about this concept and thought it was probably too good to be true. Then, my good friend/cat lover said PL changed her life, and I trust every word that comes out of her mouth if it has to do with animals, so I ordered right away. Wow! It's so easy to use! The poo just hardens and scoops out so easily, and the urine dissipates after stirring daily. I'm incredibly happy I invested in Pretty Litter because maintaining the litter box now is so easy, and I can't smell a thing! Seriously if you're on the fence, buy it! You won't regret it!"
#4 – Lightweight Load
Instead of lugging heavy litter boxes home, grab a bag of lightweight PrettyLitter at the store or subscribe to their delivery service and have it delivered to your door for free. Either way, you won't be hefting heavy boxes anymore!
The lighter weight is one reason Melissa Q. loves PrettyLitter:

"I wasn't sure PrettyLitter would live up to the hype until the first time one of our cats used it, and we were able to spot the signs of what turned out to be a UTI. Also, as someone who is disabled and unable to pick up traditional litters, it feels so satisfying to be not only able to get my litter delivered but also be able to pick it up myself!"
Plus, the lighter weight of this non-clumping litter makes tossing the old and pouring in the new so much easier.
#5 – Cats Love PrettyLitter Too
It's not just the pawrents who love PrettyLitter. Felines are raving too!
Sara W. says, "Hans Gruber approved."

"Best litter ever!!! 100% worth it!!! Easy to clean, no smell in the house!!! Hans Gruber, my very picky cat, gives all 4 paws up for this product."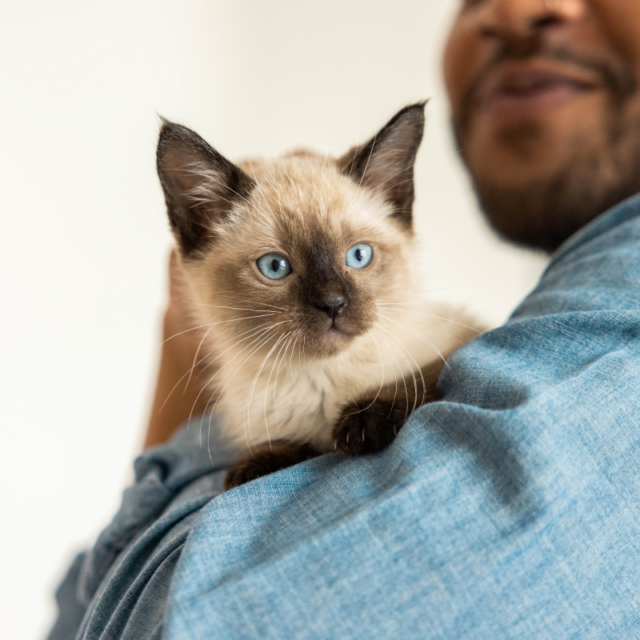 #6 – Even Kitties With Litter Box Aversions Dig PrettyLitter!
If your cat won't go in the litter pan no matter what you do, then you certainly know some struggles. But hope has arrived, feline fancier! For many kitties who won't set paw in the pan, the first step into some soft PrettyLitter changes their mind.
Because of the litter box troubles in her home, Lori Y. says:

"I wish I hadn't waited so long to purchase Pretty Litter for my two Bengals. I rescued a Bengal last year that had litter box issues. She has been a challenge, but I adore her and wouldn't give up on her. She wouldn't use a litter box no matter what I tried. More boxes, different litters and nothing worked. She peed in chairs, on towels, anything soft left on the floor. I decided to give Pretty Litter a try and bought a 3-month supply. WOW! She took to it immediately, and the bad behavior has stopped. Thank you so much for this superior litter. Xena Boo, Katniss, and I say thank you, Pretty Litter! Xoxo"
Bottom line: Cats who don't care for kitty litter like PrettyLitter!
#7 – Health Monitoring
Cats are known to hide illness, but PrettyLitter changes color so you can keep tabs on your kitty's urinary health. After your cat goes potty, the soft silica gel absorbs the urine and changes colors depending on levels of acidity and alkalinity. And because the litter is white, blood in the urine will also become visible as it stains the silica gel red.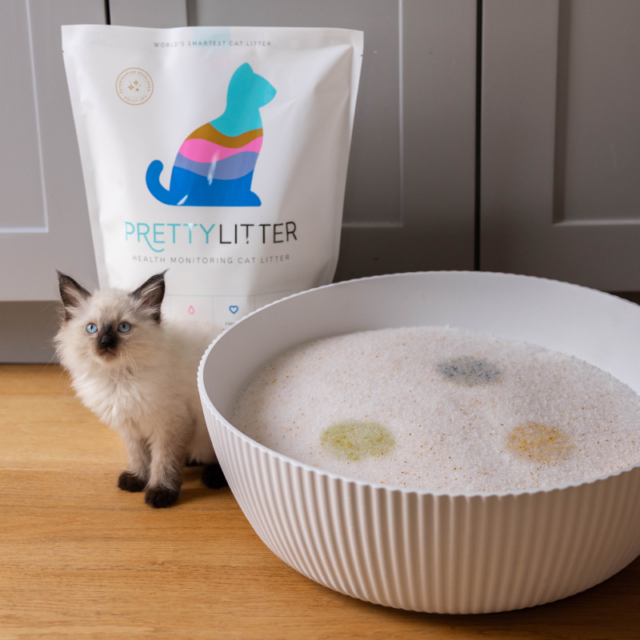 Here's what the PrettyLitter colors can tell you:
Dark Yellow or Olive Green – indicates typical ranges in urine
Dark Green to Blue – indicates elevated alkalinity, meaning your cat could be at risk for developing urinary tract infections or stone formations
Orange – indicates high acidity, a possible signal of kidney disease
Red – indicates the presence of blood
Whether the litter reveals blood or abnormal ranges in pH, you'll need to make an appointment with your veterinarian for a diagnosis. If your cat has been diagnosed with a chronic condition, keep an eye on things by monitoring color changes.
Gabrielle E. gains peace of mind from PrettyLitter and says it's a "life-saving product."

"Mi reina, Cleo, has a crystal build-up issue in her bladder, and this helps me balance her water-to-food ratio when she needs it. I had a beautiful boy, Oliver, who was euthanized due to the same issue. Thank you for creating something to help break that same traumatic cycle."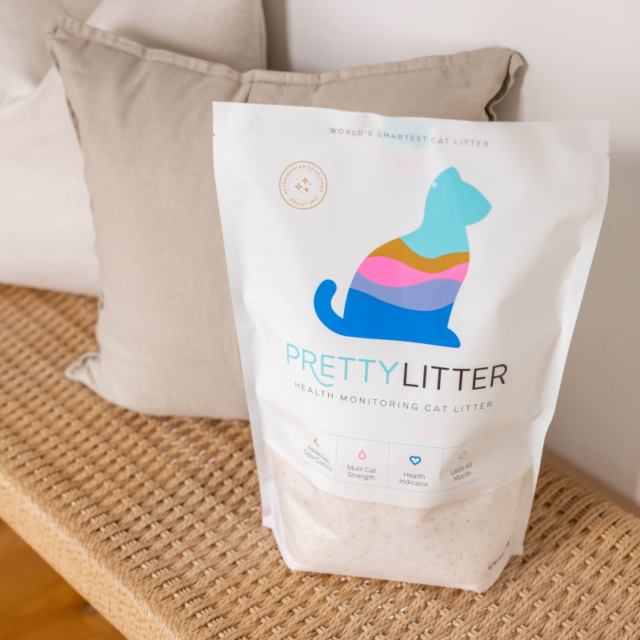 #8 – Earlier Detection of Health Problems
Even if your cat doesn't suffer from chronic urinary issues, PrettyLitter will alert you to something amiss sooner than traditional litters, thanks to its color-changing technology. And when you catch problems sooner, your kitty can get to the vet and feel better faster!
Kristy T. says she wasn't convinced, but then, the litter changed color.

"I was skeptical at first but wanted to give it a try since I have 1 cat that has urinary health issues from time to time. Pretty litter helped catch when he had blood in is urine again, probably several days before I would have noticed it with other litters I've used. I was able to get his meds started earlier than normal. I will definitely continue to use!"
And this moment of early detection isn't the only one users have shared. Check out how a senior cat got quick attention when mom Julie D. saw the litter change color.
"Well, it happened today…. my pretty litter turned red…. rushed my baby (13 years old!) to the vet and no blockage, but high red blood cell count – he has an infection with some inflammation. Tonight he seems like himself after an injection… THANK YOU PRETTY LITTER!!!! #wortheverypenny!"
And Julie is right. PrettyLitter is worth every penny. Plus, it will save you pennies too. Not only will you spend less money because you use less litter, but PrettyLitter can also help save you big on vet bills since health issues can be detected earlier when they're easier to treat.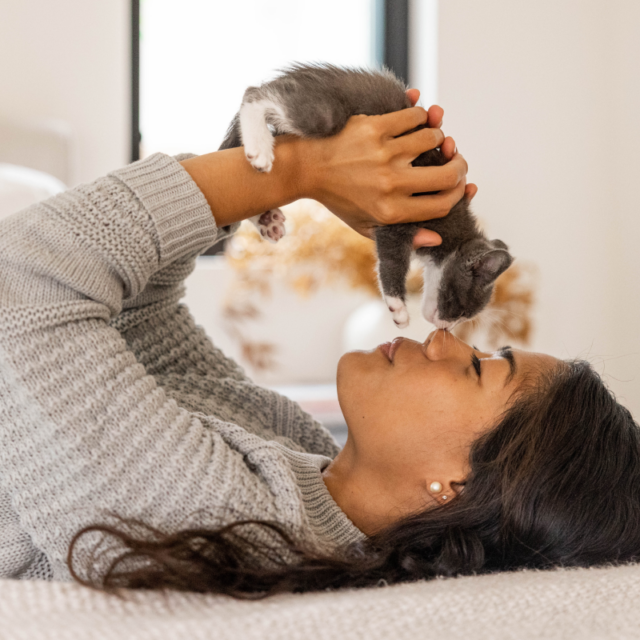 From less odor and dust to health monitoring, PrettyLitter will be your family's new favorite litter. And the makers couldn't have created this incredible product without feedback from their loyal customers. Because of stories and comments from cat parents, PrettyLitter has evolved into the most magical cat litter you'll ever meet!